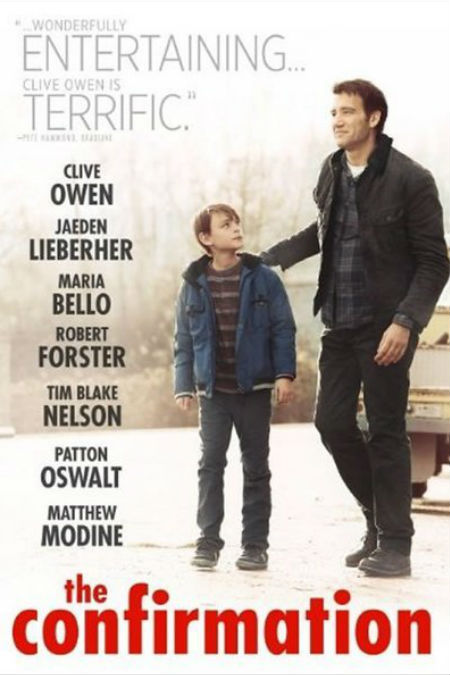 For most people, an every-other-weekend with their partly-shared custody kid would comprise a trip to the park, maybe a X-box game or two and perhaps even dinner out to somewhere fun and nutritionally suspect.
But Walt is not most people and in Bob Nelson's (Nebraska) latest excursion into the margins of life in the lower ends of middle America, The Confirmation, he is struggling to relate to the son from a marriage lost to him through alcoholism and career indolence.
That's not to say Walt isn't a reformed man.
Newly and avowedly sober – so new in fact that one scene of this remarkably low key but emotionally powerful sees him going through withdrawals in such a profoundly messy fashion that the son in question, sweetly innocent Anthony (Jaeden Lieberher) fearfully thinks he is back on the bottle – and determined to make a go of a life starved of money and prospects, he is nevertheless cautiously optimistic that he can make a go of it.
One good sign is the booking of a job on the following job, a carpentry job that will not only provide much-needed funds but give Walt a chance to indulge his love of fine craftsmanship and detailed workmanship.
He is, after all, as close family friend Otto (Robert Forster) observes a basically good man with the usual assortment of demons, failed dreams and dashed expectations.
It's apparent that Anthony doesn't quite comprehend what this means, even though he is fiercely intelligent, both intellectually and emotionally, but he nods sagely when Otto assures him of this and looks as determined as his dad to make a go of a relationship that is newly-redefined and ripe with possibility if both father and son can figure out what the hell it is they're doing.
That is, after all, the heart of The Confirmation, so named by Anthony's newly-imposed faith – his mother Bonnie (Maria Bello) has returned to the church, her revived Catholicism part of a commitment to making her marriage to religiously-observant Kyle (Matthew Modine) work – which involves a rapid path through the church's path to holiness involving the titular rite of confirmation.
Anthony is dubious about its merits, about life in the church generally to be honest, and only decides to persist with following his mother's earnest edicts, which lead to some amusing scenes in confession with Father Lyons (Steve Tobolowsky) as the eight year old struggles to understand sin, impure thoughts and the arcane ways of faith.
He is bright, if uncertain about what life with a sober father means, and so the weekend becomes a chance for the two to connect in new ways, ones which will hopefully help them both to figure what it means to be father and son in a wholly-new emotional landscape.
While in many ways a fairly-threadbare narrative affair, which can underwhelm at times with its lack of any real momentum, The Confirmation draws real emotional power from Walt's struggle to establish a normal dad, a desire complicated by the stealing of his preciously irreplaceable tools without which his livelihood, such as it is, is very much on the line.
What could have been an awkward weekend of forced intimacy instead becomes instead a romp through the seedy underbelly of the town in which they live as Walt tried to retrieve his tools, with the dubious assistance of meth head drywaller Drake (Patton Oswalt) in comically-inept form, and Vaughan (Tim Blake Nelson) who knows more than he is letting on, and whose son Allen (Spencer Drever) bonds with Anthony in most unexpected and ultimately helpful ways.
The film is ostensibly about life on the fraying lower middle of society but at its heart, it's about the way in which an entirely unconventional weekend, one which horrifies Bonnie when she finds out about it in dribs and drabs until she realises its full effect on Walt and Anthony's relationship, transforms the father and son bonds which to that point have been tenuous to non-existent.
While the plot won't have you leaping out of your chair with tension and excitement, it really is just grist for the relationship mill of Walt and Anthony.
Through shared moments outwitting the unscrupulous to quiet moments delivering Sunday papers in the pre-dawn light, The Confirmation charts the deeply heartfelt, authentically-touching renewal of connection between Anthony who clearly misses being close in any meaningful way to his dad, and Walt who is prepared to give up everything that doomed his marriage if it means hanging onto a life with his son.
It is then two earnest people who through a weekend of misadventures and near-misses find the very thing that might have eluded them in more conventional circumstances.
It's wholly and deeply affecting and the final scenes where father and son part on the Sunday afternoon, watched by a clearly-touched Bonnie who is moved despite her continuing reservations about her ex-husband – mollified, it must be said, to a considerable degree by his changed approach to parenting – underscore how richly-realised both Nelson's writing and direction is and how it bolsters, thanks to finely-etched performances by Owen as the hangdog earnest dad and Lieberher as the innocent, figuring-it-out son, a film which otherwose might struggle to get anywhere too much.
Narratively The Confirmation does struggle at times, its quiet, unassuming momentum coming close to stopping more than once, but emotionally it's a whole other ballgame, a moving exploration of what reconnection between two people who desperately need it looks like and how it can take place in ways, places and through events that neither see coming and which affects them ultimately for the enduring better.