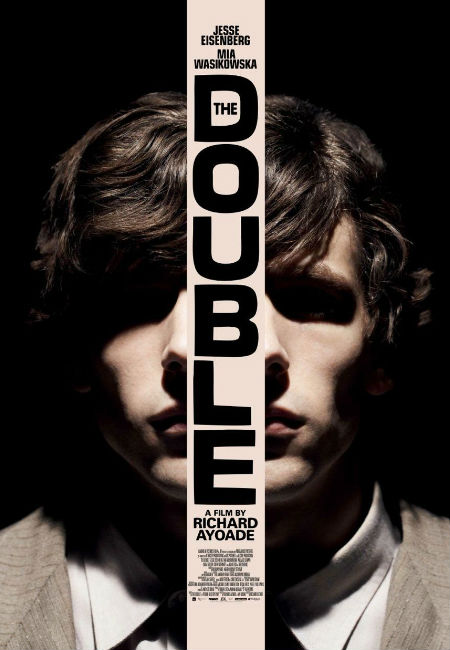 It is no surprise that the latest feature from British director (and one time star of quirky sitcom The IT Crowd) Richard Ayoade is a overwhelmingly grim affair.
Styled as a black comedy, the screenplay for the thematically and visually dark film about a corporate drone worker Simon James (Jesse Eisenberg) who finds his meagre life usurped by a far more charismatic doppelgänger James Simon, draws its inspiration from an 1846 novella by Fyodor Dostoyevsky also called The Double.
Writing in a time of great social, political and religious turmoil in Tsarist Russia, Dostoyevsky wrote realistically and unsparingly, his brutally frank assessments of the human condition fuelled by a keen interest in human psychology.
Ayoade, together with fellow screenplay scribe Avi Korine, appears to have been keen to remain true to the spirit of the last work Dostoyevsky wrote before being consigned to a Siberian labour camp, repeatedly asking throughout The Double what a person's life is really worth and does anyone have right to demand that others regard them as special when they themselves do not.
And it is hard, almost impossible in fact, to see anything particularly noteworthy about the perennially ill at ease Simon James, a man whose life exists in the shadows, his poorly-fitting suits emblematic of the way in which life itself does not sit easily on his resigned, sloping shoulders.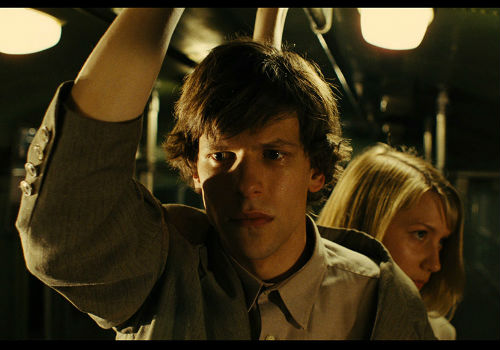 A walking, talking doormat of a person, he is bullied in empty subway carriages into giving up his seat, treated as a non-person by security at the company where he has worked for seven years – he is repeatedly forced to sign in as a visitor despite his protestations – his work overlooked time and again by his supervisor Mr Papodopoulos (Wallace Shawn, who injects some much needed humour into his role).
His is not the sort of life anyone would aspire to, or wish to be a part of, which explains why his co-worker, and neighbour across the courtyard of the bleak Soviet-style apartment block in which he lives, Hannah (Mia Wasikowska) does not show a particular keenness to embark on a romantic relationship with him.
Almost mute through shyness, his life awash in a thousand shades of stultifyingly boring beige, he is a "non person", a frank but apt assessment bestowed on his ailing existence by "friend" and colleague Harris (Noah Taylor) who, like everyone else is using Simon for his own ends, with no objections from the man himself.
It's no surprise then that the appearance of the endlessly confident, suave and capable James Simon, who looks exactly like Simon down to the curly hair and hanging suit, elicits a growing sense of unease from almost invisible corporate slave, who slowly begins to realise his life has been plundered by everyone and anyone and there is now precious little to call his own.
It may all sound unremittingly morose and depressing, and in fact two people walked out of the session in which I viewed the film, but if you persist with its twists and turns, and the buildup of tensions that follows Simon's growing frustration with his life's dashing usurper, it's a revealing insight into the way human psyches adapt to crushed and dispirited sense of self.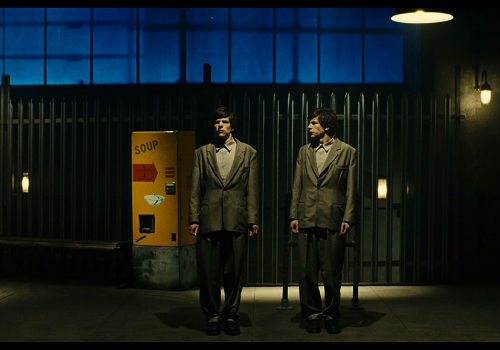 If you're paying attention,of course, it becomes patently obvious that Simon James and James Simon are one and the same person; however Ayoade does not visually represent this duality until the closing dramatic moments of the film when tensions comes to a somewhat violent head between the two men (who clearly are just schizophrenic manifestations of the same trouble psyche).
The Double is a masterful, if somewhat emotionally inaccessible film – an odd state of being for a film that delves deeply into some of the darkest emotions imaginable during its brief but intense running time – that represents the dark themes at work with an equally bleak visual palette.
Pretty much every scene takes place in dimly lit courtyards, apartments and cubicles, your sense of time and place deliberately thrown off kilter by a pleasing mishmash of art deco architecture and public transport, '70s interior design, '50s musical styles and '80s television and video games aesthetics.
It's all meant to give you the idea that you are immersed in a waking nightmare, an unpalatable and deeply disturbing dream that does what dreams do so well and merges a host of disparate elements together into a disorienting "reality".
It is unnerving at times to sit through and bleak to a fault but I found myself drawn to the immersive world Ayoade has brought into being, a pleasingly quirky excursion into the deepest, darkest parts of the human soul that ends much as it began, asking us to consider what a life is worth and whether anyone, flamboyant or beige, is ever truly special and worthy of any attention.