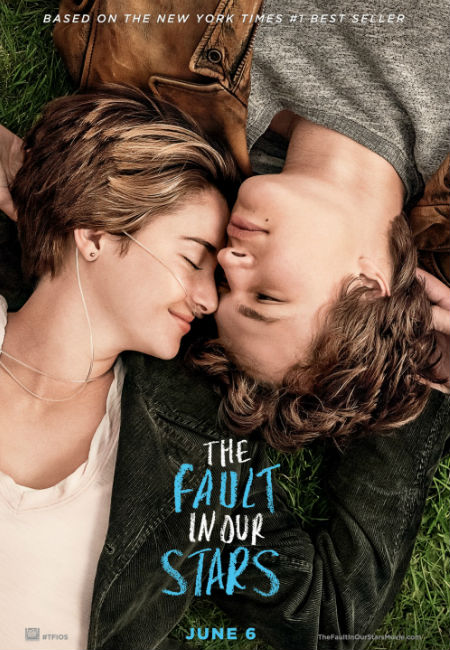 "That's the thing about pain. It demands to be felt."
With these sombre if realistic words, Augustus Waters (Ansel Elgort), witty, confident, winningly-articulate Augustus Waters, encapsulates the bold sentiment that runs unapologetically through both the book by John Green, and now it's masterfully faithful adaptation by Josh Boone.
The introductory, pre-titles scene featuring a sweetly defiant Hazel Grace Lancaster (Shailene Woodley) staring up in the stars, leaves you in no doubt that the truth, especially the hard truth of living and then dying with cancer won't be sugar-coated with platitudes and Peter Gabriel songs, even if that is the usual default for a society ill-at-ease with confronting mortality, especially when it involves young people, head on.
Neither Augustus, who lost his leg (and a high school basketball career he hated) to a nasty but presumed now finalised bout with osteosarcoma, nor Hazel, whose constant oxygen tank companion reminds of what her struggle with thyroid cancer has cost her, can afford the luxury of pretending that facing the grim reaper on a daily basis can be papered over with a trite quote from an inspirational poster.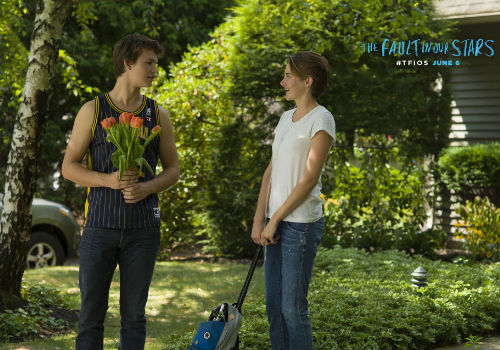 Leaving that strategy of dubious worth to the doctors and well-meaning parents – Hazel's parents in particular, played with brittle eggshell nervousness by Laura Dern and Sam Trammell, lovingly cling to it as a means of ignoring the inevitable – both Augustus and Hazel rely on a brazen disdain for the conventional, and penchant for telling it like it is, in language so poetic it makes you swoon even as you grapple with the hard truths held within.
So their meeting at a cancer support group, held in "the literal heart of Jesus" at an Episcopal church, is a meeting of like minds, a coming together of two people who share a love of reading – she of Peter van Houten's opus on death and dying and teenagers An Imperial Affliction, he of pulp novels based on video games to which he attributes hilariously grand themes of valour and loss – and an unwillingness to pretend things are going to get better, even as they hope it can miraculously get better.
Theirs is a world marked by a savage unwillingness to accede to death, even as it knocks on the door, and their relationship, one that Hazel is extremely hesitant to embark because of her status as a "grenade" that will devastate many people, leading her to try and minimise casualties by emotionally isolating herself, is marked by quips, intelligent repartee and the joy of having found a like-minded soul to share "the journey" (as one doctor terms it to Hazel's amusement) with.
The beauty, and grand relief of Josh Boone's film, and the faithfully-executed but not slavishly-adherent screenplay by Scott Neustadter and Michael H. Weber (with significant input by John Green) is that captures so perfectly the spirit and tone of the book, no mean feat given how complex, emotionally-resonant and literate it is.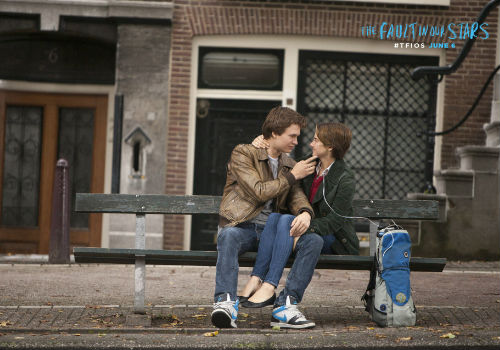 Both Woodley and Elgort embody Hazel Grace and Gus to a tee, with every last gram of their humour, acerbic wit and benign defiance intact, the chemistry between the two captured with endearing, heartwarming precision to the point where you are convinced, as you should be, that theirs is a love that will span the ages.
Except of course that it won't, with their love dying, as Hazel sagely notes, with their deaths as it should, meaning that the oblivion that Gus fears will only be forestalled for a short time.
Woodley particularly, who is called upon in the film, as in the book, to do emotional heavy lifting in the final act, shines, her gradation from morose and withdrawn to bubbly and alive and then to wretchedly sad wrought with all the authenticity you could hope for.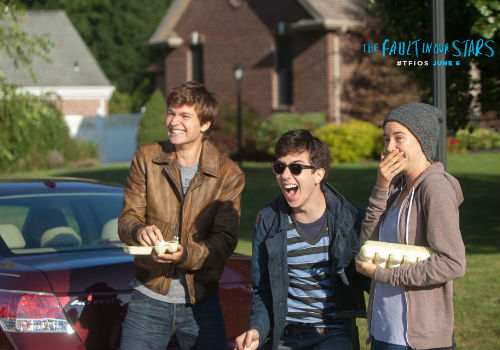 Ultimately, despite some blackly comic scenes, one of which involves egging the car of Monica (Emily Peachey) who dumps Gus's best friend Isaac (Nat Wolff) on the eve of him losing his last good eye to cancer, The Fault in our Stars remains in the film, as in the book, both a grand love story and an unflinching portrayal of just what cancer steals, from both sufferers and family and friends, despite the best attempts of people like Hazel and Gus to blunt its sting.
The film's greatest triumph is that it stays faithful to both the agony and the ecstasy of the story, leaving the film's denouement completely and devastatingly intact, a profoundly moving three tissue box affair that unlike many other teen movies of the moment, which deal with death of a more action-packed dystopian flavour, lays its humanity naked and openly wounded for all to see.
The Fault in our Stars is a perfectly realised  film that doesn't shy away from the inherent truth that life is cruelly short, oblivion is all but inevitable, and that truth and love should be spoken boldly and without fear or favour at every turn.
Okay?
Okay.