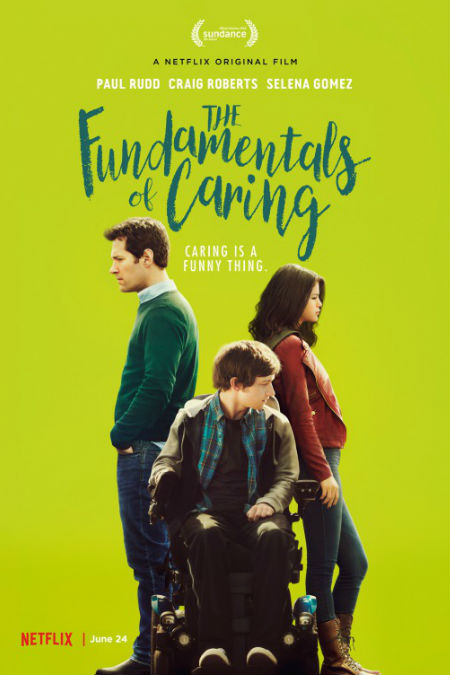 There is a thread of storytelling that runs through many a tale that posits that all you need to rediscover the many and myriad joys of being alive is to have just the right person come into your life and shake things up just so at, naturally enough, just the right time.
It's an enticing idea with a fairytale-esque edge to it that's been employed by the likes of Pollyanna and Anne of Green Gables and which entices us with its redemptive quality, with the alluring idea that even the darkest of days can be lightened when we least expect it and most need it.
Tom Burnett's The Fundamentals of Caring, released both theatrically and on Netflix, and based on the book The Revised Fundamentals of Caregiving by Jonathan Evison, takes the ideas of a fairy godmother of change and renewal and runs with it, sometimes a little too hard but with the emotional authenticity and wit to mostly pull it off.
Much of the credit for the groundedness of the film comes down to Paul Rudd, a man more commonly known for his comedy chops, who channels the existential angst of a man mourning the loss of a son, the end of his marriage and the exhaustion of someone working overtime to evade signing divorce papers.
In one respect it's a great big heaping pile of indies clichés, upon which are piled even more indie tropes when Rudd's character Ben takes a job as a caregiver to a smart-arsed young man named Trevor (Craig Roberts) who uses caustic wit to mask a multitude to emotional issues stemming from his degenerative disease Duchenne muscular dystrophy.
We all know, almost before the awkward first interview when Trevor asks how Ben would wipe his arse, and his initially-shocked potential carer answers with an appropriately witty, out-you-in-your-place reply, and Trevor's over-stretched but loving mum Elsa (Jennifer Ehle) struggles with Ben's lack of experience – Trevos will be his first, post-writing career client – that the two men will lock horns, pool wisdom and bond.
But such is Rudd's convincing turn as a man with a slew of emotional albatrosses around his neck and no real way to cut them free, and Roberts' ability to play the arsehole young man who's really just looking for love and the ability to pee standing up with a mix of cracking wit and sincerity, that you totally buy the redemptive qualities shoehorned into the script by the truckload.
Subtle the movie is not with lessons a-plenty jostling for redemptive attention in almost every scene but you happily go along with it thanks to the performances gifted to these central characters, dialogue that bounces along with Gilmore Girls wit and cleverness, and secondary characters who manage to rise above their rather limited one-note delineations.
It's on a road trip to see the World's Deepest Pit somewhere in middle America, which morphs into a visit to Trevor's long-lost American dad in Salt Lake City, Utah, which refreshingly doesn't quite go to the usual plan, that Ben and Trevor come to a great existential reckoning and subsequent awakening and meet 21 year old Dot (Selena Gomez, who proves she can act quite nicely thank you) who's fleeing the void left by her close mother's death, and Peaches (Megan Ferguson), the pregnant wife of a serving soldier who's off to Nebraska to be with her mother.
They both reek of people in need of a temporary on-the-road family which they duly get, along with, in Dot's gleefully foulmouthed case, the sweet romantic attentions of Trevor who discovers that there is more than Slim Jims to love when you're on the road.
Convinced that no one will ever want a guy in a wheelchair, especially one with only 7-10 years left to live statistically-speaking, the scenes where Trevor and Dot interact and find mutual attraction, including on a date in all-night diner which Ben and Peaches watch from across the road like its reality TV on a big screen, are actually quite heartwarming.
Cliched yet but heartwarming nonetheless and that's the main thing here – Burnett has furnished The Fundamentals of Caring with all manner of contrived narrative arts but it works nonetheless, rising above its potential movie-of-the-week vibe to sports some sweetly gritty indie cred.
Throughout the film we're treated to a great many riffs on the theme of fatherhood.
Rudd's mourning for and desperately-fresh longing for fatherhood, a role he calls the reason men are put on earth – it's an overblown line but once again Rudd adds zing, emotional heft and believability to it – Trevor wants a dad but can't quite seem to get one (and most certainly doesn't want Ben in the role, good friend though he becomes), Dot misses her dad even though they have, of course, issues, and Peaches could do with her husband at her side fulfilling the role rather than being over in Afghanistan, though she is inordinately and rightly proud that he is serving his country.
Once again, the lessons aren't oblique and many times are rained down upon us like anvils falling from a heavily-scripted sky, but in the context of the film they work, elevated by Rudd's ability predictably to channel heartbreak and loss balanced with a still somewhat-active ability to kick the hell out of life when needed.
If you've ever wondered if it's possible to tell a cliched tale well, and invest humanity and authentic redemptiveness in it, then The Fundamentals of Caring is your film, a story that doesn't fully rise above its lessons and tropes but which still reassures us that it's possible to move on even when the worst has happened to, or in the case of Trevor, sits still looming in the distance.