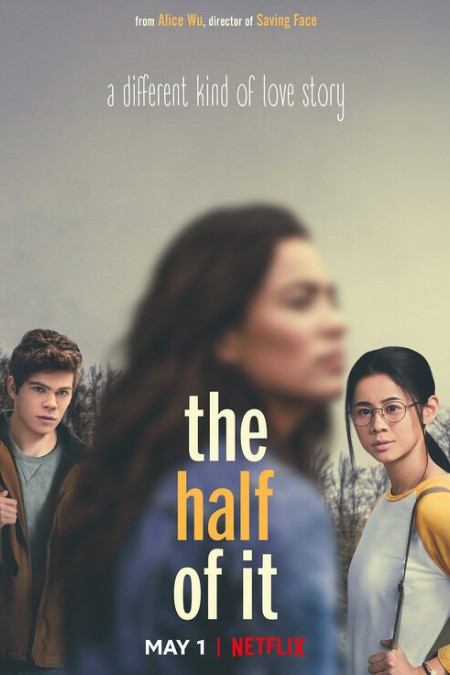 Love, of the kind that resides with Cupid, in endless romantic comedies and more than a few Hallmark cards and Valentine's Day rose bouquets, is a fairly polarising thing.
While there are those who sing its praises with lofty, rose-coloured glasses abandon, believing firmly, like Plato, that we are separated from the other half of our soul and all we need for true happiness and peace is to find them, there are those like Camus who believe that the world, and by extension life and love are irrational from which no satisfaction can be derived.
Then there are people The Half of It's like 17-year-old senior Ellie Chiu, an awkward but fiercely intelligent writer who sits somewhere in the middle – she wants to believe life can be as romantic as Plato believes it to be, and as she describes it in the essays she writes for fellow less-gifted for $20 a pop, but she is also very much in Camus' camp, the death of her beloved mother four years earlier leaving convinced life is nothing less than a monumental cruel joke.
It's tough to see someone so young be so jaded but when you consider she is still trapped in the miasmic aftereffects of grief and is largely responsible for bringing money into the family via her essay writing and maintaining the family's role in keeping the trains running through her (fictional) hometown of Squahamish efficiently and safely (for which they live in the home at the station), you can understand why she might not be as springy and bouncy as people like the most popular guy in school Trig (Wolfgang Novogratz).
Ellie has it tough (the only saving grace being her sad but loving father Edwin Chiu, played with robustly quiet sensitivity by Collin Chou) and while she isn't picked on at all thanks to her vital role in the scholastic ecosystem, of which her fundamentally jaded English teacher Mrs. Geselschap (Becky Ann Baker) not only approves but encourages, nor is she really noticed or cared about.
That is until the lovably sweet school jock Paul Munsky (Daniel Diemer), whose family runs a sausage restaurant for which he has a real passion, engaged Ellie to help win the heart of popular girl Aster Flores (Alexxis Lemire) who is currently Trig's bemused girlfriend.
Needing money to pay a minimum payment on an overdue electricity bill Ellie puts aside her initial reluctance to play a letter-writing Cyrano de Bergerac and crafts letters, ostensibly from Paul to Aster, designed to spark romance between her two classmates.
So far, so transactional but then Ellie discovers she and Aster are kindred poetically thoughtful spirits and while she and Paul become fast friends, things get complicated when Ellie realises her soulmate is the enigmatic, beleaguered Aster.
Thus do Camus and Plato's oppositional philosophies meet in a film that is happy to take things in a nuanced, considered fashion, eschewing lightweight, play-it-for-laughs parody in favour of some meaningful exchanges and a sizable amount of growth and development for all the characters.
The Half of It, as a result, is one of those wonderfully intriguing films that looks like it could be just another high school tale of romance, coming of age and late teenage confusion, but which is so, SO much more.
There is a profound sense of emotional honesty to the film, whether it is dealing with Ellie's grief and loneliness, Paul's thwarted dreams and romantic aspirations or Aster's uncertainty about which world she actually belongs in and whose she wants to share it with, which draws you in so completely that you can help but want the very best for everyone.
It is near impossible to watch The Half of It and not become involved and invested in the lives of the three-dimensionally wrought characters.
Sparkling dialogue that feels rich and full without being overwrought – you can thank writer-director Alice Wu for the vivacity of exchanges between the various characters – characters that feel delightfully, affectingly real and an unhurried narrative that keeps things moving along without once rushing proceedings all come together to create a wholly rewarding film experience.
So perfect is The Half of It and so well judged are all its constituent elements that any inclination to click on the 10-second icon drops away to nothing.
You can't fast forward things in the cinema of course but on Netflix it is entirely possible which means for better or worse – usually worse since you miss out on a great deal in those 10 impatient seconds you jump ahead – you can hurry through a film, touching only on the big ticket items in the narrative.
The problem with doing that in The Half of It, and honestly that's not even a temptation, is Wu has clearly gone to a great deal of trouble to invest every scene with as much meaning as possible, with the visual and storytelling elements coming together in near perfect syncronicity.
The result is a viewing experience that feels like one of those pop culture moments where the film's world is everything and all you want is to be with Ellie, Aster and Paul, to see where love and live takes them and to live in a world so exquisitely well-rendered that there isn't a part of it that doesn't feel real and infinitely possible.
So grounded is The Half of It that even its many conceits and fantastical elements – people writing letters, final act declarations of love and truth i the most unlikeliest but tellingly perfect of settings and people becoming friends across divides that are not normally breached – feel innately truthful, affecting some deep part of you that want to believe Plato and not Camus, that wants that other half and all the romantic glories that come with so lovely and complete a union.
One of the standout films of year blighted by closed cinemas and immensely delayed releases, The Half of It is an inestimable joy, a consummately executed piece of moviemaking that assembles all the right places into a deeply pleasing whole, much like the philosophical ideal at its emotive centre, and which gives us one of the most pleasing romantic comedies in a long, long while all while happily reminding us that love takes many forms and expressions and that if we are open to its endless diversity, the most amazing things can and do happen.