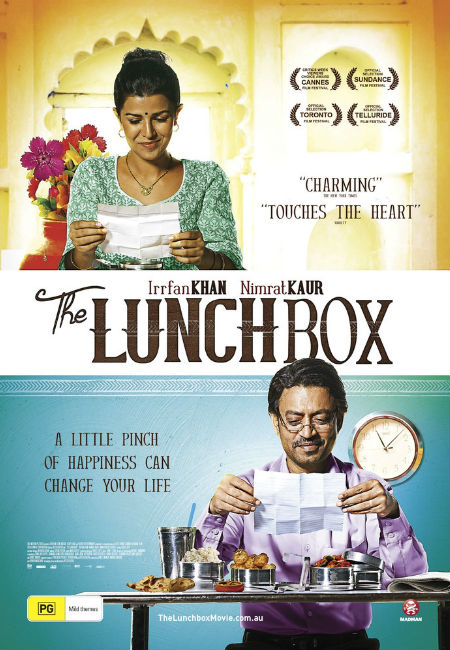 When it comes to expressing the universal need we all have to belong and be connected to others, I always thought no one said it better, at least in this pop culture-obsessed age, than the theme song for TV sitcom Cheers which famously stated "You wanna be where everybody knows / Your name."
That was, of course, until the release of writer and director Ritesh Batra's debut feature film The Lunchbox, a subtly-told story of the connection that grows between two disparate, emotionally-isolated souls in the teeming mass of  Mumbai, India, when a wayward lunchbox, part of the Harvard-documented ferociously-efficient food delivery system which connects the homes and offices of the city, brings them together in the most unexpected of ways.
While the tale of their growing platonic friendship is told with a poetic understatement that isn't afraid to root itself firmly in the banal repetitiveness of everyday life, pacing relentlessly but unspoken beneath the back and forth of the simple but revealing notes that symbolise their correspondence, is a desperate need to belong again, to matter to someone.
Neither will admit this out loud of course, although Ila (Nimrat Kaur), trapped in a soured marriage to the benignly neglectful Rajeev (Nakul Vaid) comes closest when she confides to her upstairs "Auntie", the unseen Mrs Deshpande (Bharati Achrekar), who remains housebound 15 years after her husband slipped into a waking coma, that she hopes she can re-connect to her emotionally, and possibly sexually-wayward, husband through the daily meals she prepares for him.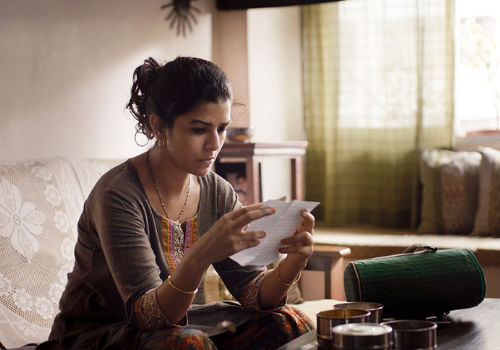 It is through this connection with her elderly neighbour, one that is vitally important to both of them in their own ways, that Ila finds some form of emotional sustenance and guidance as she uses recipe after recipe, all sealed in the vertical, interconnecting metal container stacks that make up the lunchboxes, to win herself a place back in her husband's affections.
Unknown to her, of course, her carefully-crafted food, which is as invested with her hopes and dreams as much as the peppers, salt and chillies that "Auntie" routinely suggests she add to her food, her lunchbox is going to grumpy widower Mr Fernandez (Irrfan Khan) – his first name is Saajan but that is only revealed much later in the film as he begins to thaw somewhat  in contact with Ila – a man who, close to retirement, is convinced that life has very little of value to offer him anymore.
Certainly not any kind of meaningful contact with another human being, which leads him to initially rebuff both Ila's first nervous, tentative note to him, and also the eager, initially annoying entreaties of his replacement Shaikh (Nawazuddin Siddiqui), an orphan for whom he inadvertently becomes a friend and a father figure of sorts.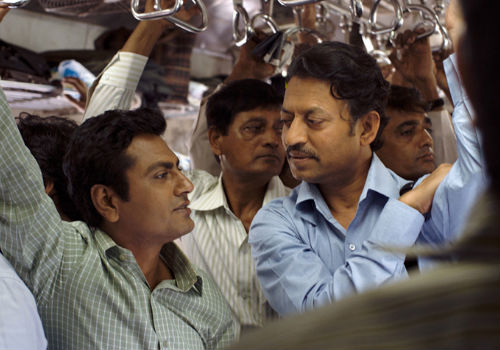 It is only Ila's persistence to find out who it is that is eating up all her food everyday, an indirect form of praise that pleases her even if it is not achieving the objective for which it was intended, that awakens Mr Fernandez's unspoken but all too real to feel alive again, to feel as if there is something in his life that he can cherish.
And it is through the small notes pushed into the folds of the chapatis at the bottom of the lunchbox that a firm, enduring and soon utterly necessary, friendship develops between the two, one that enlivens not only both their lives but which also has a flow-on effect to those around them including the in-love but family-deprived Shaikh, and Ila's daughter and mother, who is trapped in her apartment caring for the lonely housewife's cancer-stricken father.
The Lunchbox, then is less about the food, although it is sumptuous and you will swear you can smell it through the screen, or forced sentimental moments than it is about the unexpected, grounded-in-real-life, heartwarming richness that can develop between two people if they're willing to open themselves up to the possibility of finding meaning and emotional satisfaction in another should the opportunity presents itself.
There is also a gentle humour that percolates through the film, leavening the quiet agony of broken connections and the fear and promise of their repair being effected, such as when "Auntie" promises Ila that the dish she has cooked is so redolent that it will surely impel her husband "to build you a Taj Mahal" to which Ila wryly replies "Auntie, the Taj Mahal is a tomb".
In the end though, what truly defines The Lunchbox is its quiet willingness, matched by emotionally-affecting but restrained performances from the two leads, to forgo the expected way of things, to let the friendship organically grow and develop, opening the way to a realistic happiness that optimistically suggests that life, while not perfect (and Ila and Saajan's lives are bettered, not magically transformed, by their interactions) never quite loses its ability to surprise or delight you when you are least expecting it.