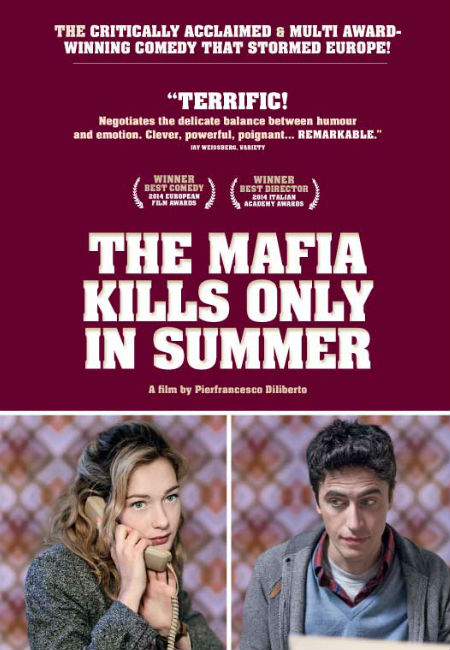 Ask the average lovestruck moviegoer to suggest the ideal location for a rom-com and you'd likely be peppered with Cupid-friendly locales like Paris and New York, Koh Samui and Greek Islands, and a thousand chocolate-filled, red rose-strewn places in-between.
The odds are pretty good though they wouldn't nominate Palermo, Sicily as the ideal sunset-drenched location for the next When Harry Met Sally, it's reputation for brutalised violence unfortunately trumping it's picture perfect location on the half moon bay along which sweeps its ancient waterfront.
It's just as well then writer, director and actor, Pif aka Pierfrancesco Diliberto, didn't run that kind of straw poll before choosing to set his whimsical exploration of love and long, The Mafia Kills Only in Summer in the oft-troubled home of the once mighty criminal syndicate, the Cosa Nostra.
As it turns out, Palermo is the only place this decidedly quirky, charming rumination on love, long-held desire, and their highly unlikely, and at times hilariously imaginative, intersection with economic activities on the wrong of the law, could possibly have taken place.
And it's not simply because of the mafia's presence in the city which, as the title suggests, is pretty integral to the film's narrative.
The entire premise of the film rests on the long held societal attitudes, superstitions and head in the sand habits of a populace long used to pretending that there is nothing untoward happening in a city where judges, policemen, journalists and military officers were routinely gunned down, most notably during the mafia's war on government and the judiciary that prevailed in the 1970s and '80s, simply for doing their job.
In fact, so entrenched was the populace-wide self-delusion that the neverending roll call of premature deaths was routinely ascribed to the inability of these men to pick the right women with whom to consort; in other words, the crimes were simply the result of vengeful boyfriends, husbands and fathers taking their vengeance, and nothing more.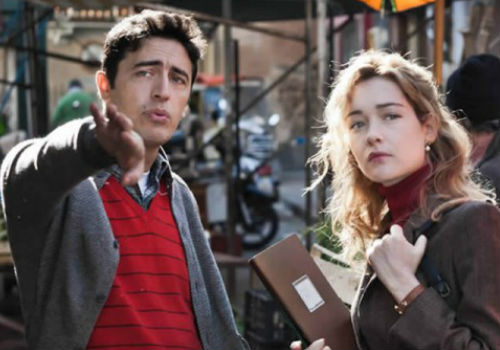 It's this very self-delusional mindset, which leads The Mafia Kills Only in Summer's delightfully earnest young protagonist Arturo (Alex Bisconti as a child, Pif as an adult), a boy who rather idiosyncratically worships one time Italian premier Guilio Andreotti as the font of all wisdom, romantic and otherwise, to believe that falling in love with a woman could be fatally hazardous to his health.
It's why he fails to declare his intentions, despite an obvious crush on the cute new girl in school, the delightfully beautiful and charming Flora (Ginevra Antona as a child, Cristiana Capotondi as an adult), the daughter of Arturo's father's boss, even as another classmate moves in for the romantic kill.
In love he may be, but is expressing that to Flora and beginning a relationship, only to lose his life down the track, really worth acting on his feelings?
Arturo decides not, although, inspired by Andreotti's newspaper-borne advice, he secretly buys Flora pastries each morning which he leaves on her school desk, and tries to impress her by telling he lives upstairs from a mob boss (the man, it transpires, is nothing of the kind).
What makes this unrequited pre-pubescent love affair so charming, and often whimsically amusing, is the fact that Arturo, a budding journalist who believes he can spot a mafioso simply by looking at them, and who harbours a desire to be a journalist when he grows up to expose them, pours his very heart and soul into figuring out what to do.
He compiles a scrapbook of Andreotti's sage pieces of advice, which he updates and consults religiously, even dressing up as him for a fancy dress party as the man, much to the amusement of his classmates, takes his role as a "journalist for a month" for the local paper deadly seriously, while he finds new and innovative ways to try and impress Flora without impressing her too much and, well, dying.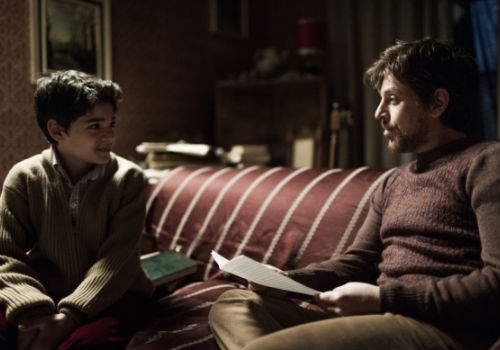 What sets this rom-com apart from just about every other one in existence is the way Pif manages to balance Keystone Cops-silliness with grave observations on the political and social malaise affecting Palermo (the murders eventually reach a point in the 1990s and 2000s where the people demand the government do something to actually fix the problem), real emotion with the goofy, tentative qualities of puppy dog love, and the manner in which the fight against the mafia and their retaliation acts as a backdrop for not just Arturo's romantic pursuits but his life as a whole.
It's that rare film that manages to be gleefully funny while still managing to make a point, it's sharply-edged observations borne out in the film's slightly slower final third when a far less captivating adult Arturo takes his son around to point various monuments to men who fell fighting the mafia, pointing out to him that justice, ethics and purity of intent count for far more than lining your pockets at others' expense.
But for all the serious messaging, and there is a considerable amount of it deftly woven into the script, The Mafia Kills Only in Summer – the title comes from an assurance by Arturo's father (Rosario Lisma) to his fearful son that he can't possibly die at the mafia's hands as its winter and everyone knows they never kill anyone then – is primarily a delightfully charming, funny film about growing up, falling in love, and figuring out who you are when you're not yet fully armed with the tools to make a full prognosis.
Granted life in Palermo complicates matters considerably, but then the passage to adulthood is difficult no matter where you are, with every step seeming to take on a significance often far beyond their actual importance, something Arturo lives and breathes with every gently amusing overly-earnest thought and deed.
The ending is reasonably conventional but the film is not, quite possibly the one and only time love true childlike love and the mafia have ever found themselves narratively in bed together.
It's a tribute to Pif's sure hand as a writer and director that such an unlikely premise, and the even more comical articulation of its wider, often quite serious ideas, manages to give rise to not just a very funny film but a moving and thoughtful one too.