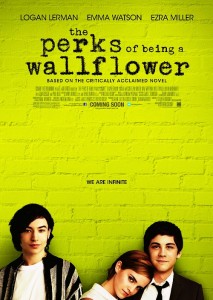 "Welcome to the island of misfit toys."
With these words, the protagonist of The Perks of Being a Wallflower, written and directed by the same man who penned the critically-acclaimed novel of the same name, Steven Chbosky, Charlie (Logan Lerman) is inducted by Sam (Emma Watson), with the full approval of her gay step-brother Patrick (Ezra Miller), into their group of friends that exist defiantly in the shadows of high school acceptability.
None of them seem unduly troubled by their status, having existed on the fringes since kindergarten, and they are only too happy to bring Charlie into their precious social bubble recognising a fellow "misfit" when they see one.
For his part, Charlie, an introvert who is struggling to re-engage with the world around him following the death of his best friend, and who has been dreading going to high school, can't believe his good luck and accepts the invitation, which sprang from an instinctive decision to introduce himself to Patrick at a school football game, without hesitation.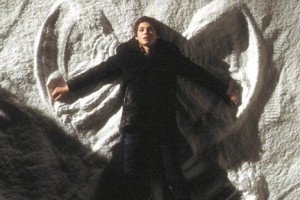 It is membership of this group of oddball older teens, seniors to Charlie's junior, which introduces this troubled young man to all the standard trappings of teenage life – drugs, parties, school dances, relationships, and yes even performing in a Rocky Horror Picture Show tribute at a local cinema – all of which free Charlie from his suffocating inner world which, in his words, often "goes bad".
While he tries to find an outlet for these dark emotions by pouring out his heart in letters to an anonymous person who is never identified, and who exists almost like an imaginary pen friend, it is really only through his friendships with Sam, on whom he has an unrequited crush, Patrick, and the others that he finds any measure of peace or sense that life can be much more than what he has experienced to date.
And it is the temporary loss of these vital relationships later on, after an act of impetuous poor judgement that deleteriously affects two members of the group that includes his beloved Sam, that threatens to send him back to his shuttered in world (though he fights with everything in him to stay in the good place they have led him to).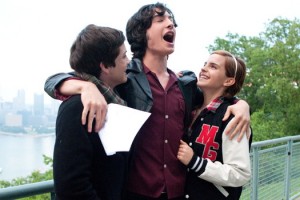 With these all too real highs and lows, beautifully realised by three quite gifted acting talents in Lerman, Watson and Miller, The Perks of Being a Wallflower captures all the pain, sadness and hopelessness that comes with being an outsider, especially one actively picked upon by the accepted majority, and the deep and total sense of belonging that comes with finding like minded souls who simply accept you.
As someone who experienced a tremendous amount of bullying at school and the crushing loneliness this can engender, the themes explored in the movie such as social isolation, love and acceptance, and the cruel limiting of possibilities, which make you feel anything but "infinite" (a recurring refrain in the film), struck a chord.
It's something I imagine would be the case for many people.
It is this universality of experience, and its authentic representation that is The Perk of Being a Wallflower's greatest strength.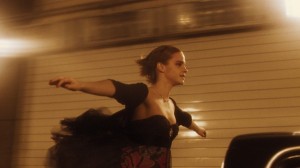 That, and the fact that it doesn't shy away from exploring the idea that even when you do find a group of peers who share your sensibilities, and accept you unconditionally, you still need to deal with your inner demons if you're going to enjoy truly worthwhile relationships with them.
In Charlie's case this means realising that until he deals with the painful events from his past, his happiness will keep rising and falling based on the strength of his friendships with Sam and Patrick especially, and even their geographical proximity, an issue that becomes all too painfully real when Sam and the others leave for college, breaking up their group.
For Sam it means working out why she sleeps with all the wrong kinds of people, and has done so since she was sexually abused when she was 11 years old.
Charlie, using advice gained from his literary soul mate and English teacher, Mr Anderson (played by Paul Rudd) suggests to her that it's possibly because "you accept the love you think you deserve", words which resonate with her deeply as she departs for a new life at college.
And finally, for irrepressibly buoyant out-and-proud Patrick  – full marks to Ezra Miller for not playing him like some tired old cliche – whose boyfriend is the closeted captain of the football team, it means confronting the fact that his life has become "like an after school special" and he needs to pursue relationships with people who are able to be as free as he is to express their sexuality.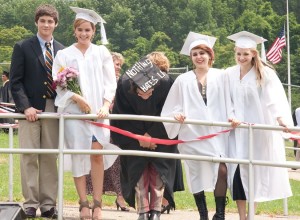 That's a lot of hard life lessons for people barely started on the road to adulthood, but they all take place in the context of the relationships they have formed with each other, and the learning of these life truths simply serves to reinforce the close bonds between the group of "misfits".
While it may sound like heavy going, Steve Chbosky's deft touch (and a musically diverse soundtrack that is almost as important as the performances themselves) and obvious affection for these characters, ensures that The Perks of Being a Wallflower isn't a weighty slog, remaining throughout a rich, warm hearted tale that speaks to the power of relationships to transform peoples lives for the better, as long as they remain open to the changes that will inevitably result.
It is so uplifting in fact, without ever being corny or cloying, that you will leave the cinema enriched, with a smile on your face, and believing like Charlie that "we are infinite".