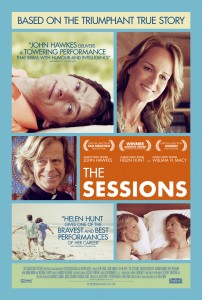 It becomes clear within about five minutes of the opening credits why The Sessions, written and directed by Ben Lewin,  captured both the Audience Award (U.S. Dramatic) and a U.S. Dramatic Special Jury Prize for Ensemble Acting at this year's Sundance Film Festival.
The moment we hear the first witty, self-deprecating remarks coming out of Mark O'Brien's (John Hawkes, Martha Marcy May Marlene, Winter's Bone) mouth, it becomes apparent that we will be spending 1 1/2 hours in the presence of a remarkable individual.
Immobilised by polio when he was a child, O'Brien, whose article, "On Seeing A Sex Surrogate" published in The Sun magazine in 1990 inspired Lewin to write and direct The Sessions, refused to let what he could and couldn't do be circumscribed by the illness and went to University of California, Berkeley, which is detailed via archival footage at the start of the film, before embarking on professional life as a writer and a poet.

Though forced to spend much of his time in an iron lung, which he sheepishly admits  at one point in the movie is the only piece of bedding-related material in his home, he became adept with the aid of his faithful carers, including Vera (Moon Bloodgood, Falling Skies) and Rod (W. Earl Brown, Deadwood) at living the sort of fulfilling life that everyone aspires to.
With the exception, that is, of a full and active sex life.
Deciding at age 38, after completing research on a commissioned article on sex life among the disabled, that he should divest himself of his virginity but unsure quite how to go about it, he strikes up a conversation with his local Catholic parish priest, Father Brendan (William H. Macy, Shameless, The Lincoln Lawyer) seeking guidance.
While thrown at first by the frankness of O'Brien's longing for female companionship "of the Biblical kind", Father Brendan who soon becomes a loyal and trusted friend, feels in his heart that God will let this one slide by.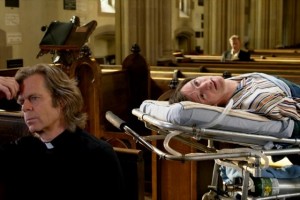 Emboldened by Father Brendan's blessing, O'Brien, who remained a devout Catholic through his life (he jokes at one point that "Of course I am religious. I need someone to blame for all this") embarks on a planned series of six sessions with sex surrogate, Cheryl Cohen Greene (a masterful performance by Helen Hunt, Mad About You, Then She Found Me).
Confronted by the intimate nature of what he is about to do, and who wouldn't be after spending so long refraining from an act that so many other people take as a natural and inevitable part of life, he stumbles at first upon first meeting Cohen Greene telling her the money is on the table.
Realising this may not have been the best way to get their relationship off the ground – one of the things that struck me about O'Brien was how profoundly self aware he was, which makes sense given all the time he had to think through the years (as it turns out there is one blind spot in all this self-analysis – his sexuality) – he admits as much, Cohen Greene agrees with him, and they start all over again.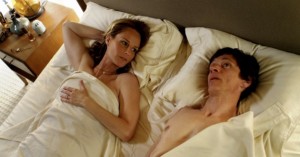 And so begins one of the sweetest, most frank, and touching relationships I have ever seen portrayed on the big screen.
Both John Hawkes and Helen Hunt give career-defining performances as a man struggling to accept he isn't cursed by God in some way – in a series of delightful comic moments that pepper their sessions, O'Brien keeps prematurely ejaculating leading him to believe he is punished by God for wanting to have the sort of sex life everyone else does – and a woman charged with helping him realise this goal but conflicted by feelings she didn't expect to have.
It is profoundly moving watching O'Brien confront a whole host of demons of self worth as he navigates his way through a minefield of sexual and emotional experiences in the tightly compressed time frame dictated by the weekly sessions.
He approaches his time with Cohen Greene with much of the same wit and charm he brings to the rest of his life but overlaid with an anxiety and a fear that is new to him, subsumed as it was years ago as he struggled to accept his condition and the death of his sister, brought about, he believes erroneously, by his mother being forced to focus on his care at the expense of his siblings' wellbeing.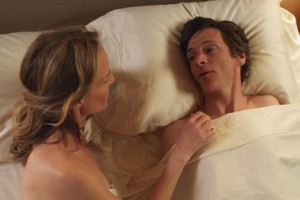 These long held beliefs, uncovered by the tender touch of Cohen Greene, are gradually vanquished as O'Brien, who is such a likeable protagonist that you quickly become as enamoured of him as everyone else in his life, adapts to his new life as a sexual being with growing alacrity and confidence.
There is an intimacy and truth to the simple, uncomplicated relationship he develops with Cohen Greene and the joy of watching them together as they draw closer is only tempered by the fact that you know they can never be together.
It's not that O'Brien doesn't long for this, penning a poem for his surrogate that he titles "Love Poem to No One in Particular" which he sends to her in the mail (much to the chagrin of Cohen Greene's endlessly supportive husband, Josh, played by Adam Arkin) but Cohen Greene, though sorely tempted by the deep bonds she has forged with O'Brien, stays true to her professional oaths and to her marriage.
The unrequited passion they unexpectedly share makes the scene where she farewells O'Brien, after just four sessions when both reluctantly acknowledge that the relationship is going down a road neither of them can travel, all the more poignant and heartbreaking.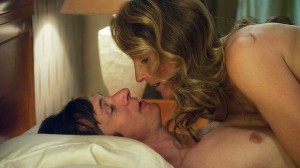 It is a scene of raw emotional honesty that typifies the understated approach of The Sessions, which eschews the sort of manipulative techniques typically favoured by movies featuring a disabled protagonist in favour of simply showing one very real person's journey of unvarnished self-discovery.
I think much of its gentleness of storytelling spirit comes from Ben Lewin, a fellow polio survivor who brings the sort of insight and empathy to The Sessions that you would expect of someone who has shared many of the same experiences as his protagonist.
He had this to say about his goal with the movie when interviewed by Filmmaker magazine in January this year:
"I felt that if I could do on film what he had done to me with his writing, then I could potentially deliver something powerful."
I think this profoundly affecting movie is every bit as powerful as Lewin intended it to be.
The Sessions is proof positive that the truly memorable movies, the ones that resonate with you long after you leave the theatre, don't need all the fancy bells and whistles so beloved by modern blockbusters, simply requiring the humanity and yes, power of a real story, well told.