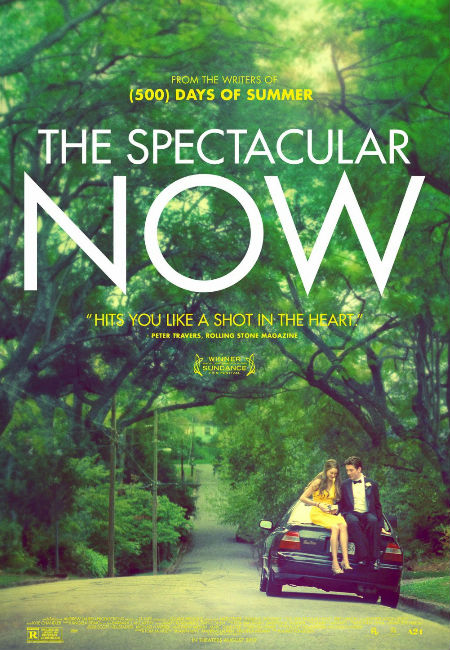 When you're standing on the cusp on adulthood, as Sutter Keely (Miles Teller) is in director James Ponsoldt's emotionally resonant coming of age tale, The Spectacular Now (based on Tim Tharp's book of the same name), determining if life is going to be an exhilarating ride into the thrilling unknown, or a scary descent  into all those grown up things you've always feared having to grapple with, can be a daunting challenge.
On the surface, Sutter, played to perfection by Teller who neatly balances his character's playfully brash exterior with his brittle-as-an-eggshell interior that barely sees the light of day till the final act, looks to be untroubled by this existential dilemma.
He gleefully bats away the harbingers of this transition such as college applications, final grades and graduation with a well-practised  light-hearted indifference, refusing to concede it is something he must acknowledge and act on.
This is despite entreaties from a wide range of people in his life – ex-girlfriend Cassidy (Brie Larson), geometry teacher Mr Aster (Andre Royo) and his understanding, would-be father figure employer Dan (Bob Odenkirk) – all of whom are given glib answers soaked in all the charm that Keely, a master of telling people what they want to hear and living in the moment, can dispense.
And for a young man never short of just the right thing to say or the smoothest way in which to say it, that is a considerable amount of charm.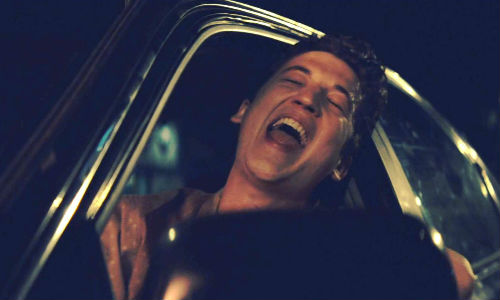 Along with almost constant alcoholic lubrication, which seems to be an almost obligatory component of everything he does, his breezy "don't worry, be happy" personality has stood him in good stead throughout his rather superficially lived life.
But then he accidentally meets studious, ill-confident Aimee Finecky (Shailene Woodley), who discovers him while delivering papers very early one morning asleep in a fading drunken stupor on a stranger's front lawn, and a whole world of possibilities open up, none of which Sutter seems to have any interest in pursuing at first.
Pining for Cassidy, who has decided she needs more than a moment from Keely, she needs a life, something she ruefully admits to him one day that he can never give her, he treats his growing bond with an eager comic-book reading Aimee as a diversion and nothing more, resisting any pull into a substantial and meaningful relationship.
But thanks to his dependence on alcohol to grease the social interactions of his life, and it turns out later, self-medicate the pain he refuses to concede is there from his father Tommy's (Kyle Chandler) departure following infidelity years earlier, he over reaches and ends up asking Aimee to the prom and finds himself, despite his best efforts otherwise, falling for her.
She, of course is delighted to have the attention of the great Sutter Keely, in awe of the persona and oblivious to the fact that many of his peers consider him to be something of a joke, and happily goes along with his living in the moment approach to life, despite having quite substantial plans of her own to flee her indifferent mother and go to college in Philadelphia where her sister lives.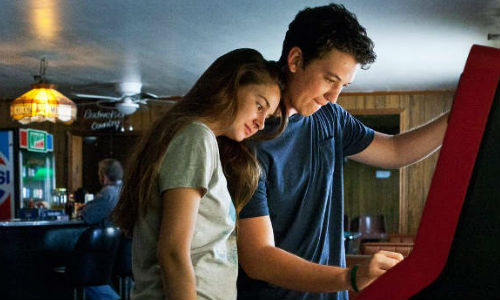 But the potential clash between Sutter's devil-may-care, mañana approach to the looming tipping point of adulthood, and Aimee's need for dreams and plans, fuelled in part by her unhappy home life, never quite eventuates thanks to Aimee's puppy dog like willingness to go along with her boyfriend's relaxed life philosophy.
But she is no doormat, encouraging him to pursue a relationship with his absent father even as she takes courage from him to inform her mother she is leaving home to follow her dreams.
It is a thoughtful, mutually-beneficial relationship that is not as lopsided as some of its superficial accoutrements such as the matching hip flasks might suggest, with Keely every bit as much influenced by Aimee as she seems to be by him.
You watch their relationship unfold in what feels like real time docudrama style, much of the dialogue sounding natural and unscripted, the chemistry between the two actors as real and palpable as any fly on the wall reality show (and likely much more so).
There is a substance to this relationship that is missing from many other coming of age movies that treat the great leap into adulthood as nothing more than a change in place or circumstances.
The Spectacular Now dares to argue that it is far more than that, that it is a mindset, a willingness to pursue what lies ahead whether it's thrilling or unsettling or both, and that it requires a real commitment to go down that road.
The script by Scott Neustadter and Michael H. Weber, who gave us the emotionally pitch-perfect cinematic delight 500 Days of Summer, lightly balances the here and now, and the yet to be, making a case for doing something deliberate with your life rather than drifting along, without once feeling like it's hitting you over the head with a worthy moral of the story moment.
And in James Ponsoldt's gifted hands, The Spectacular Now renders the journey that Sutter and Aimee unwittingly embark on as a grand adventure into the unknown, rooted in the very real concerns of young people just beginning to grapple with what it means to grow up.
It is heartfelt, thoughtful, treating this great life transition with all the gravitas it deserves and giving us two characters, beautifully portrayed by the two talented young leads, who find themselves utterly changed, Sutter especially, by its unflinching demands.
It is one of those rare movies that understands that life is a daunting, many headed beast that is best tackled by embracing it rather than hiding your head in the sand and hoping that The Spectacular Now will be enough to sustain you through the many challenges that lie ahead.