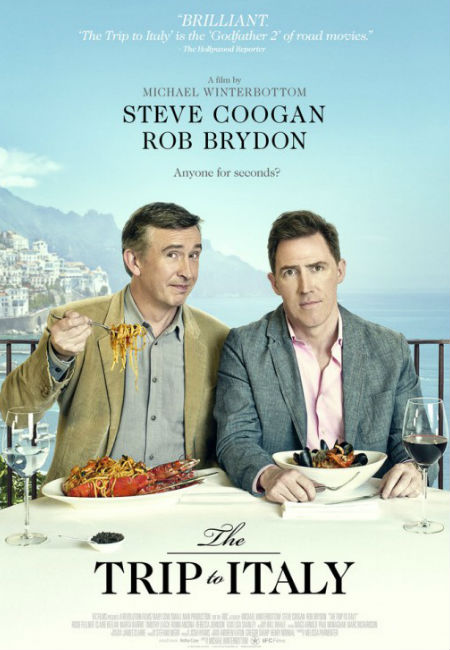 There is no doubt that Steve Coogan and Rob Brydon are one of the funniest odd couples to ever take a tour of Italy, or anywhere on earth for that matter.
The Trip To Italy, Michael Winterbottom's follow up to the pair's gastronomic, quip-laden, and philosophically ruminative journey through the delight of England's Lakes District, The Trip (2010), features the two men, or lightly fictionalised versions thereof, in full flight as they drive from Liguria to Capri via Pompeii and the Amalfi Coast.
Following in the footsteps of poets Byron and Shelley, whose poems, one time homes and even places of death such as the Gulf of Spezia, where Shelley met his end in a watery grave, provide a framework, both physical and intellectual, for their meandering trip down the narrow roads that wind their way through often spectacular scenery, they are forces of comic nature.
At least, of course, when they are together.
Apart from each other, alone in their hotel rooms each night, each of which seem to be grander and more extravagantly -named than the last, they are like all people of a certain age left alone with their thoughts – pensive, uncertain and haunted by the ghosts of a thousand and one regrets, some more recent than others.
It is an effective means of pulling back the curtain of their brash, impersonations-rich public personas, or at least the facsimiles fashioned for the film, giving some insight into the insecurities than plague both men, even as they both continue to enjoy relatively successful careers in the fickle world of showbusiness.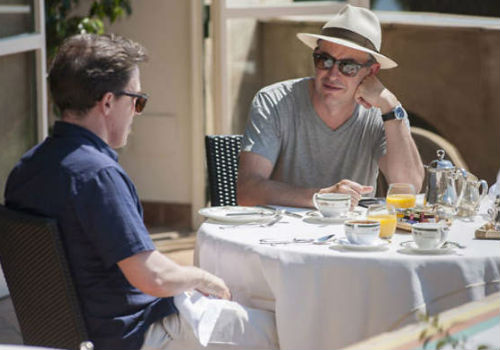 Career successes apart, which includes Byrdon landing a part as a mafia accountant (with a predisposition for speaking like Al Pacino) in a Michael Mann film over the week they are away, both men are grappling with absences from close family members, wondering once again if this sense of malaise they feel about their lives is real or imagined.
Grounding those these moments of middle-age melancholic pondering may be, they take a backseat (pun intended) to the day time delights of the road trip itself, which sees the men stopping to eat at six, often beautifully-located restaurants, part of Brydon's brief to write a series of articles for The Observer newspaper.
As the men make their way from one gastronomic delight to another, they engage in an ever-escalating playful war of quips, repartee and impersonations, as they discuss topics as diverse as the imagined derivation of Alanis Morrissete's name (she's a Morrissey devotee called Alan), the number of times you can bury Batman (14 or so), and whether Gordon is a suitable middle for Byron, one of the great Romantic poets (it's a definite no, if you're interested).
It is Brydon, whose rich, elastic Welsh voice lends itself to brilliantly channelling everyone from Michael Caine to Woody Allen, Al Pacino and every actor who has ever played James Bond, that dominates this endless stream of witty, hilarious impersonations although Coogan, who is more apt to sit back smiling or gently mock than attempt to match Brydon's vocal gymnastics, isn't left completely behind.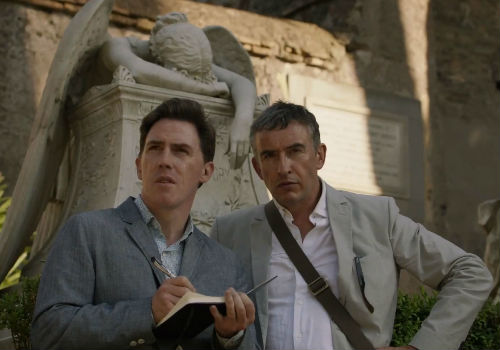 It is warm, funny and gleefully over the top at times, and as you meander down through the visual magnificence of the Italian coast, you can't help but wonder what it would have been like to have jumped in the backseat of their Mini and attempted to join in with these two gifted men.
The answer most likely would have been exhausting.
For while Coogan and Brydon are in rare comic form, able to summon up an entertaining stream of comically-inspired improvised interactions and more than amiable companions throughout the film, it all becomes a little overwhelming towards the end of the movie.
It is rather like being at an endless dinner party where two friends are constantly trying to outdo each other, each quip more enthusiastic than the last, each impersonation a bravura performance beyond imagining, and though you attempt to keep up at first, it all becomes a bit too much and you retire meekly to your far less funny corner.
This is not to say that The Trip to Italy isn't largely a pleasure to sit through, the scenery, the poetry (mostly of Byron, which Brydon admits he can never deliver in his own voice because it lacks credibility), and the charming, funny camaraderie between the two men (not to mention their solo nocturnal ruminations on the meaning of life, family and careers) lend the film the sort of easy going enjoyment you would expect from a trip through the inestimable pleasures of Italy.
But I can't help thinking it might be have a little easier to take the admittedly enjoyable and often down hilarious sparring between the two men in their original form as a six part TV series, which just aired in the UK and provided a weekly gap between their full-on adventures in comic one upmanship.
In laughter, as in rich food and wine, less is most definitely more.