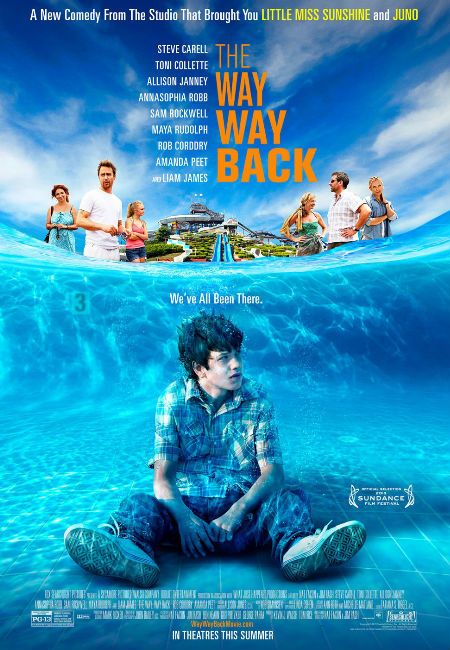 Fitting in anywhere new is always a challenge.
But that would not exactly be a revelation for introverted 14 year old Duncan (Liam James), who prefers the company of his recently-divorced mother Pam (Toni Collette) and the safety of their apartment to venturing out into a wildly unpredictable world where there are no guarantees that life won't completely overwhelm you and mess with your uncertain sense of who you are.
When The Way Way Back, written and directed by Jim Rash (Community) and Nat Faxon (Ben and Kate), opens, Duncan is feeling plenty overwhelmed, forced to leave his domestic cocoon by his mother's new boyfriend, the overbearing and opinionated Trent (Steve Carell who does a fine job playing against type) who has carted them all off, including his disaffected, beer-drinking daughter Steph (Zoe Levin)  in a restored station wagon that's just like his dad used to drive, to his beach house for the summer.
Duncan clearly isn't happy about going away for an extended period for a man who clearly makes him uncomfortable.
But it's a discomfort compounded by a conversation in the car where Trent basically bludgeons Duncan into rating himself as a person on a scale of 1 to 10, and then ridicules his suggestion of a "6" by making it clear he sees Duncan as little more than a "3".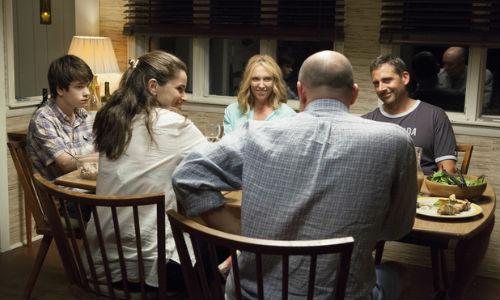 It is obviously intended as a pep talk of some kind by Trent, who fails to see that his cruel assessment (which comes with a vague remedial action plan attached) of his stepson-to-be – if he can convince a somewhat dubious Pam to go along with his idea of forming a family, an entity that Trent seems to be believe can be brought into being by sheer force of will and few choice pieces of salesman jargon – is just one more nail in the coffin of Duncan's self-esteem.
An indication of just well he is succeeding and molding young lives is the relationship he has with Steph, who after stealing a few beers, heads off to the beach to hang out with her "friends", a clique of mean girls and their lunkhead boyfriends, who move as one at Steph's dictatorial command.
The only one not totally enamoured of Steph's all-in, everyone-in approach to summer living is Susanna (AnnaSophia Robb), who spends her time reading, and trying to crack open Duncan's almost impervious to social contact exterior.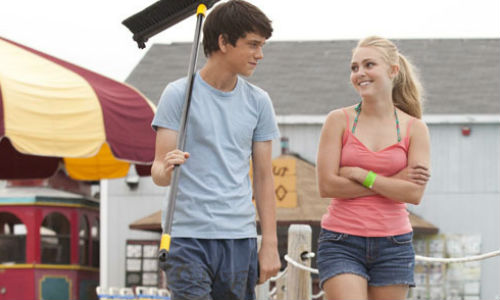 A young man of few words, Duncan does his best to respond to Susanna's attempts at connecting with him, but he is clearly unsure of what to do next with the older, wiser Susanna and their conversations are endearingly awkward and tentative, at least as far as Duncan is concerned.
She though is his only real point of meaningful contact, at least at first, in the beachside town that is home for the summer, with his mother sucked into the orbit of Steve's coterie of once-a-year friends including their outrageously inappropriate next door neighbour (Alison Janney who eats up just about every scene she's in but proves to have a heart of gold when it matters) and Kip (Rob Corddry) and Joan (Amanda Peet), with whom Trent has a rather too fresh history, rendering her out for the count as a bastion of safety for Duncan.
Unsure of where he belongs and what he should be doing, and intensely disliking Trent and the deleterious effect he is having on his mum, Duncan, who embodies all the uncertainty and social ill-at-ease that many of us felt at his age, takes to spending his days riding around town on a hot pink dragster bike, responding to any queries about the where's he's been a teenager-typical "nowhere".
He is completely lost, and bored, until he one day ends up at Water Wizz, a wholly inappropriately named water park on the far side of town that hasn't been upgraded since 1983, presided over the gregarious, wisecracking Owen (Sam Rockwell) who quickly draws Duncan into his fast-moving orbit, transforming, with the help of park employees and close friends Caitlyn (Maya Rudolph), Roddy (Nat Faxon) and Lewis (Jim Rash), Duncan's battered sense of self.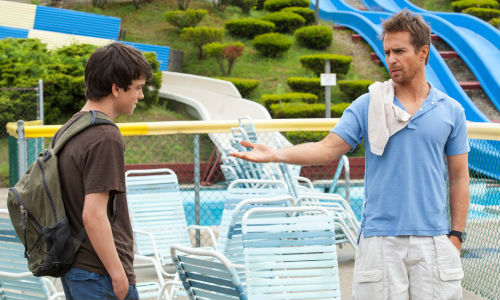 And in the process providing Duncan with a much more authentic sense of family than Trent's ham-fisted aspirational pronouncements will ever bring about.
Gregarious, fun-loving and the king of one liners he may be (Rockwell's ability to deliver pithy lines is almost without par) – his rapid fire patter catches Duncan off guard more than once to Owen's consternation and delight – but the water park manager is no fool, and he senses very quickly that he has a young man on his hands who will settle for the nearest, safest bolt hole and stay there for time immemorial if it will have him.
So he begins to put Duncan into situations that will test him and push him out of his shell – such as getting him to break up an impromptu breakdancing party which results in him showing off some dorky but adorable dance moves – succeeding to the point where Duncan happily, and mischievously talks back to him and Roddy when they call him over one day when he is trying, with some success this time, to talk to Susanna who has followed him to the park, curious about where he is disappearing.
And giving his young charge the confidence to confront the unhealthy dynamic between his mother and Trent – in the sort of messy, bull-in-a-china-shop manner that all-knowing teenagers use, unaware there are greys in life as well the blacks and whites – charting as he does it, the beginning of a path in life that Owen stresses should be lived on his terms, and not dictated by those around him.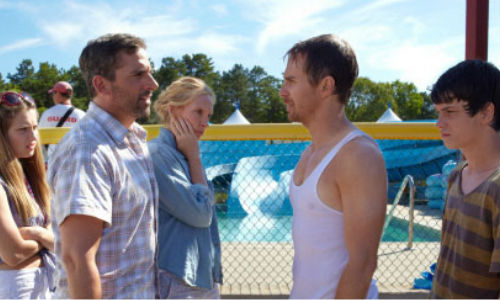 As Owen has made clear all along in a funny, poignant movie that nicely balances comedy and drama to tell its story – a worthy successor to Faxon and Rash's earlier screenwriting effort The Descendants –  Duncan can't stay within it's somewhat dilapidated environs forever and when it comes time to leave he faces his return to the real world with aplomb, challenging Owen to a race down the water slides and in so doing, staking his claim to a future that will be lived on his terms.
It is a heartwarming, charming coming-of-age story that deftly underlines the fact that while our options for determining the shape of our lives at age 14 are limited by money, time and parentally-controlled circumstance, that it is possible to begin sowing the seeds for the person we will be and the life we would like to lead.
And that Duncan does, with the help of Owen, making this initially most unwelcome of summers, one he will likely never forget.