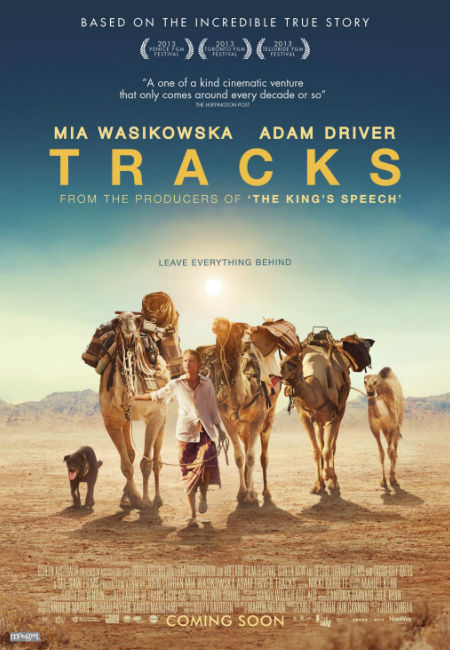 Great is the weight on any actor's shoulders when they are required to carry almost an entire film on their thespian shoulders.
But Mia Wasikowska (Stoker, Jane Eyre) is more than up to the challenge, bringing an enduringly strong yet restrained presence to the role of Robyn Davidson, who, in 1977, famously walked from Alice Springs to the coast of Western Australia with four camels, her beloved dog Diggity and enough grit and determination for several lifetimes.
Her unprecedented and epic trek was documented throughout by photographer Rick Smolan (played by Adam Driver of Girls fame), with whom Davidson had an on-again, off again romantic relationship, and the resulting article in National Geographic in 1978 triggered such an overwhelming response that it lead to the publication of the book Tracks in 1980 on which the film is based.
Trapped in "development hell" for close to three decades, the film adaptation by noted director John Curran (Stone, The Painted Veil) is notable for the way it handles Davidson's impressive feat of human endurance.
Rather than the triumphant against all odds tone that must have been tempting to adopt – understandable with a tale as impressively large and inspiring as this one – Curran's take on Davidson's journey of the soul is beautifully shot, unassuming fare with restraint and subtlety the order of the day.
This decision to eschew a larger than life sensibility results in a film that moves almost as languidly and peacefully as Davidson's 2000 plus kilometre yet like the protagonist herself, without ever losing its sense of purpose.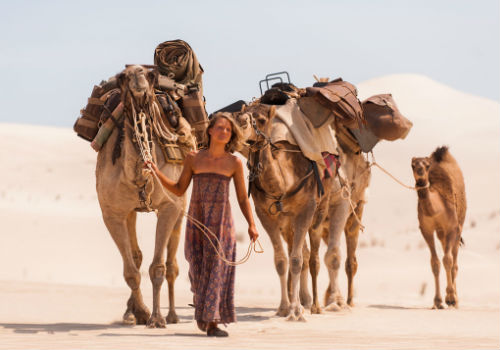 It follows a largely chronological time frame, beginning with a mid-twenties Davidson arriving into the wildness of Alice Springs in 1976, singular of vision and devoted to its outworking regardless of the obstacles placed in her way.
These included the irascible owner of a local camel farm/tour company Kurt Posel (Rainer Bock), a man short on social niceties and as it turns out, ethics.
Agreeing to hire Davidson to work at his enterprise for eight months for no pay, with the verbal promise of the three trained wild camels that the plucky young woman needed to complete her envisaged trek, he reneges on the deal, to the fury and frustration of Davidson who undaunted, continues her plans to cross the deserts of the Australian interior with the help of more sympathetic, trustworthy people.
These set up scenes, used sparingly and quite effectively by Curran, establish Davidson as a quietly forthright woman whose main motivation for embarking on this remarkable journey is a simply stated "I just want to be by myself" is a product of a life lived without the direct presence of her father (played by Robert Coleby) who handed her over to the care of her aunt Gillian after the suicide death of her mother.
Not so much anti-social as more comfortable with her own company than anyone else's, she sees the journey as a chance to be properly alone, which largely happens save for Smolan's sporadic meet ups with her to take his rightly admired and breathtakingly evocative photos.
Reluctant at first to have anyone cramping her vision of a purely solo undertaking, she only accepts Smolan's presence because it is National Geographic's money that is paying for her vision of self-sufficient adventuring to happen at all.
(This is a narrative sleight of hand by screenwriter Marion Nelson as Davidson actually requested Smolan be the designated photographer and understood he needed to be present at times, but in work's as plot device in establishing the driving need of "The Camel Lady", as she came to be known. to complete the trek on her own terms.)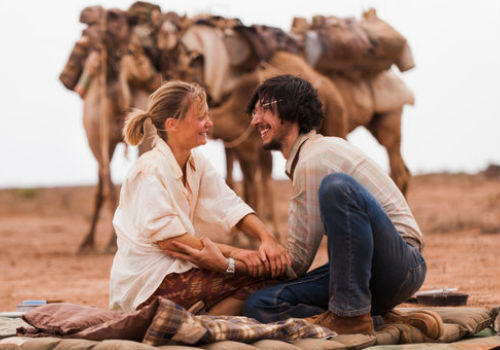 Through the course of her trek west, which is punctuated by small non-melodramatically realised dramas, and one devastatingly personal setback, she nonetheless comes to realise that she needs and wants other people close to her including Smolan, who is given a nerdy loveable levity by Driver to go with his photographic professionalism.
Rather than playing her new found awareness of the negative aspects of total aloneness as some grand revelation writ all too obviously large, Curran teases it out as a series of intimate moments, a gradual discovery that profoundly alters Davidson and her outlook on the world.
Coupled with stunning cinematography that shows off the reds, oranges and burnt browns of the Australian Outback to glorious effect, and music that is obviously present and scene-setting without being overpowering, Tracks remains throughout a quiet, engrossing and utterly pleasurable tale of woman's determination to live out her unorthodox dream.
It is a wholly immersive movie, placing you front and centre every step of the way, involving you fully in Davidson's grand trek across Australia, a journey that came to be to as much of an internal reawakening as an external triumph.
Much like Life of Pi and All is Lost before it, all of which relied on one actor carrying a film through largely solo scenes, Tracks is a film that should on paper be ever prone to sink under the weight of ennui, but thanks to Davidson's gripping story, Wasikowska's consummate skill as an actor and Curran's deft hand, it is instead a moving ode to the empowering possibilities of a life lived outside the day to day margins of expectation.