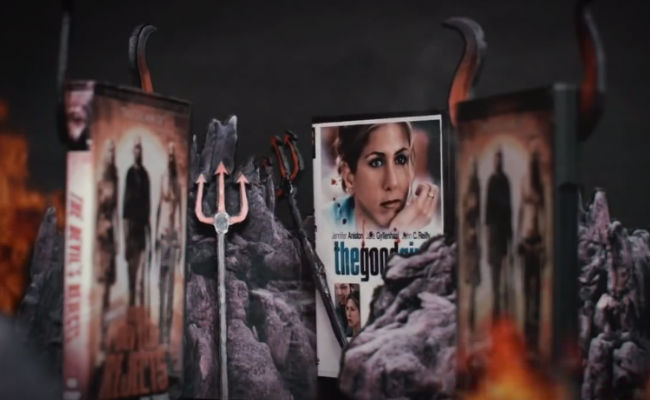 Do you ever look at your shelves of DVD movies – at this point I am clearly talking to only people over 25 since I am guessing Millenials would view DVD ownership as somewhat akin to inviting a caveman to draw ochre paintings on a living room wall – and wonder what else could you do with them besides watching the movies they contain?
No? Pity, because Portal Party, who are behind a brilliantly imaginative series of short films called Movies Starring Movies that star DVD cases of actual movies in lieu of actors, have mostly done just that and decided that life is too short to have those cases simply sitting around doing not much of anything most of the time.
The films are very cleverly plotted, make judicious uses of the titles selected – brainstorming for the films must be an absolute hoot I imagine with everyone shouting titles out like their lives depend on it – and are beautifully produced, and dare we say more than a little bit amusing.
It's an ingenious way to bring short films to life and I can't wait to see where they go next.
I am hoping for either Alien Invasion or Romantic Comedy, both of which could be fully staffed from my DVD shelves alone.
Call me Portal Party! My DVD cases are ready, willing and, ahem, somewhat dusty.
Let me just go clean them …
(source: Laughing Squid)