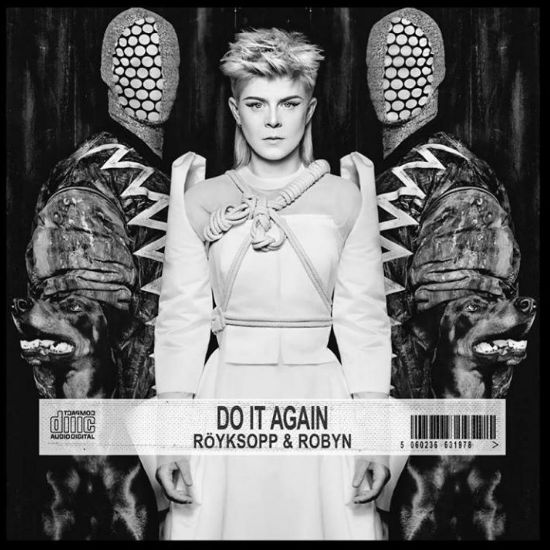 If there was a marriage made in musical heaven, it's the union of Swedish pop superstar Robyn, and Norwegian electronic music duo Röyksopp (Svein Berge and Torbjørn Brundtland) who together have released the diverse and yet enjoyably cohesive mini-album Do It Again.
The product of an already long-existing creative partnership – Robyn's impossibly rich and passionate vocals first appeared on "The Girl and the Robot" on Röyksopp's 2009 album Junior, with Svein and Torbjørn repaying the favour on "None of Dem" from the Swedish pop empress's 2010 break out album Body Talk – Do It Again evolved from some loose sessions between the two sets of artists in the wake of Body Talk's massive worldwide success.
Described by Robyn to Billboard as "an outlet for not having to live up to anything but my own expectations", the mini-album seems to have benefited from this willingness to go with whatever impulses came to mind, sounding like both the artists in question and yet not at all, a sign that individual identities were subsumed in the creation of something altogether different.
It's a breath of fresh air for both Robyn and Röyksopp, a sign that they recognise that all that success in the world cannot compensate for a renewed creative lease on life, as Brundtland told Billboard:
"Sometimes I think that we are getting older, and maybe we are not that interesting. Adding something new to what we're doing is just refreshing. It's different, in the way that it should be."
But of course that doesn't mean they have left their hallmark sounds behind completely.
Or in the case of the lead single "Do It Again", which is anchored by Robyn's intensely heartfelt vocals, a maelstrom of synths and a pounding beat that matches the songstress's achingly passionate voice note for note, much at all.
But armed with the Norwegians love of an emotionally-resonant, somewhat melancholic melody and Robyn's ability to seemingly project her very soul into every song she sings, "Do It Again", which reached #16 on Billboard's Hot Dance/Electronic Songs Chart, and could well be the song that gets Robyn into the Top 100 for the first time in 17 years, is consummate proof that the coming together of these three impressive talents has created something far more greater than the sum of its parts.
A musically upbeat but lyrically tortured track about a toxic relationship that is no good for either party involved but from which neither one can distance themselves, "Do It Again" embodies that peculiarly Scandinavian flair for mixing the buoyant and the blue, the marvellous and the melancholic in one soul-stirring perfect pop package.
Sitting exactly midway through the 35 minute long mini-album's running time, it is the emotional centre of the five songs but by no means its only show-stopping moment.
The sprawling 10 minute magnificence of opening track "Monument" is epic in every sense of the word.
Possessing a commanding presence almost from the word go, the song has a finality to it that suggests time has run out, and yet that the time spent hasn't been in vain, that something long-lasting and of value has been created as Robyn sings "This will be a beacon when I'm gone / So that when the moment comes I can say I did it all with love."
Caressed by the soulful sax stylings of Kjetil Moester, "Monument" suggests the musings of a weary yet content soul reflecting on the content of their life as the dying embers of a 3am fire flicker down to nothing, and realising that the love they gave and expended and received has made it all worthwhile.
"Say It" by contrast is a call-and-response conversation, laid over pulsing, bouncy beats that seem to dash from pillar to post with an exuberant, unrelenting energy, between woman and machine, an exercise perhaps in bringing some human soul to the cold hand of modernity.
While this is unlikely to result in the sort of deep love that "Monument" celebrates, it is such rollicking back and forth piece of fun that you can help but be swept up in this most unorthodox of beat-heavy love affairs.
While the remaining two tracks "Every Little Thing" and "Inside the Idle Hour Club" don't have quite the same impact as their three musical brethren, they are hardly filler tracks, with the former track dripping with the sort of heart-heavy vocals that Robyn excels at, rendering it a ballad that wears its dramatic heart very much on its sleeve, and the latter a chilled reverie that meanders on a bed of light-as-air synth-driven melodies.
With both Robyn and Röyksopp both working on their own new material, "Do It Again" could easily be seen as a diversionary vanity project of sorts.
But it is anything of the kind, testament that some marriages, however briefly visited and occasionally indulged in, are meant to last, producing the most beautiful and beguiling of musical progeny along the way.