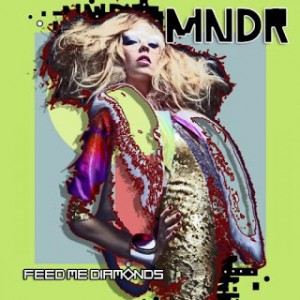 MNDR, an electronic music duo that sprang forth from New York in 2009 when Amanda Warner and Peter Wade got together to make down and dirty dance music, but which essentially functions as a solo vehicle for Ms Warner, have released an album of some of the finest synth-laden dance pop I have heard in many a long day.
Sounding like the wholly original love child of Lady Gaga, Ladyhawke and even yes, Bat For Lashes, MNDR, which has been Warner's solo moniker since 2005, Feed Me Diamonds roars from the gate with "#1 With Heaven".
While it starts out sounding like any number of high-octane dance tracks populating the charts, what sets it apart almost immediately is Warner's powerful, quirky voice that matches the insistent beat note for note.
The lyrics too are refreshingly substantial and hint at some impending moment of great portent that will have dire implications for all involved:
"From the heart, signed in blood
The first of many merry men before the flood
Where you gonna go as the pressure breaks
To the hills, now, you can't get away
Oh, I'll take you all with me"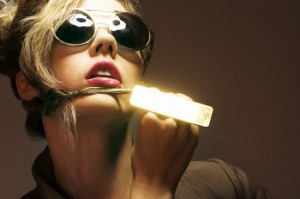 And that sets the template for this album which is just as concerned with saying something worthwhile as it is getting you up off your jaded feet and dancing like a diamond-chompin' madman.
Of course it not exactly an existential treatise on the tortured nature of existence in our nihilistic world, but lyrically it has a great deal more depth than many other dance pop albums out there, showing MNDR's gift for hook laden pop is matched by an intelligence for meaningful words.
It's a perfect pop package.
"#1 in Heaven" for instance references infamous words uttered by Patty Heart upon her release – "Tell them I am smiling and send my greetings" – that ricochet up, down and through the minor-key laden pounding chrous of this dance gem.
And "Feed Me Diamonds", which you might think is a paean to the languorous lifestyles of the rich and famous, is in fact a dark excursion into the seedy underbelly of life. It's gritty raw sound comes complete with lyrics that ponders the futility of reaching for anything of value in life when you're at absolute rock bottom.
Says Warner on a song-by-song breakdown of the album on spin.com:
"I was going through a really tough time, a really dark time personally. I was really broke and hungry, and I had dysentery. Everything was the worst I could expect or experience."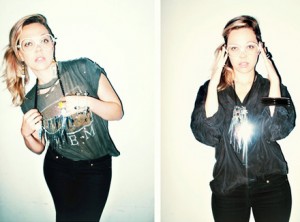 While MNDR will undoubtedly be thrown into the same pool as all the other artists climbing onto the synth pop bandwagon, her music and lyrics are streets ahead of anything I have heard recently.
She has that rare ability to move between pounding dance floor stomps that threaten to bring the roof down, and soulful open-wounds-bleeding songs that reveal a soul that has seen more darkness than it really cared to, and sounds totally authentic in every song.
Songs like the exuberant "Fall in Love With the Enemy" with its enthusiastic opening melodic blast and the giddy full speed ahead throbbing of "Faster Horses" sit comfortably alongside the more contemplative "Stay" and "Blue Jean Youth" and the almost bleak beauty of  bonus song "Chained to Change".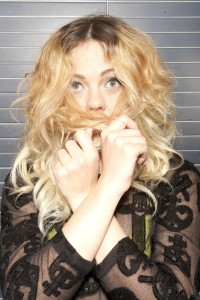 It makes sense when you consider that Warner comes from an experimental dance background where a great deal of who you are is invested in the music.
This is not someone rushing to be the latest artist to throw a liberal dash of synth into her pop just to sound hip or current; she genuinely loves keyboard pop and the darkness and light it can bring to music when used by people who truly appreciate its power and know what they're doing with it.
And Warner and Wade definitely do.
I have been listening to this album almost non stop for the last 2 weeks, including bonus songs such as pulsating Wang-Chung-esque intro'd "Draw the Curtains" and the thumping distortions of "Bombs Away", because it actually contains music that matters and moves on some profoundly deep level even as my toes tap up a frenzy.
It is, without a doubt, one of those stand out albums that speaks to the power of music to really say something and affect you deeply, at the same time as your body is inexorably hurtling to the dancefloor that will be your home for as long as albums as good as this are playing.