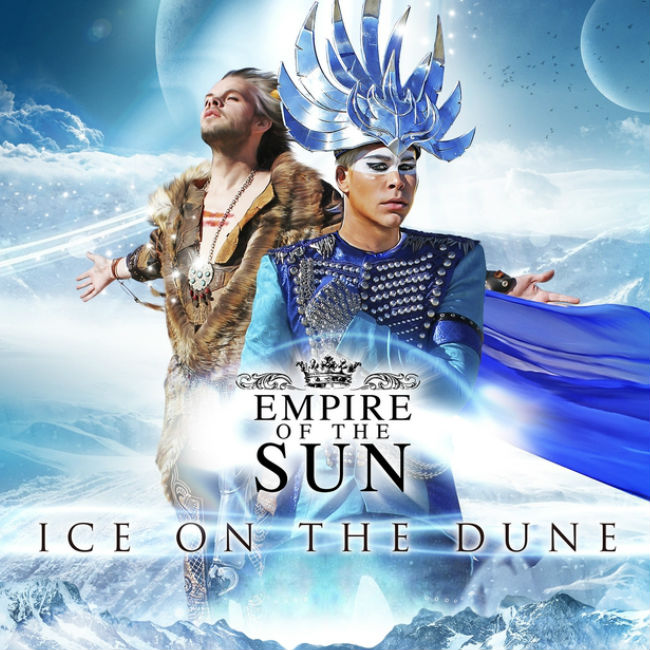 Oh the glorious sounds of shiny, happy, synth-washed musical excess.
Sounding like the aural equivalent of a deep dive into a candy shop full of bright stripy candy canes, sugar0dusted jubes, and luminously colourful boiled lollies, Empire of the Sun's Ice on the Dune summons the kind of joyful exuberance and lost-in-the-moment bliss I thought lost to childhood.
Far from being the icy confection that its title, and cover art suggests, it is a warm, vibrant collection of four-to-the-floor songs that, while tending to sound just a little too similar to each other at times, all bowing to varying to the same 80s god of retro-electro pop, nevertheless leads you into rapturously gooey warm and fuzzy giant-smiley-face territory.
And frankly that isn't a bad thing, trust me.
Granted it may not be quite as ground breaking as 2008's Walking on a Dream but Luke Steele (The Sleepy Jackson, he of the dramatic white eyes and towering flowery silver face mask, and Mike Littlemore (Pnau) but what it may lack in outright exciting originality, it makes up for in songs that soar, and swoop, rich with exultant melodies and airy, falsetto vocals that sound as otherworldly as the mythos underpinning their latest effort.
Yes, this ethereal bunch of feel happy tunes – it is near impossible to listen to the anthemic shout-out-loud lead single "Alive" or the jump-up-and-down bounce of "Celebrate" or the haunting Belinda Carlisle-esque "I'll Be Around" with its whispered, rich harmonies, and not grin like a divinely-attired madman – comes with it's own slightly loopy but charming reason for being and it's as grandiose as the songs themselves.
According to Luke Steele, who has yet to meet an eccentric artistic statement he didn't like (a blessing in a modern pop landscape where we need the unusual and left-of-centre more than ever), Ice on the Dune is all "about how the Emperor's head-dress is stolen by The King Of Shadows, bringing chaos to the world".
It doesn't matter if that nonsensical very short story is little more than a broadly themed excuse for outrageous costumes, shimmery bright pop and a flamboyant onstage presence; Ice on the Dunes is an album that proudly wears its candy-coated shiny, over the top pop stylings proudly, and having its very own fantastical theme is merely the bright red glacé cheery on an enormously sweet, gloriously camp pop cake.
I plan on having as large a slice as possible, as often as I can, ridiculously happy grin very much in place, thanking the candy gods that Empire of the Sun isn't afraid to go all out in pursuit of quirky, uplifting pop perfection.