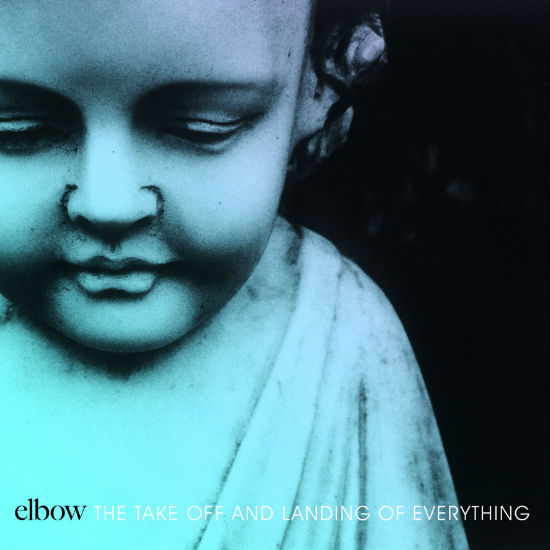 There is a world weary beauty, both musical and lyrical, to Elbow's The Takeoff and Landing of Everything that captivates the troubled soul, and soothes the ear dulled by the cacophony of life's trials and tribulations, from the first delicate opening notes.
Never afraid to tackle the weightier issues in life, the sort of darker issues that many of us shy away from in lives devoted to diversion and amusement, the band from Machester and in particular lead singer and gifted lyricist Guy Garvey, have gone one step further with an album that doesn't so much wear its heart on its sleeve as slice it messily, and poetically, open in full public view.
It may not come across this way, its laid-back melodies and Garvey's subtle approach suggesting something less than this sort of audacious emotional outpouring but don't be fooled – the wound is open and pain is being felt and dealt with.
This is an album borne of heartache – Garvey split with his girlfriend of ten years writer Emma Kane Unsworth while the album was being made – but not one expressed in the wailing and gnashing of teeth that you might expect would accompany so great a loss.
A man with a meditative soul, and a sublimely beautiful baritone voice that effortlessly conveys great arcs of emotion in its gently rhythmic rise and fall, Garvey has chosen to deal with the loss of the life he once knew by writing songs that ponder rather than accuse, that acknowledge the truth of the pain and the need to sit with it and work it through rather than uselessly thrash about in melodramatic turmoil.
That sense of painful contemplation but philosophical outworking is apparent in the languid unfurling of many of the songs which demand to wallowed in, listened to at 3am with the embers of a once roaring fire giving less and less light, warmth and clarity much like life itself.
"My Sad Captains", six minutes of percussive, organ underpinned melancholic gorgeousness acknowledges that "long before / You and I were born /Others beat these benches with their empty cups", the sort of admission that only a middle aged man (Garvey just turned 40) could make, with both a recently painful past and an uncertain future bearing down on him.
But rather than wallowing in the pointlessness of existence, which frankly would be quite understandable, Garvey lyrics instead suggest an acceptance of the grim realities of life, one perhaps made a less troubling by the imbibing of substances that help you lose your mind with like-minded temporarily escapist souls.
"Honey Sun" follows in a similar thematic vein, which finds Garvey mourning in quiet resignation the loss of his love, lamenting over the insistent hum of blues-influenced laid back guitar and soft syncopated synth beats that, "She and I were for a Burton Taylor made / She and I won't find another me and her".
It's a remarkable duality – accepting of and railing against the painful realities of life in one bleakly sung song that nevertheless somehow manages to sound less funereal than philosophically resigned and perhaps even a little hopeful.
The Takeoff and Landing of Everything real achievement is that it takes the time needed to fully explore these emotions with songs like "Real Life (Angel)" and "New York Morning", a paean to Garvey's second home in Brooklyn, happy to take anywhere between five and seven minutes to explore their emotionally raw themes.
This speaks of a band who are less concerned with crafting easy to digest radio ready songs than with authentically exploring life and its many rises and falls, with music that matches it in subtlety and understatement yet which never loses its exquisite sense of melody or its sense of presence.
And clearly people are finding kindred spirits in Elbow's warts-and-all transparency, with The Takeoff and Landing of Everything becoming the band's first long player to chart in the number one position in their native Britain.
It's an achievement commensurate with an album that audaciously tackles one of the most painful things anyone can go through, a breakup with a significant other, in ways both experimental and subdued, that isn't afraid to admit life can be tough but that it must be faced and overcome if anything new and fresh is to result.
That Elbow accomplishes this with all sorts of hitherto unused tweaks and twists on their usual indie rock formula is all the more impressive, a sign that their latest collection of songs, borne in pain, is much more of a hopeful takeoff than the agonised landing you might otherwise expect it to be.