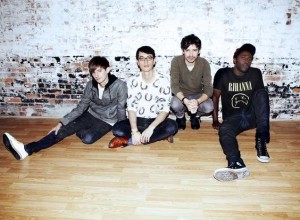 Great news today!
An email from the always musically adventurous indie rock outfit from England, Bloc Party, composed of Kele Okereke (lead vocals, rhythm guitar), Russell Lissack (lead guitar), Gordon Moakes (bass guitar, synths, backing vocals, glockenspiel), and Matt Tong (drums, backing vocals) lobbed its way into my inbox overnight declaring that they would have a brand new bundle of tunes, prosaically entitled Four, wending their way into my eager hands come 20th August this year.
According to lead singer Kele, who released his own critically-acclaimed, and commercially successfully album in 2011, the album was cloaked in secrecy while the newly reformed band worked out just how they'd approach recording an album they hadn't expected they'd be making when they temporarily went their separate ways in 2010:
"we have just finished mixing our new record. i am very proud of it. it is the best thing that we have ever done and finishing this record has taken us on quite a journey.

there have been babies, breakdowns, tantrums and hospitalisations but its finally here. we started making this record in NY in the winter of 2011. we didn't want to let the world know so we told a lie that got out of hand but it made us laugh in the process, which brought us closer together.

we could have come clean from the get go but to be honest we had no idea if anything was going to come out of these sessions. there was a big question mark over whether bloc party were ever going to make another record again. we were exhausted and bored and distant from one another. so in 2010 we all did our own thing, gordon had a baby, russell joined ash, matt built a studio in his basement with his bare hands and i moved to new york to finish a book that i had been writing for the last 3 years."
(written in his blog, iamkele.com – you can read the full blog post announcing the new album here)
While there is no track listing available yet, we do know that the album was produced by the uber-talented, Alex Newport, who has been responsible for stellar efforts from the likes of Death Cab For Cutie, and The Mars Volta.
At this point, the best we can do as far as hearing any of their new music is to watch the trailer for the album (below), which has snatches of some of the songs woven throughout.
According to the email from the band, the album will be released in four different formats and is available for pre-order from their website (see below).
Standard CD
Jewel Case with 16 page booklet
Limited Edition CD
Digipack with 2x bonus tracks and 32 page booklet
Picture Disc 12″ Vinyl
Including download code for the album
Heavyweight 12″ Vinyl
Includes a CD of the album
For prices, information and to pre-order visit bloc party.com
Let the countdown begin!