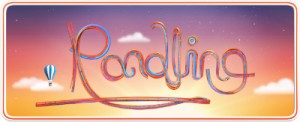 I like nothing more than watching a new TV show that is intelligent, full of fun, and has entertainment woven deeply into its DNA. (OK it is possible I like cheesecake and trips to New York a little more but for the purposes of this review, erudite, funny TV shows are all my heart desires.)
So few shows have all that these days, relying on cheap laughs, talentless "pretty people" or vacuous set ups that go nowhere, but Randling, a new show from the uber-talented Andrew Denton's production company Zapruder's Other Films, has all of the qualities I love in a great TV show plus a riot of colour-filled logo that will sear your retinas, and behold it is very good. In fact they're so good they may even have a cheesecake tucked away somewhere. But I digress…
It features two competing teams of two literate but witty celebrities competing to solve word puzzles of all kinds while being as entertaining as possible. They are encouraged to work along the joke-laden path to their answers in as full a way as possible, and with so much side-splittingly funny material to choose from, the editors of the show will struggle to cut the show to its require running time of half an hour.
Once they teams do arrive at an answer, and it can take a while (but really who cares?We're laughing too much) everyone's favourite host, Andrew Denton, whose quips are every bit as hilarity-inducing as the contestants, awards them points (usually based on how amusing and clever the team's efforts have been) until one team emerges victorious. They are competing for the honour of holding the suitably ostentatious Randling trophy aloft but frankly while the teams are competitive, I think everyone is enjoying the journey to intellectual stardom just as much as the thought of any eventual reward.
Of course being a game show which declares itself to be the "Toughest Non-Sporting Competition In The Whole World" ( taken from their website where they happily admit that this may not entirely be true), the teams do want to win but they do so in an entirely civilised manner with everyone attired in sartorially-elegant blazers.  Of course, in keeping with game show's the world over, they have loud bright buzzers on their desks that scream for attention when pressed. It's intense, it's funny, and they even promise you will leave "each episode of Randling at least 1.7% smarter and over 100% happier."
How could you not want to watch a show that leaves you smarter than when you sat down to watch it? You're sides will be sorer of course from having watched it but it's a small price to pay for such a massive increase in intellectual capability.
So you say, eager to start playing around with all sorts of challenging wit-inducing word games, when can I watch it? Well, it hasn't reached the small screen yet, but its getting close. They are in the midst of taping the heats at the moment – my partner, a work colleague and I were fortunate to score tickets to the taping of what will be the 16th episode in the series – with semi-finals looming in the not too distant future.
We were fortunate to turn up on the night that Merrick Watts (of radio fame) and Annabel Crabb (whose writing and incisive but humourous political insights I lap up at every opportunity) in stunning green blazers and known as the West Coast somethings, and Angus Sampson (who has more dry wit than Paris Hilton has handbags) and Toby Schmitz (talented playwright and actor) in black blazers (Angus choosing shorts instead of the usual pants) and known as The Help RC competed against each other.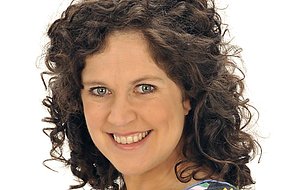 They were so funny that the entire audience, who were asked to pick a team, cheer for them and hold signs urging them to victory, spent the entire taping of some two hours laughing themselves 1.7 times smarter (ah you thought I'd say "silly" but this show is too clever for that kind of marlaky thank you!).
The warm up comedian Tommy Dean, who sees himself as a "entertainment facilitator", had encouraged us to laugh ourselves silly as we were clapping but you didn't need to remind yourselves to do that since it just happened organically. And often. And deeply. The teams, and Andrew Denton even stopped to talk at length to the audience before and after the taping, which was every bit as entertaining in some ways as the show itself.
Frankly I cannot wait to attend another taping of this wholly original show and you can rest assured that I will be sitting front and centre in my loungeroom when it does air, taking in every joke and witticism and enjoying my slow but inevitable climb to the status of genius.
Yes Randling is that powerful and when it does make it onto the ABC you must watch it. Or eat a dictionary. Frankly watching the show will be a lot more fun, trust me.
Here's an awesome interview with Andrew Denton that was posted on the Sydney Morning Herald website this week.