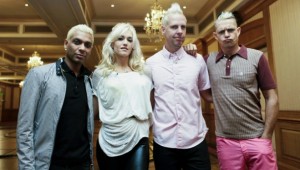 The world's most beloved purveyors of ska pop are back with a new album produced by pop god, Mark 'Spike' Stent, Push and Shove (out September 25), a single to kick things off, "Settle Down" (released July 16, with a video, directed by the uber-talented Sophie Muller who was at the helm for the clip of their smash hit "Don't Speak", hitting the internet early July sometime), and their first live performance in two-and-a-half years at the 2012 Teen Choice Awards on July 22.
So much No Doubt goodness! The band assure us they are every bit as psyched as their fans to be back as a group and singing live once again. In a statement released by the band, lead singer Gwen Stefani, who found great success with a single career, said:
"I can't believe this is actually happening. The idea of playing our new music live is heaven on earth. Can't wait to share it!!"
Her enthusiasm was back up by bassist Tony Kanal who went on to say:
"We're so stoked to finally start performing these new songs live. And to be doing the first performance of our first single in Los Angeles makes it even more awesome."
It's been many years in the musical wilderness waiting for No Doubt's infectious blend of ska pop to ride the zeitgeist again but we can now let the countdown begin!