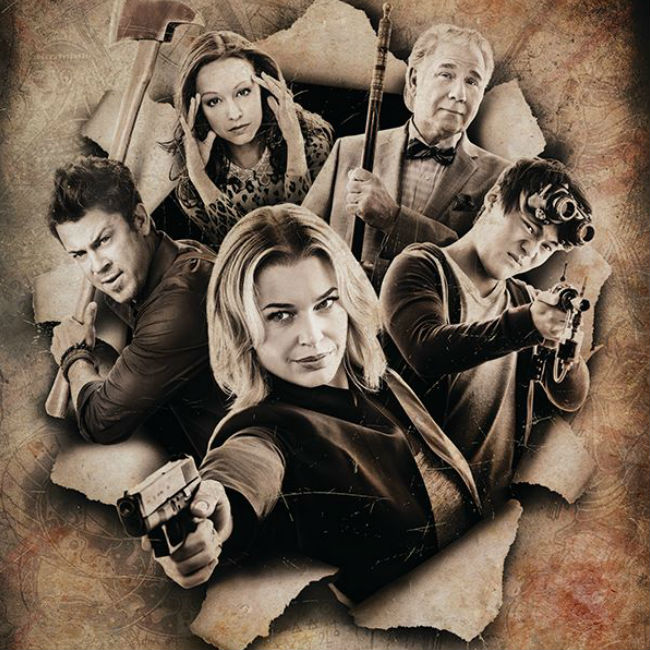 Not that long ago, I was in mourning as a whole lot of quirky, tongue-in-cheek, postmodern-mythos-laden, fun-and-adventure shows I adored suddenly blinked out of televisual existence.
One minute I was watching Eureka, Sanctuary and Warehouse 13 and the next? I was not.
Well not new episodes anyway.
And then all of a sudden, along came The Librarians, a show with a cheeky sense of humour, instantly likeable characters who inhabit a secret inter-dimensional magic library, and a willingness to mash all sorts of myths, fairytales and pieces of epic storytelling together, and suddenly all was right with the world again.
The only problem? Season 1 only had 10 episodes – yes I know that's largely the norm but it still doesn't feel like quite enough – and I was left yearning for more stories from Eve (Rebecca Romijn), Jacob (Christian Kane), Cassandra (Lindy Booth), Ezekiel (John Kim) and Jenkins aka Galeas (John Larroquette), with occasional, wildly-and-entertainingly over the top appearances by Noah Wylie as the Librarian Flynn Carsen.
Prayers for another season of wisecracking rollicking magical adventure were answered in February when TNT renewed the show for a second season of 10 episodes, which start airing with a 2 hour premiere on 1 November.
And as you might expect, things are as crazy chaotic and wildly unpredictable as ever with Frankenstein's monster, who is most definitely not afraid of fire, and the lost city of Atlantis featuring among other iconic mythical but all too real characters, creatures and places.
My mourning is over – let the inter-dimensional hilarity begin again!