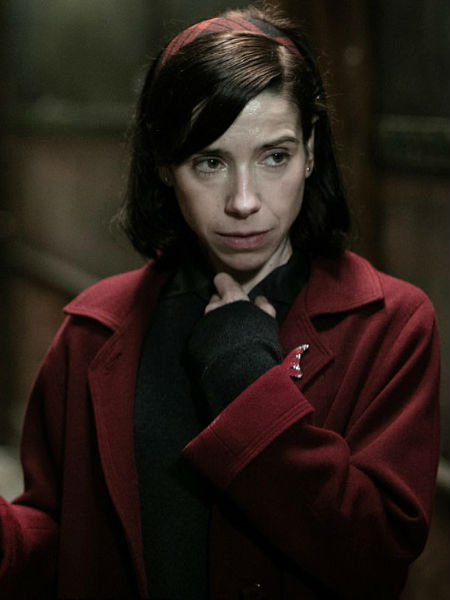 SNAPSHOT
On IMDB the following is described as one of her trademarks; an apologetic and grateful presence with a shy and nervous demeanor that's pretty accurate but there are still a few surprises …Sally's role as as Elisa in the 'Shape of Water' suits her perfectly. Elisa has elements of some of Sally's past characters there's a nervous apologetic energy tour but in her relationship with the creature in the film she flourishes. (synopsis via Laughing Squid (c) No Small Parts)
I fell in love with Sally Hawkins when I saw her in Mike Leigh's battle of delightfully tart and charming 2008 film Happy-Go-Lucky where she played the bubbly Poppy to the irascible Scott.
It was a part written especially for her, as Brandon Hardesty, host of IMDb's series No Small Parts, notes, but she more than made it her own, taking a fey giddily upbeat character and giving her real grit and substance.
She went to a slew of memorable roles including that of Ginger in Blue Jasmine which, like Happy-Go-Lucky before it, earned her a Golden Globe nomination, and even more excitingly, her first Oscar nod (followed this year by one for Best Actress for Guillermo del Toro's The Shape of Water.)
That official acknowledgement merely confirmed what those of us who have been following her career, which has reached a milestone with the lush, retro-romantic fantasy The Shape of Water – though she was equally wonderful in last year's touchingly resonant Maudie – have known all along — that Sally Hawkins is an enormously talented, multifaceted actress who will have a long and brilliant career.
(source: Laughing Squid)