SNAPSHOT
Inspired by the wondrous paintings of Simon Stålenhag, Tales from the Loop explores the mind-bending adventures of the people who live above the Loop, a machine built to unlock and explore the mysteries of the universe – making things previously relegated to science fiction, possible. In this fantastical mysterious town, poignant human tales are told that bare universal emotional experiences, while drawing on the intrigue of genre storytelling.

The series will feature several familiar names in the cast, like Rebecca Hall (Vicky Cristina Barcelona, The Town), Paul Schneider (Parks and Recreation), Daniel Zolghadri (Eighth Grade), Duncan Joiner (Waco) and recent Academy Award nominee Jonathan Pryce (The Two Popes, Game of Thrones). The first episode will be directed by Mark Romanek, who has directed feature films like One Hour Photo and Never Let Me Go. (synopsis via Nerdist)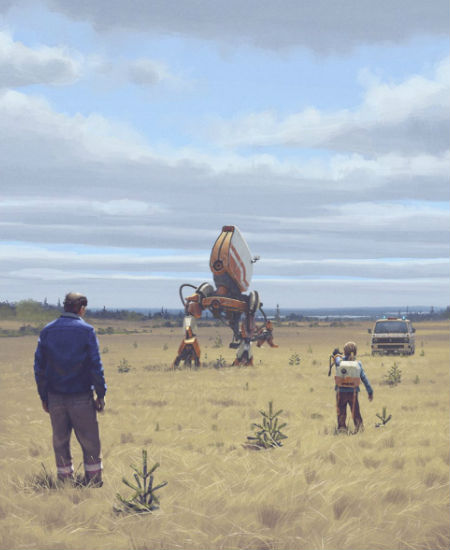 Tales From the Loop, based, according to Nerdist, "on an alternate history science fiction tabletop role-playing game from 2017 designed by Nils Hintze" looks like the kind of dreamy sci-fi series I could totally immerse myself in.
That is assuming that the trailer, which premiered last week, accurately reflects the show and isn't some kind of fake out to lure into a series that's actually more horror than quirky hopefulness.
Certainly the visual aesthetic, inspired by the art of Swedish illustrator Simon Stålenhag is enrapturingly beautiful, reminding me of the film Robot and Frank while the series project the narrative sense of the pitch perfect quirky wonder that is the novel A Robot in the Garden by Deborah Install.
Quite how it will all play out is something we have to wait about a month to see but suffice to say, it looks so intriguing that this is one show worth making time in a crowded schedule for.
Tales From the Loop premiers on Amazon Prime Video on 3 April.