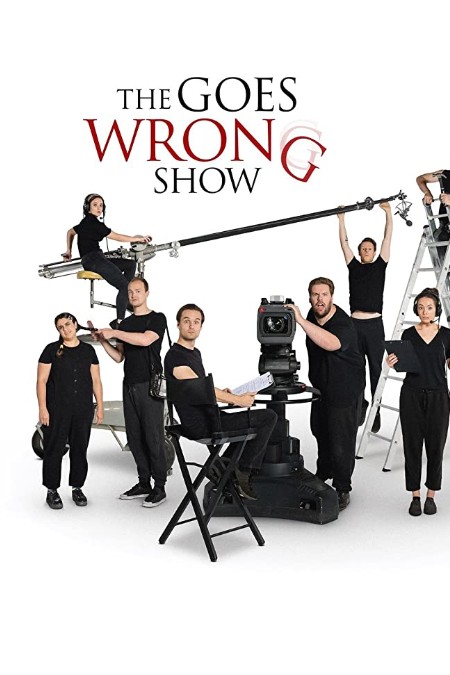 SNAPSHOT
The Goes Wrong Show is probably the funniest comedy the BBC has shown in years. Based on the theatrical monsters from the Mischief Theatre that have filled London's West End in recent years, including The Play That Goes Wrong by Henry Lewis, Jonathan Sayer, and Henry Shields, Peter Pan Goes Wrong and Magic Goes Wrong, the show sees a fictitious amateur dramatics company with ideas well above their station put on a performance that… well, goes wrong. And keeps going wrong… but the show must go on – even if it shouldn't. (synopsis (c) Bleeding Cool)
Do we need a laugh right now? Yes, we need a laugh right now – an unending stream of them, in fact.
By any estimation, and we have been judging this year like it's a recalcitrant re-offender heading to prison for the 20th time, 2020 has been a very nasty, extremely unfunny hell of a wonky waltz around the sun.
Thankfully, when we are a our darkest and least amused, the BBC via Amazon Prime Video, has chosen to gift with the comedic genius of the Goes Wrong Show which features a theatre company with vaulting dreams of grandeur that doesn't quite manage to deliver on all that starry-eyed promise.
Pretty much ever.
Not great for them – the show features regular Mischief performers including Charlie Russell, Bryony Corrigan, Dave Hearn and Nancy Zamit – but great for us and our need, our crying need for a great big belly laugh.
So funny is this piece of inspired comedy that it caused the folks at Bleeding Cool to wax lyrical.
"If you want to see what the Fawlty Towers of 2020 would look like, this is it – but funnier. It takes basic slapstick and turns it into an artform that surpasses the likes of Charlie Chaplin, Buster Keaton and Harold Lloyd into something genuinely emotionally affecting and reflecting human complexity in its pratfalls – while also being very, very funny indeed."
While we have day to go here in the Antipodes before we can see what all the fuss is about, the trailers and clips (below) give you some idea what you're in for and honestly, it's HILARIOUS.
Pandemic stress-relieving hilarious. Yep, it's THAT funny.
The Goes Wrong Show starts on Amazon Prime in US, Canada, New Zealand and Australia on 15 August (tomorrow in fact!).