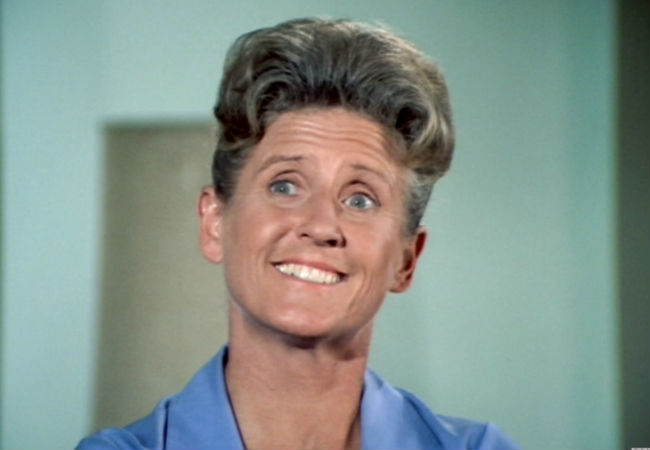 We all know that time passes way too fast.
But the sheer rate of knots at which it travels, dragging us along with it in its wake, hits home when someone from your childhood dies and you're left wondering where all that time actually went.
It's probably why the passing of people like Ann B. Davis, who died Sunday US time, aged 88, after a fall in her bathroom at her home at a religious community near San Antonio Texas, has affected me so much.
Best known, of course, for playing the part of housekeeper Alice on the five seasons of The Brady Bunch (1969-74), a show I watched religiously as a child, and its subsequent incarnations including The Brady Bunch Hour (1976-77), The Brady Girls Get Married (1981), The Brady Brides (1981) and A Very Brady Christmas (1988), Ann B Davis was a staple of my younger viewing years.
And while she may have retreated from the limelight in later years, devoting herself to prayer, Bible study and the religious community of which she was a part, she never really turned her back on show business, so much as let life take her on a new course:
"I never heard a large voice from above saying, 'Get out of show business, Ann,'" she told Newsday in 1995. "I just found that my priorities had changed and I knew that I needed some space." (source: LA Times)
Regardless of her new direction in life though, Davis remained committed to her legacy as one of the most loved housekeepers ever on TV, as her long time friend and roommate Bishop William Frey told the LA Times:
"She still got a lot of fan mail from all around the world and would respond to all of it religiously. She was a wonderful, smart, funny woman. She was Alice."
And that seems to be the consistent theme running through all the tributes from anyone who knew her.
Ann B. Davis was a gifted actor no doubt, as James Poniewozik noted in his tribute at TIME, using "a comic arsenal of comic moves and gestures–that peppy voice, those talented eyebrows–and just a touch of relatable melancholy. (Oh, Sam the Butcher!)" to bring Alice to glorious comic life.
But she was also apparently just as vivacious, warm and friendly in real life, something evinced by the tributes that poured forth following the announcement of her death, most notably of course from the cast members of The Brady Bunch.
Florence Henderson who played family matriarch Carol Brady called Davis "a wonderful friend and colleague" while Eve Plumb who played Jan called her "an amazing lady" who "held a very important place in my heart."
Maureen McCormack (Marsha) gave this wholly touching tribute:
"I admired Ann B so much as an actor … she was one of the greats. Most of all I admired her heart. She was a dear friend…deep, honest and true. She was one of my earliest role models, and that continues to this day. She made me a better person. How blessed I am to have had her in my life. She will be forever missed."
You read the full report on the tributes at The Wrap.
I am heartened that, as someone who obviously didn't know her personally, that she was such a warm, caring, much-loved person, one of those people who even if she wasn't the character she played (and let's face it very few actors are) was at least sympathetic in spirit to her.
As I contemplated just what Alice had meant to me growing up, I realised that what had mattered to me was that Alice was this caring, wholly capable, hilariously funny, mothering figure for whom nothing was too much trouble, whose role in the family went far beyond that of an employee.
She was a third parent, that caring other person in the six kids' lives, someone outside of the parental unit that they could turn to, and while I had very loving parents and a largely happy childhood, I could relate to the idea of having someone outside of that direct circle of my family that you could turn to.
That role was played in my life by close family friends like Chris and Kirsty, with whom we spent many a happy weekend, who would let me say what was really on my mind, who would dispense all manner of home truths in funny and sometimes confronting ways and could get away with it precisely because they weren't my parents.
I was very lucky to have them just like the Brady kids were lucky to have Alice and we were blessed to have Ann B Davis and her immeasurable comic talent in our lives.
RIP dear Ann B Davis – you gave so much to us all and I echo the wishes of @DrGMLaTulippe who tweeted "#RIP Ann B. Davis. Hope you find Sam the Butcher at the Big Meat Market in the Sky."