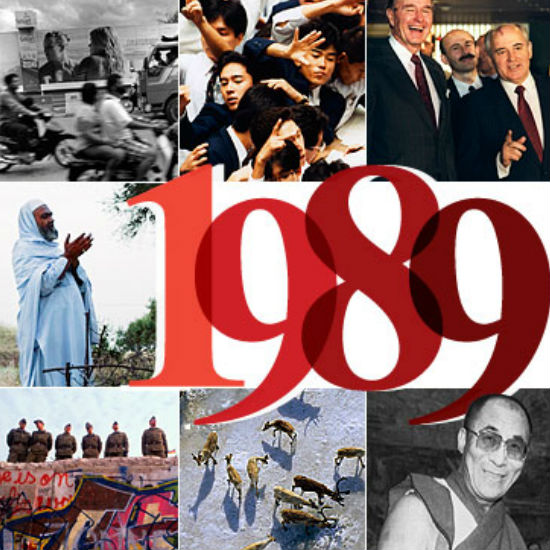 1989 was a big year in many ways.
Emperor Hirohito died, the USSR left Afghanistan while the Polish Communist regime began talks with the dissident Solidarity organisation, Hungary dismantled 240km of barbed wire along its Iron Curtain border with Austria, President P. W. Both of South Africa met with Nelson Mandela for the first time, and the last episode of classic era Doctor Who is broadcast.
And I took off on the 18 March for my first adult trip overseas, a 6 1/2 week drive across the US with three very good friends which saw us take in places I had always dreamed of visiting like Hawai'i, San Francisco, Disneyland, the Grand Canyon, Las Vegas, the Alamo, New Orleans, Nashville, New York, Washington DC and Boston.
Along the way, apart from gathering together a treasure time of memories that are still precious 25 years later, I came across quite a lot of music that came to define our journey across the deserts and farmland, through the forests and cities of the US, and in particular these five songs which, thanks to their near omnipresence on every radio station we listened to coast to coast, came to be indelibly linked with what can rightly be called The Trip of a Lifetime …
"She Drives Me Crazy" by Fine Young Cannibals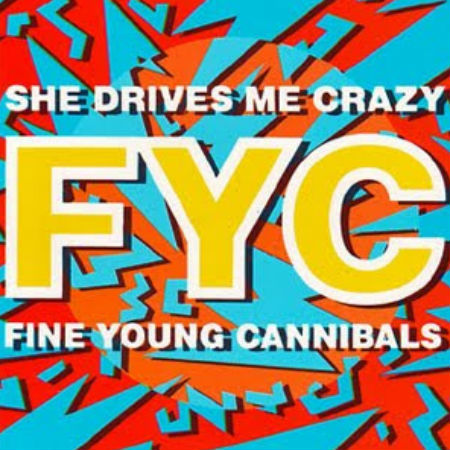 Formed in Birmingham, England in 1984 (splitting up in 1992), Fine Young Cannibals (David Steele, Andy Cox and Roland Gift) who reached their chart zenith with The Raw and the Cooked in 1989, ranged widely across genres including pop, rock and even some soul, and mediums, with lead singer Gift starring in the movie Sammy and Rosie Get Laid and the band recording the song "Ever Fallen in Love (With Someone You Shouldn't've)" for the film Something Wild.
Their musical flame burned briefly if brightly with two songs from their second album, The Raw and The Cooked, "She Drives Me Crazy" and "Good Thing" reaching #1 in the USA, which is of course where I first came across somewhere around North Carolina in of all places a clothing store change room.
As I tried what felt like an endless succession of shirts, T-shirts and jeans, an infectious beat came pouring out of the speakers above my head, a sound so compellingly upbeat that I actually stopped what I was doing and just listened, glorying in the chart-sweeping phenomenon that was "She Drives Me Crazy".
At the tail end of the '80s, when with everyone else, I had journeyed through the dying days of disco, and the ascendant days of the New Romantics, here was a prelude of the '90s, a throbbing, surging fun song that screamed happiness, release and a thousand and one other emotions.
Sputnik Music user djigor beautifully summed up the song's attraction in his review of The Raw and The Cooked:
"Let's take a closer look at the song "She Drives Me Crazy". What is it? Is it a dance song, rock song, pop song, soul song? All of the above! It's a type of crossover track that comes around every ten years or so. In [the] '90s Lenny Kravitz had "Fly Away", in '00s Franz Ferdinand had "Take Me Out". I still pick "She Drives" over the other two. It features probably the most distinctive and hardest snare in the popular music history and catchy interplay between the distorted guitar and falsetto vocals."
It was quite simply one of the most pure, engaging pop songs I had heard in a long time, coming across my path in the most unexpected of places, and staying with me ever after, a constant reminder of an overseas trip that in many ways signalled my move into full-blown adult life after studying at university, and for that reason alone, remains deeply significant to me.
"The Look" by Roxette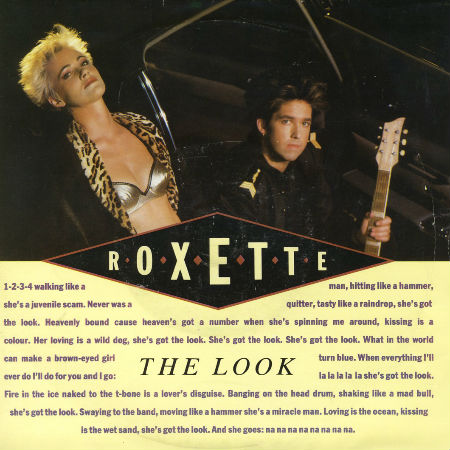 When you're driving 100s upon 100s of km across great, beautiful expanses of the US, you need great driving music.
Lots and lots of energising, enlivening, spirit-stirring great music, because no matter how beautiful the scenery is, and it was glorious everywhere we went from the majestic giant sequoias of Sequoia and Kings Canton National Parks in California to the French Quarter of New Orleans aka Nawlins, Louisiana and everywhere in-between and beyond, you need a rousing soundtrack to go with it.
And as I discovered very quickly after buying the cassingle, as the cassette version of 45 RPM vinyl singles were rather clumsily tagged, of Roxette's "The Look", you need some serious, driving Swedish pop bristling with a hook big enough to catch a blue whale, attitude to burn and the catchiest of all bridges and choruses.
Frankly there was some absolutely magical about the putting the pedal to the metal – well others were doing that for me since I – GASP! – still wasn't driving at the ripe old of 24 (long story) – and having the power and energy of "The Look", a song lifted from their album Look Sharp!, which saw the Swedish duo of Marie Fredriksson (vocals) and Per Gessle (vocals and guitar)  leap from being massive Swedish music stars to international ones with hit after gloriously addictive hit.
It didn't matter where I was on the trip – Lenox Square mall in Atlanta, the arid but beautiful semi-desert countryside of Texas or the New Jersey Turnpike, "The Look" was guaranteed to bring buoyancy, fun and celebration to whatever we were doing.
It was the song of the road for me in 1989, and if I should undertake a massive driving holiday again, it would be sitting front and centre of my iPod playlist.
And while the song may be retro, Roxette are most definitely not, reuniting in 2009 after Fredriksson battled brain cancer through the Noughties, releasing two albums Charm School (2011) and Travelling (2012), and getting ready for another world-spanning tour in 2014-2015, including Sydney in 2015.
Time to buy me some tickets I think and re-live the heady days of 1989 once more.
"Voices of Babylon" by The Outfield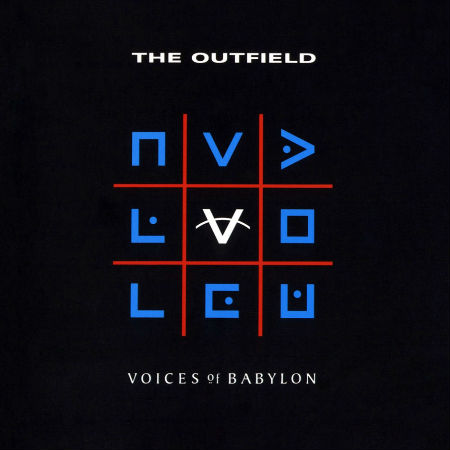 I am not entirely sure how it happened but I managed to miss The Outfield through much of the 1980s – they formed in Manchester in 1984 starting life as The Baseball Boys before adopting their current band moniker – with their first album Play Deep releasing in 1985 completely bypassing me.
It's odd since the band's power pop was exactly the kind of music I was gravitating to in a big way at the time.
They shared similarities with bands like Duran Duran who I adored, and possessed an innate sensibility for gripping melodies, driving highly-emotive delivery and evocative vocals, the holy threesome of music-dom as far as I was concerned at the time.
But belatedly find them I did, although it was on the cusp on their decline in popularity as the grunge scene that had its origins in Seattle and was best evinced in bands like Pearl Jam and Nirvana rendered their sound a little passe for prevailing tastes.
Ah but 1989 they were flying high with "Voices of Babylon" soaring into the Top 25,  in the process garnering my undying affection.
It's hard to say why the song resonated so profoundly with me.
It was undeniably catchy yes and the sort of song perfectly suited to whiling away countless hours driving through something like 29 states of the Union, but beyond that there was something deeply enervating and yes melancholic all at once about "Voices of Babylon":
Hit the message, I can hear you callin'
No one's goin' anywhere tonight
We conceived a modern generation
It was free but now we pay the price

We're the victims of our own creation
Chasin' rainbows that are painted black or white
Watch the struggle of our own temptation
Instincts barely keepin' us alive

Back to the rhythm that we all came from
Voices of Babylon, streets of London
Back to the people that we know so well
A space in time removed too soon to tell.
Much like Nik Kershaw's much more downbeat but none the less appealing hit "Wouldn't It Be Good", "Voices of Babylon" was darker lyrics paired with music that touched my emotional core and my writerly sensibilities, a song that communicated something about the joy and sadness of life all at once.
"Coming Around Again / Itsy Bitsy Spider" by Carly Simon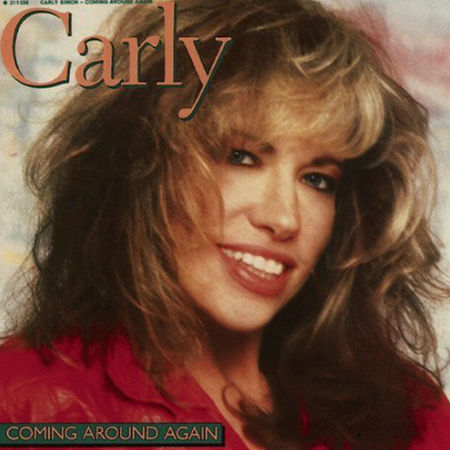 There is no doubting that Carly Simon is a legend.
But in 1989, amazingly talented though she was, she was not really on my musical radar.
For reasons unknown, I had lumped her in with the sort of music my parents listened to  – a little too slow, too folk-ish, too old-fashioned for my tastes, an erroneous and ill-judged assessment for which I have now repented several times over.
The beginnings of that change of heart and mind was "Coming Around Again", a song that the American singer/songwriter, who rose to fame in the 1970s with a string of hits including "That's the Way I've Always Heard It Should Be" and "The Right Thing To Do", recorded and released for the movie Heartburn, starring Meryl Streep and Jack Nicholson, a loosely autobiographical recounting of writer Nora Ephron's marriage to Watergate reporter Carl Bernstein.
It's central themes were infidelity and the breaking of the bonds of love and marriage and Simon's song captured the sense of loss and betrayal and pain to a tee, leavening its bleak themes with the sense that love will come around again.
What truly set this stirring, heartfelt ballad alive for me, apart from its deeply poetic evocation of the death of a once passionate romantic relationship, was Simon's decision to sample "Itsy Bitsy Spider" as part of the song, an odd choice unless you consider the themes of resilience and tenacity against momentous odds that anchor the children's song.
There was a beauty and grace and sadness to this song that spoke to me in ways deep and powerful, the sense that love, so precious and infinitely valuable, could be lost through one foolish mistake.
It was the perfect song for those quieter stretches of the trip, some of which took place at night as we drove into cities like New Orleans or Las Vegas when darkness had fallen and songs of the heart like "Coming Around Again" were the ideal accompaniment for the ruminations that accompany the loss of light and the vigour of the day.
"Toy Soldier" by Martika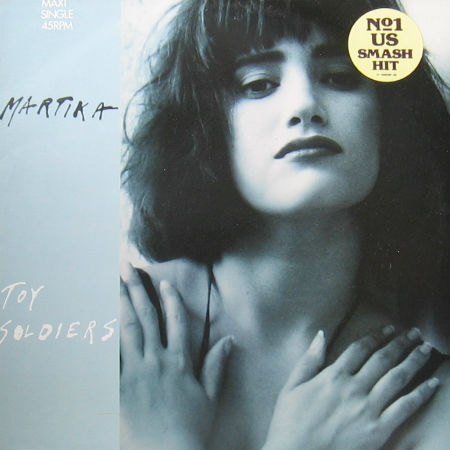 Talk about finding success early in your career.
"Toy Soldiers", which Martika (aka Marta Marrero), a Californian-born singer/songwriter wrote with her producer Michael Jay for her 1988 debut album simply titled Martika, was a monster hit, hitting the #1 position in the US for 2 weeks in 1989.
Which is, of course, how I came to hear it as we sampled radio station after radio station on our relentless drive across the heart and soul of the US.
The appeal of this shimmering piece of emotive synth pop is obvious – for all its stirring, haunting melodic sheen, and it had that in spades, it also possessed some fairly serious lyrics, with the song addressing a friend's battle with cocaine addiction, as this quote from an interview with The Associated Press explains:
"I was a little hesitant because I had only written two songs before and they were light songs. I came up to Michael and said I wanted to write about drugs. It was the first time I got the nerve to write about something that was scary for me to talk about, so I did."
It was another one of those songs that spoke with some depth to the poet in me, the writer gazing out upon landscapes that stretched to the horizon, a newly-emerged adult in a strange land with all the possibilities and pitfalls of life awaiting him, and its robust spirit and deeply touching melody remain with me still as one of the most heartfelt songs I have ever heard.