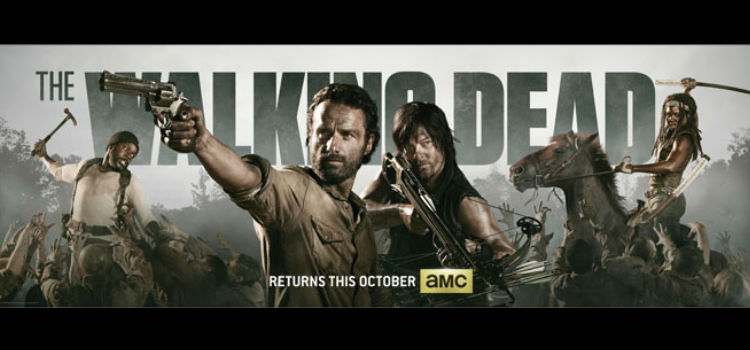 In the seemingly eternal lead up to the return of The Walking Dead on 13 October, AMC have released a four minute look at the filming of season 4 of the series based on the comic books by Robert Kirkman (who also acts as one of the executive producers on the show) and Charlie Adlard (who replaced Tony Moore from issue #7 onwards).
It's a fascinating look at the post Woodbury vs Prison survivors landscape, which is swarming with more walkers than ever with several hundred now congregating around the prison at times, a prison by the way which has become a home for everyone now there with crops being grown, and formidable defenses in place.
But it's strongly suggested by cast and crew alike that all the defenses in the world won't be able to protect the survivors from a threat that doesn't come from either humans or walkers (who by the way look even more ghoulish than ever this season, reflecting of course how long the apocalypse has been going on).
Quite what that will be isn't revealed of course but given the show's propensity to tell it like it apocalyptically is, and its lack of squeamishness in being brutally, gut-wrenchingly realistic, you can be sure it won't be pretty and everyone will have the mother of all battles on their hands.
The aim, according to special effects guru Greg Nicotero, who appears in the trailer and was interviewed by comicbook.com in July this year, is to always keep pushing the boundaries and amp up the pressure on the beleaguered survivors:
"Scott Gimple and I had a really fascinating conversation when we wrapped season three, just about…our group has been on the road for a long time and they've become very proficient at killing walkers. This season, we've surpassed probably season one and season two completely in terms of numbers of walkers. I mean, you can see in the trailer there's shots where we have a hundred to two hundred walkers coming up to the fence in the prison and that was for the most part done all practically. We had a lot of walkers in those scenes. So we're always trying to push it."
We all knew that life wouldn't get any easier for Rick and the gang but if this trailer is any indication, it's about to get magnificently, insanely harder, all of which will make for the sort of engrossing, compelling TV we have to come expect from The Walking Dead.
Get your katanas ready – the walkers are a-comin'!