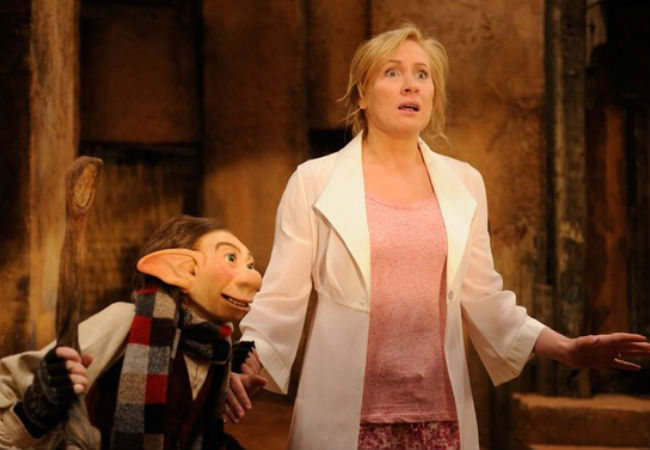 One of the things I have loved most about British comedy from the time I was a wee lad back in the 70s is its propensity for whimsy, satire, and just plain silliness.
It's a hard kind of comedy to pull off.
Too much campness and it just looks ridiculousness; play it too straight and there kind of an off-kilter seriousness to it than just doesn't gel.
But if you get it just right, like the producers and cast of first Horrible Histories, and now Yonderland, an eight episode show premiering in November about a land expecting its Chosen One to arrive any minute now, it's a delight like no other.
The full trailer (above), and the three clips (below), the latter of which I discovered via the marvelous UK site comedy.co.uk, give you some insight into the comedic hijinks that weave in, up and around the story of Debbie (Martha Howe-Douglas), an ordinary mum who finds herself in a strange land populated by idiosyncratic characters (some of whom are puppets, supplied by Jim Henson associates, Baker Coogan) ruled by the evil Negatus (Simon Farnaby).
It turns out she's the Chosen One referred to innumerable prophecies, a destiny that in the tradition of fantasies everywhere, both sensible and silly, she is woefully unprepared for.
And much as you'd expect, much dramatic fun, and satirical silliness ensues.
With additional characters provided by other members of the Horrible Histories case including Mathew Baynton, Jim Howick, Laurence Rickard and Ben Willbond (source: digitalspy.co.uk), it looks like the sort of show anyone with an affinity for British comedic storytelling, the irreverent pop culture-skewering sensibilities of The Muppets or fantasy of any stripe  is going to get an almighty kick out of watching.
Just don't forget to bring along your talking stick!