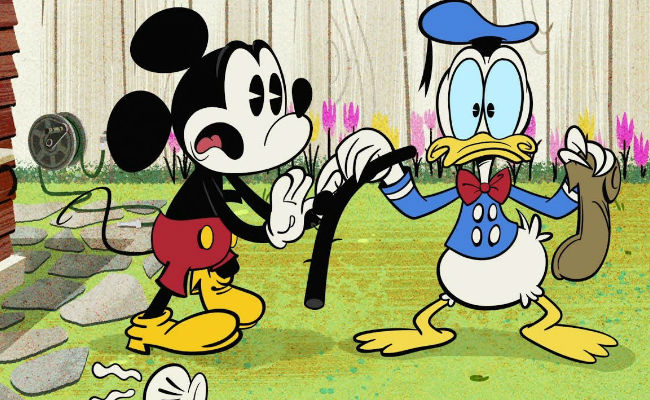 SNAPSHOT
When a random accident inexplicably leaves Goofy broken apart like a mannequin, quite alive but scattered all over Mickey's backyard, the mouse and Donald take it upon themselves to literally put him back together again… which isn't as easy as it sounds. (synopsis via Scrooge McDuck wiki (c) Disney)
There is something about a manic, quirky, almost gleefully-weird cartoon that is such a buzz to watch.
Think the very best Looney Tunes or Depati-Freleng cartoons which pivot on simple but punchy storylines, non-stop action or verbal sparring and characters who are endearing but full-on.
It's a potently-engaging brew and it's well and truly present and accounted for in "Gone to Pieces", written by Darrick Bachman, Clay Morrow and Paul Rudish (the latter two also directed) one of the latest in a series of new Disney cartoons, Mickey Mouse: The Series, starring guess who and other major characters such as, in this case, Donald Duck and my big favourite, Goofy.
The cartoon is pretty much full bore madness from the word go, as the Donald and Mickey do their best to reassemble Goofy who, keeping true to the title, has fallen to pieces.
It's whimsy on steroids, the kind of cartoon that would've felt quite at time in the experimentalism of the '50s and '60s and which thankfully has been revived for those of us who want our Disney characters with an extra dose of slapstick existential angst.