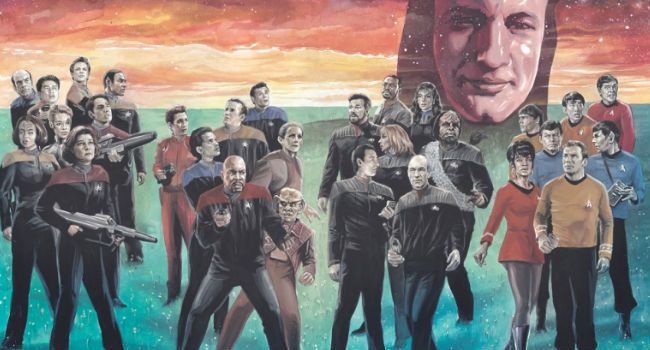 Can I be honest with you all? I have never much cared for Q.
True John de Lancie was absolutely superb in the role, and many of the episodes featuring Q turned a harsh spotlight on humanity's foibles or brought out something illuminating in one of the main characters, and yes he was a handy narrative contrivance but dear Tribbles in a suffocating stack he was ANNOYING in the same way that Hercule Poirot in Agatha Christie mysteries is annoying.
But I may need to rethink my dislike of him, or at least relax it a little, because the galaxy-striding godlike being I love to hate is going to bring Star Trek, The Next Generation, Deep Space Nine, and Voyager together in a six-part comic book series called Star Trek: The Q Conflict, written by Scott and David Tipton and announced at this year's New York Comic Con.
It's an inspired idea that will, in the words of Julie Muncy at Gizmodo, "put our intrepid heroes through the ringer, gathering them all together for unspecificed, but certainly nefarious, challenges."
Tipton for one, and I guess he should be as one of the writers, is pretty excited about the whole damn thing.
"All of Starfleet's most legendary officers join together for the first time against some of the greatest threats they've ever faced. It's like nothing you've seen before!"
Star Trek: The Q Conflict will launch in January 2019.