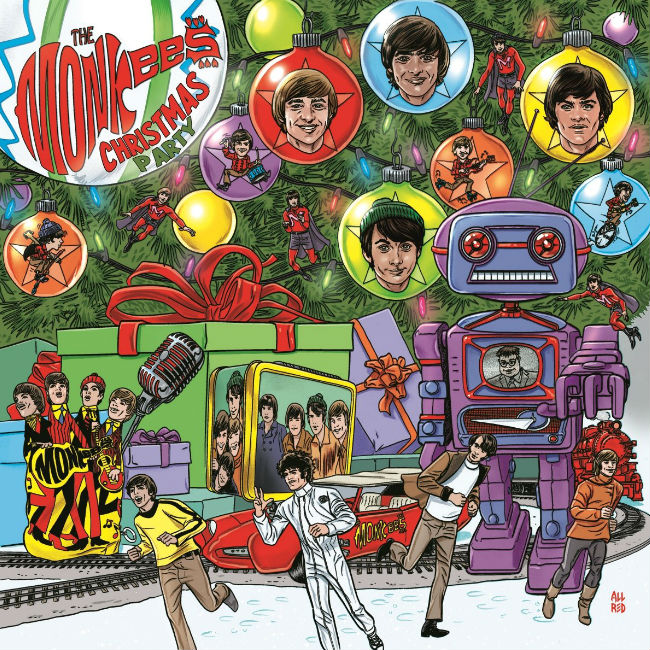 For a band formed in 1965 for a TV series that ran from 1966 to 1968, The Monkees, comprised of Micky Dolenz, Michael Nesmith, Peter Tork and the late Davy Jones, have certainly proved they have some pretty serious musical endurance.
Just how enduring their appeal and success is was affirmed by Good Times! which bowed in 2016, on their 50th anniversary, to rapt reviews and impressively-good sales.
Naturally in our sequel-obsessed age, according to Rolling Stone, there was almost immediate pressure for a follow-up, which singer Mickey Dolenz was none too keen to attempt.
"We really caught lightning in a bottle with Good Times! I remember people asking about a Good Times! 2, but that didn't fire me up. It felt too risky to try doing that again."
But then the idea arose for a Christmas album, something the band, curiously enough, had never undertaken and in no time flat – "It all came together so fast," says Dolenz. "You have no idea." – and suddenly The Monkees were in a thoroughly festive frame of wind, with Good Times! producer, Fountains of Wayne bassist Adam Schlesinger, onboard to bring it all together.
A mix of classics and original songs, and even sampled vocals from a solo Christmas album Jones put together many years ago, Christmas Party mostly works, a gloriously-upbeat paean to the season with an expected '60s harmonic glow that still sports a fresh and vibrant feel of its own.
Original song "Unwrap You at Christmas", written by XTC's Andy Partridge, kicks off proceedings, a sugar-rush that sounds like vintage The Monkees, with a distinctly-Mariah Carey Christmas vibe as the singer dreams of, you guessed it, unwrapping their great love at Christmas.
Any salacious connotations you want to project aside, the song is a delicious piece of Christmas confection that ticks any number of brightly-wrapped boxes, and gets you in the mood for some tree decorating or jaunty dancing around the room.
Things toggle down a little, but only a little, on "What Would Santa Do", a Rivers Cuomo (Weezer)-penned tune that has a rather aggressive take on the idea of modern Grinches taking tinsel off Christmas trees married with some again '60s-laced guitar-led melodies that works like a passive-aggressive charm.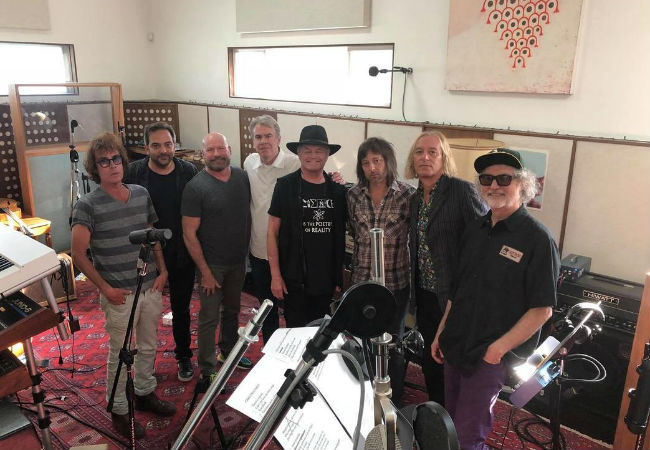 The next two songs are a study in complete contrasts that aren't necessarily perfect album mates but appealingly-left of field in their own way.
"Mele Kalikimala" (along with "Silver Bells") features the rescued vocals of Davy Jones – "The originals weren't even full-blown recordings," says Dolenz. "They were demos, but thank goodness they had good, clean vocals." (Rolling Stone) – which bring a much-covered classic to unexpected life.
There's not much about this rendition that especially original but it works well enough, though it is a shift from the deeply-inset harmonies of the first two tracks.
The track that follows is an interesting undertaking, featuring lyrics by novelist Michael Chabon and music by Schlesinger, that is one of the most one-of-a-kind Christmas tracks you'll have heard since last year's Sia's all-original festive album.
The lyrics are wholly poetic, imaginative fun with a return to the harmonies of the first two tracks but with a modern sheen that ensures this is one track you can easily dismiss.
Dolenz may have shaken his head a little at the scene scene by Chabon's writing – "lyrics describe a surreal scene at a Christmas celebration where 'mistletoe is hanging by a thread' and 'the misfit toys just shake their head.' 'Boy,' says Dolenz. 'What crazy lyrics!' (Rolling Stone) – but the song is a lot of fu to listen to, that feels and sounds like a classic '60s track sprung gloriously-formed into the 21st century.
Mike Nesmith contributes vocals to "The Christmas Song" and "Snowfall" which are lovely but don't completely work thanks to his thin but tuneful vocals while the sole contribution of Tork, who has suffered from ill-health over the last year or so "is a banjo-driven rendition of 'Angels We Have Heard On High.'" (Rolling Stone)
Title track "Christmas Party" has a slightly minor key edge to it that works beautifully, a '60s-influenced slice of perfect pop-rock that has an insistently attractive that kicks off with sampled dialogue from all the original The Monkees.
It's catchy, and continues an overall sense throughout of five decades hence meets the current day that works a treat for the album a whole, a Christmas collection of tracks that isn't simply a nod to festive-laced nostalgia but works as a seasonal album that will get you in the mood and happily keep you there.