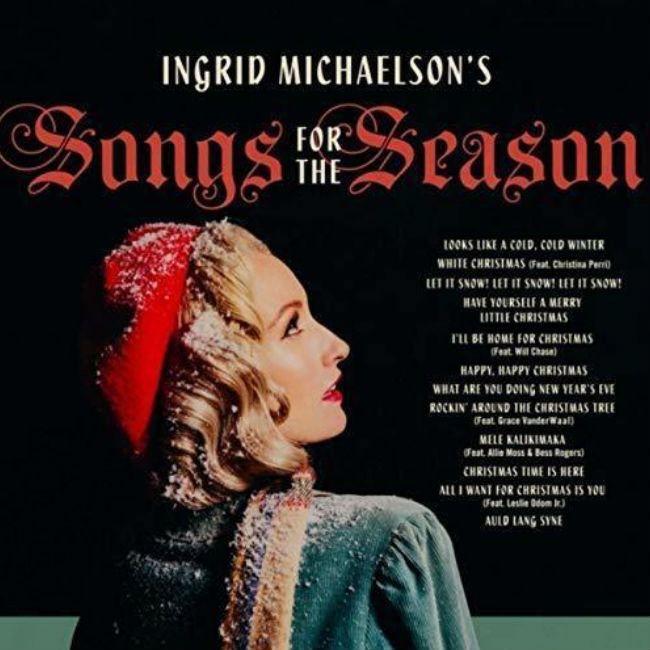 It's a reasonably safe bet that anyone who records a Christmas album is in love with the festive season and all its multitudinous warm-and-fuzzy trappings.
That's certainly the case with indie pop artist Ingrid Michaelson whose holiday album Songs for the Season released on 26 October.
In a recent interview with Billboard, she declared her love of Christmas upfront:
"I love Christmas time. It's something that growing up was always really important in my family, and it was just a really wonderful time. We would have a big Christmas Eve party every year. Everybody of different faiths would come to our house. My dad played piano, and everybody would sing Christmas carols and eat too much and drink too much. [Christmas] is kind of like a light. When I'm feeling down, I'm like, Well at least Christmas is coming in four months."
Her enduring love of the season which has finally manifested itself in her first Christmas album – "This whole project has really been my whole career in the making. I've wanted to do this for so long, but I just couldn't find the right moment within my other projects that I'm doing." – is reflected in the mellow feel of Songs for the Season which has eschewed the upbeat verve of some holiday collections for the kind of reflective vibe you get hanging out with friends and family on a cosy night leading up to the big day.
Take "White Christmas", which features Christina Perri, a classic if ever there was a classic, which is given a light, breezy feel that while it's not a radically departure from the way it is usually sung, sounds distinctive thanks to Michaelson's singularly, beautifully unique vocals and an arrangement which feels like warmth and love bundled up into a song.
"Have Yourself a Merry Little Christmas" is given a similarly-stripped back feel, its opening bars sounding like a music box winding up or down, its lovely minimalist tone reflecting perfectly the melancholic feel of a song that had its original outing in Meet Me in St Louis as Esther (Judy Garland) is trying to cheer up her sad 5-year-old sister Tootie who's not feeling too festive about the family's impending move to far away New York City.
Michaelson contributes her own gorgeously melancholic song to this collection of standards, "Happy Happy Little Christmas" imploring us to "love the ones who love us", reminding us that time flies by quickly and we should value our time with loved ones, especially at times like Christmas.
It is, in common with Michaelson's emotionally-resonant canon, an immersive journey into the very heart of the season, the melody and vocals transcendantally and heartwarmingly beautiful; if any of the many recent Christmas compositions by many artists deserves to become a modern classic it's this one.
Even traditionally upbeat tracks like "What Are you Doing New Year's Eve?" and "All I Want For Christmas is You" (feat. Leslie Odom Jr.) are given Michaelson's uniquely-pared back approach.
Far from sapping them of their life and emotional vitality, the songs are imbued with all-new meaning, tapping into the underlying melancholia that comes with the season; for all the brightness and lightness and joy, all the decking of halls and sleigh rides, there can be an amplification at Christmas of the loneliness of being far away from the people with whom you really want to share the season.
The fragility and beauty of these arrangements works, and works magnificently, sending chills of recognition up and down your spine at the same time as your heart is nodding in agreements with the universally-relatable sentiments.
It taps into the new dynamic in Michaelson's life where the recent death of her parents has meant a greatly-reluctant change in the way Christmas is celebrated. (Billboard again for both quotes.)
"Last Christmas was the first time I didn't wake up in my parents' house and open Christmas presents because both of my parents have passed away now. It was very difficult, because I like things to be the same. I want traditions to be the same. I think part of me likes to keep the Holiday Hop very steady."
Though that kind of change is difficult and heartbreaking at times – I went through that in 2016 after my dad's death when I wondered if Christmas could ever be joyous again – it brings with it the chance to create lovely new traditions which is exactly what Michaelson did.
"It's so sad, because it doesn't happen anymore. I adored waking up and going downstairs and being with my family and opening up presents. And it doesn't exist for me anymore. So last year, my boyfriend's daughters — who are 17 and 19 — slept over, and we woke up, and then my brother and my then-pregnant sister-in-law all opened presents at my apartment. And then my aunt and uncle and a bunch of my cousins and my cousins' kids and family friends came over. It was like this new tradition that we normally have done at my parents' house. It was strange, because it felt different, but it still felt really nice."
Though there are some peppy, gallivanting tracks such as "Rockin' Around the Tree" and the effervescent big band joie de vivre of the 1949-penned track "Mele Kalikimaka", Songs for the Season is at heart a heartfelt meditation on Christmas that works because it takes a step back from the freneticism of the holidays and gives us time to remember how much we need to have those around us to make this most wonderful time of the year feel truly and heart-satisfyingly complete.