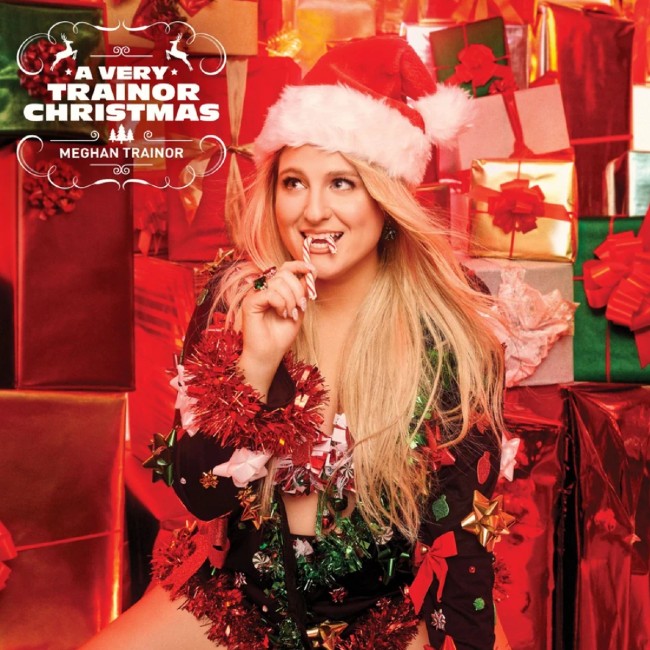 Quite possibly more than most seasons, Christmas is a delightful mix of the exuberantly, garrulously colourful and the meditatively, thoughtfully mellow depending on where you land over the course of December 25th and its fun but often hectic lead-up.
This duality of feel and tone is reflected beautifully in A Very Trainor Christmas by Meghan Trainor, an album which moves seamlessly from joyfully upbeat to quietly meaningful without once missing an elf-driven beat.
A mix of Christmas standards and original tunes, which unlike some hybrid musical creations of the festive season sound like they were meant to be together, A Very Trainor Christmas also features some wonderful cameos from some big names including Earth, Wind & Fire ("Holidays") and Seth MacFarlane ("White Christmas") .
A family affair – Meghan worked with brothers Ryan and Justin on writing and producing duties – the album kicks off with a very Trainor-esque 1950s-influenced "My Kind of Present" which celebrates an enduring theme of the season which is having that very special someone cosily by your side.
A joyous celebration of how you don't lots of material gifts if you have the ones you love with you, "My Kind of Present" is a happily upbeat to proceedings that is followed by "It's Beginning to Look a Lot Like Christmas" which has a pleasingly retro sheen applied to it without once feeling inertly derivative.
Next up is a declarative song "I Believe in Santa", which begins with a ringing of the bells opening which somehow mixes the sacred with the red and white fur secular before dancing its vocally layered way into a very R&B-rich evocation of believing in the big guy himself.
It's a luscious piece of music-making that that even hints at "Dance of the Sugar Plum Fairy" as it closes and its extravagantly joyous statement of North Pole-ian faith is followed by Wham's "Last Christmas" which exudes all the melancholy vibrancy of a song which sounds happy but is a million years from contented eggnog while streaming festive samples on your screen of choice.
The first five songs on the album set the mood for A Very Trainor Christmas which feels like the sort of album you'll happy throw on year after year.
Especially when you have the giddy goosebump-inducing joyousness of "Holidays" which feels like a dancefloor event waiting to happen; if you're looking for a track to make decorating the tree a cardio-enhancing activity, then this is your track.
It's quite possibly the highlight of an album which is hardly short of them.
Original song, "Christmas Party", a Trainor family-penned effort slows things just enough with its love letter to familial Christmases that "Winter Wonderland", "White Christmas" and "Christmas Got Me Blue" (another original) feel like the sort of more chilled change of pace that Christmas itself often evokes in its gloriously mix of the colourfully loud and the cosily quiet.
"Sleigh Ride" very much folds itself into the retro-doowop sound Trainor has made pleasingly her own, illustrating how seamlessly the accepted 1950s sound of Christmas albums merges with Trainor's own.
The thing with this artist is she has managed that magical feat of being luminously retro and wholly original all at once, something not many artists pull off, in her standard non-Christmas work and so when she evokes the traditional sound of festive music in A Very Trainor Christmas there's not a moment when it feels forced or artificially layered on.
This is authentically who Trainor is and Christmas albums sound very much like her natural environment which would suggest (hopefully) that more festive efforts dance like sugar plum fairies in the artist's future.
A Very Trainor Christmas finishes off its lushly appealing run with songs like "Have Yourself a Merry Little Christmas" with all the gorgeous melancholy of a song of wistful loss and longing (Trainor nails the tone perfectly) and "Silent Night" which feels just like a carol should, replete with all the reverent beauty you could ask for.
This is an album of joyful celebration and thoughtful contemplation, the perfect soundtrack to Christmas which has all the markings of a classic to come, feeling like Christmas and yet very much its own wonderful tinsel-bedecked creation, the kind which truly makes the season feel like the most wonderful time of the year.