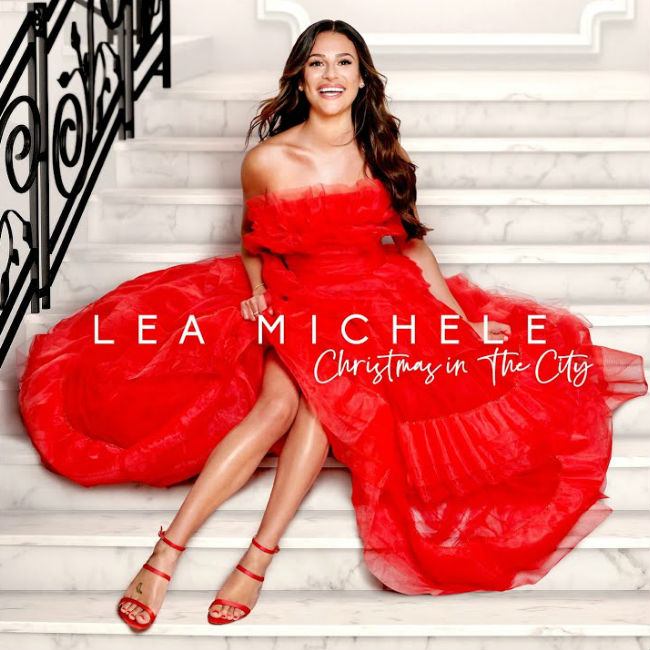 If you really want to set the mood for a Christmas album, then kicking off with "It's the Most Wonderful Time of the Year" is pretty the best way to do it.
Which is what Glee alum Lea Michele does on her third studio album, and first Christmas album, Christmas in the City which functions as both a love letter to the season and her clearly happy childhood in New York.
"It was always my dream to make a Christmas record. Christmas is so special to me. It's such an important time of year for me and my family that I have so many incredible memories from." (People magazine)
She has poured these memories, all of which come from the romanticised warm-and-fuzzy place from which all the best Christmas music spring, into Christmas in the City which segues from the opening number, full of winsome joy and breathlessly hushed excitement, to the poignant regretful reassurance of "Have Yourself a Merry Christmas".
It's a delightfully executed song, although it does miss the true emotional reality of a song, first sung by Judy Garland (playing big sister Esther) to her younger sister Tootie (Margaret O'Brien) in the 1944 MGM musical Meet Me in St. Louis as both are distraught about the impending move to New York City.
It's achingly, despondently sad and desperately, almost futilely happy at the same time, more fervent wish than actual truth, and while Michele's version is lovely, it misses the hard reality that sometimes Christmas is exactly what we expect or want it to be.
Even so, it's enough of a soft, thoughtful pause in proceedings, that when the vivacious exuberance of "Christmas in New York" comes roaring in with joyous gusto, you can't help but sit up and take notice.
The song evokes every single last thing that the artist adores about Christmas in the most festive of US cities, at least when it comes to the popular imagination, and a slew of happy glow-tinged memories from Christmases past.
"I wrote this song as my real love letter," she says. "It's the anthem of the album, and it just highlights all of the special things New York has to offer. It paints this beautiful picture of New York, but it also is really about what it means to be with your family and friends and engaged in that holiday spirit." (People Magazine)
It doesn't quite build up the head of steam you might expect of song that is the very distillation of the season for Michele but it's an appealing enough romp throughout a city where Radio City Music Hall has sold all its Christmas spectacular tickets, J C Penney's displays are unmissable and Michele is a five-year-old kid again, glorying in all the colourful light and spectacle.
You could well imagine it in a musical of some kind, the mid-act showstopper that segues into the set back you know inevitably awaits, an evocation of the joy of the season in one perfectly happy snapshot.
With the sugary musical rush of memories neatly taken care of, Michele ushers in the first of three duets on the album, "I'll Be Home For Christmas", which the artist performs with her "best friend in the world" Jonathan Goff, with whom she also worked in Glee.
The song holds a special place in the heart for both of them, as she explains to People magazine.
"… We've been singing ['I'll Be Home for Christmas'] together for over 10 years," Michele says. "We would often have to do Christmas benefits and stuff like that in New York so that song in particular has very special meaning to us."
The song comes with the required amount of wistful longing and the cosy certainty that while a great many other things may not comes to pass, getting home for Christmas won't be one of them.
Christmas in the City also sports two other collaborative efforts – "White Christmas" with "dear friend" and onetime Glee cast member Darren Criss and "Angels We Have Heard on High" with British powerhouse singer Cynthia Erivo – which deliver just the right amount of wrapped up in a blanket of seasonal warmth and love and inspirational awe and wonder.
These two song choices are emblematic of an album selection which while very traditional and lacking in any real surprises, fulfils its brief to evoke the intangible feeling of Christmas at every turn.
The only criticism you might make of the production by Glee production team Alex and Adam Anders is that softens things a little too much at times; granted it's an album that exists as a loving tribute to Michele's childhood, and so the hushed, giddy, happy reverence of much of the music makes perfect, happily-listenable sense.
But it does rob Christmas in the City of much of the oomph and power you might expect it to have, a pity since Michele possesses both the voice and the persona to make a festively joyful ruckus, and seems to be been tamped down to such a degree that while the album feel lushly Christmassy, delivering the aura of festive bubble happiness everyone wants from their seasonal music, it doesn't really make its presence felt in quite the same way that her beloved New York City clearly does at this the most wonderful time of the year.