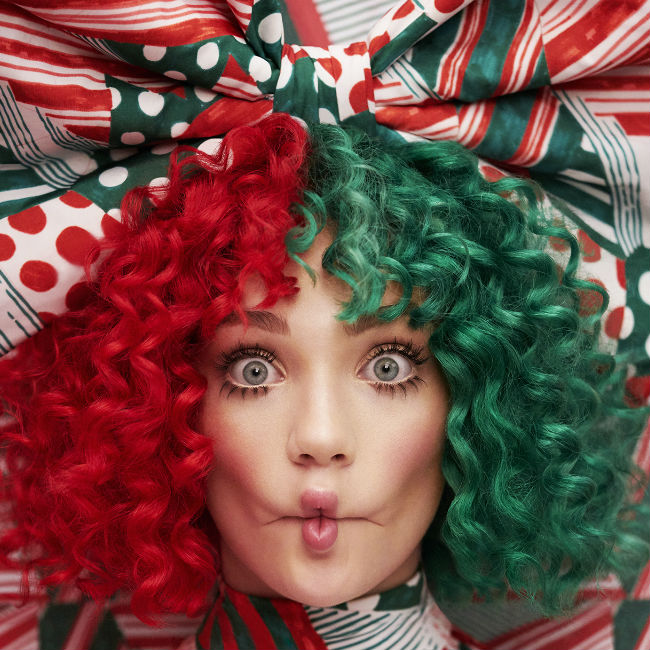 Let's be honest – when it comes to Christmas albums, and I will be the first to admit that I am a slave to these expectations more often than not, there are two major rules that must be followed.
1. The album must feel Christmassy. Granted this is a wholly intangible idea and falls into the maddeningly obtuse camp of "We'll know when we feel it" but if an album doesn't leave you feeling jolly and happy and inclined to dance around the Christmas tree, and hum sundry carols at will, is it really doing its job?
2. There must a spread of carols, modern festive classics, and an original or two so the artist can stamp their own flavour upon the holiday. Yes this is creatively constrictive in one sense but as artists like Annie Lennox and Sarah McLachlan have shown, it is eminently possible to make a real statement even within these parameters.
Australian artist Sia, who have proven brilliantly adept at writing a dizzyingly diverse array for an impressive roster of artists including Rihanna and Beyoncé, is proof positive my friends that you can both adhere to these conventions and blow them, candy canes and Santa hats fully akimbo, out of the eggnog-filled water.
Everyday is Christmas is an unmitigated joy from start to finish, not so much because the facially-reclusive artist – the person on the album's cover is longtime video and performance collaborator Maddy Ziegler – has got her Frank Sinatra and imbued her album of wholly original songs with some big band, seasonally warm-and-fuzzy flair (she has and it works beautifully in her own highly-talented way) but because she takes the sounds and feel of the season and makes them work for her.
Helping immensely in this regard is that Sia has always been an insightful artist who understands that there is more to the human condition that the blindingly obvious or that which is set down by ritual or superficial cultural trappings.
Sure Christmas is in many ways a most wonderful time of the year (the song does not lie) and there's much to love about it, but it can also be a time of emotional turmoil and stress, and also introspective rumination, and Sia neatly balances both of these elements near perfectly in a set of tracks that artfully tread the line between happy Christmas upbeat joy and those quiet moments when quiet gratitude and contentment step into the spotlight.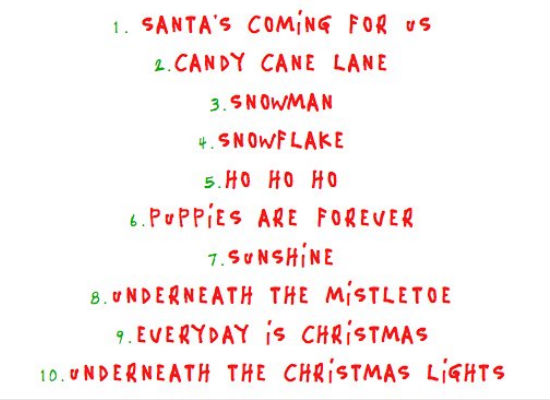 Everyday is Christmas kicks things off in giddily jaunty mode with the slightly ironic "Santa's Coming For Us" which takes the implied benign stalker intent of "Santa Claus is Coming to Town" and runs with it jingle-jingle-jingling all the way home.
The accompanying clip, which features Kristen Bell is full beatific '50s housewife mode with real life husband Dax Sherpard as the happy cardigan-wearing husband and Henry Winkler (aka the Fonz) as a dancing guest, goes all retro TV special which fits perfectly with the song's bouncy vibe.
This track, along with the euphorically-upbeat "Candy Cane Lane" and the delightful "Puppies Are Forever which celebrates miniature canines more than the festive season itself but feels so glossily, giddily happy that you can begrudge a single effervescent lyric.
What makes these songs work, slyly subversive clips aside, is that Sia unashamedly and with the kind of gusto I can totally get behind as an avowed, tinsel-draped Christmas tragic, goes with the treacly sentiments of the season.
And why not? Life is unremittingly gloomy at the moment in many ways and invoking the idea that life can be made better by a puppet, not just at Christmas but all year round, or by consuming candy canes in a brightly-decked lane, is no bad thing.
But as noted, escapism can only get you so far and so songs like "Snowman" and "Everyday is Christmas" take things down a contemplative notch, not necessarily in a maudlin sense but more one that acknowledges there are elements of reflection to a season more commonly noted for mall-sized frenzy and fabulously gaudy decorations.
The title track is a lovely nod to the idea that Christmas really only comes into its own when that special someone is there with you and while it's no hyper-powered wishfest along the lines of "All I Want For Christmas is You", it's a rich, warm and deeply-appreciative song that lovingly remarks on what life all year round, but especially at Christmas, so very special.
"Snowman" too has its own quirkily devotional aspect, one which centres around true love between snowman and his devoted otehr half who literally is a part of him; sure it's a metaphor for real human love but what a creative way to express it, parceling it up with some trademark Sia idiosyncrasy.
The album concludes with the gloriously downtempo piano-driven track "Underneath the Christmas Lights" which is exquisitely lovely in ways that wrap you in the cosy idea of Christmas as a precious seasonal idyll, one where real life takes a temporary hike and everything is, just for a moment, well and bright.
Everyday is Christmas isn't some cheesy nod to the sentiments of the season with Sia and co-songwriter and producer Greg Kurstin serving up a startlingly good selection of original songs which invoke the traditional sound and feel of the season while still forging some new fun festive tracks.