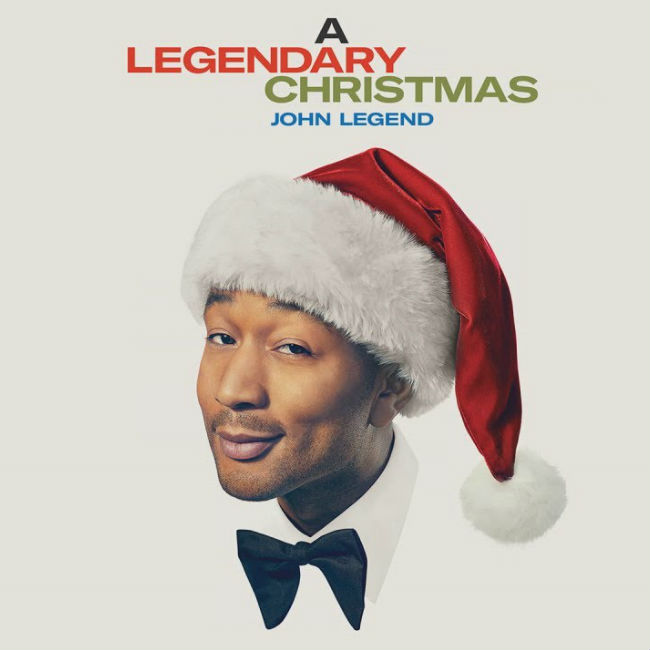 There is a lush musicality to pretty much everything that John Legend creates and performs.
It comes from an innate understanding of the smoothness and richness of his music, a sense of how it and his voice work together, all of it coming perfectly together to lend his songs an intoxicatingly-sublime listenability.
So it will come as no surprise at all that he brings  this soulfulness to his first Christmas album, rather playfully titled A Legendary Christmas, an album of classics and originals that sounds exactly how you would a festive collection of songs to sound but still distinctly and refreshingly John Legend-ish.
That is really the genius of this album – it sounds like the kind of Christmas album that warms the soul, that renews that seasonal sense that everything is right, deeply right, with the world and yet it never once recalls any other artist.
From opening track "What Christmas Means to Me", which features the incomparable Stevie Wonder through to closing number "Merry Merry Christmas", there is this delightful sense that you are kicking back at the artist's home, enjoying the company of new family and friends and glorying in exactly how Christmas should feel and sound.
He doesn't always land it – songs like "Waiting for Christmas" and "Wrap Me Up in Your Love" sound mournful and off-kilter sensual respectively – but when he does, and it's much of the time, the effect is transportively festive.
Take the aforementioned opening track.
It has a Sinatra-esque do-wop feel to it that will have you up and dancing like a foot-tapping elf in no time flat; as Christmas-decorating tree music goes, it's hard to beat.
Similarly, "Silver Bells, which is traditionally a little more sedate, is amped up just enough so it glides, smoothly and luminously-lovely beauty, right on your festive soundtrack.
Even when things relax a little in "Have Yourself a Merry Little Christmas" , featuring the superlatively evocative vocals of Esperanza Spalding, the immersive feeling that you are in an idealised version of Christmas is happily unshaken.
This is the kind of music that makes quiet nights of decorating, laughing with friends and yes even hot summer celebrations like we have here in Australia feel like the Christmas of your dreams.
One of the elusive elements of the season is often knowing in your heart how you want everything to feel but never quite managing to create that deliciously illusory sense of a world removed from the beige work-a-day reality of life.
A Legendary Christmas does that for you in three tracks flat, and mostly keeps it up through gorgeous tracks like "No Place Like Home", which speaks to one of the most treasured parts of the season, and "Bring Me Love" which kicks things up a gear with a Mariah-plea for a loved one to make Christmas feel extra special.
That last song actually speaks to the overall theme of the album which is repeated again and again to warmhearted, spine-tingling effect – the idea that you can have all the accessories of Christmas lined and ready to go but you need the people you love close by to make it feel something worth truly celebrating.
There's a bluesy intimacy to many of the songs that musically reaffirms this theme, a closeness of vocals and melody that comes through in songs both upbeat and relaxed.
You are reminded again and again that while presents are lovely, mince pies are yummy and and the tree in the corner is a splash of spirit-lifting colour, you need people to really make it come alive.
So have a "Merry, Merry Christmas" everyone and remember that things will only really pop when this album is playing but even more importantly when you know that "Christmas just ain't Christmas without the ones you love."