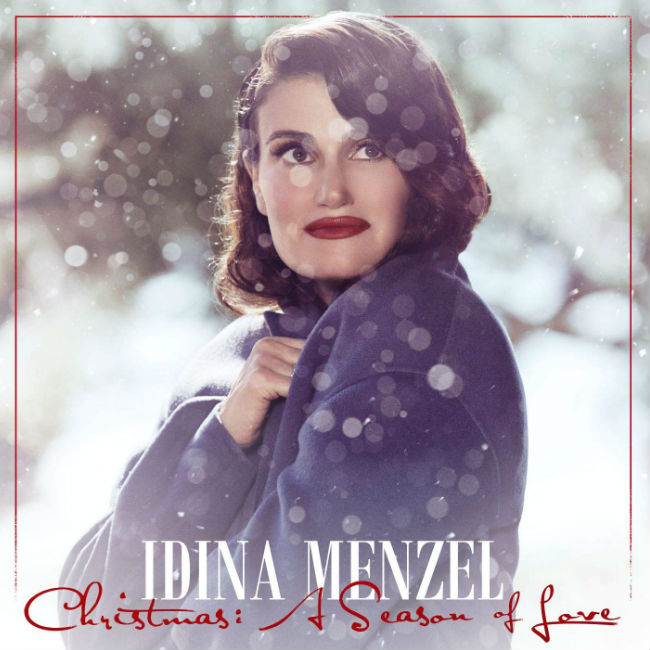 Recording a Christmas album may often like an invidious proposition.
You are wedged, rather uncomfortably as if someone has crushed a whole tray of glass baubles into the cushion of your seat, betweem those who crave the same old same old big band sound that has, for better or worse, come to embody the sound of Christmas, and those who demand a fresh new take on festive recordings such as that provided by Sia who gave us the all-original delight that is Everyday is Christmas.
What to do, what to do?
Well, if you're Idina Menzel, the voice of Elsa from the just-released Frozen 2 and all-round Broadway legend, you chart a winningly refreshing middle course that combines classic and original songs, a zesty and robust R&B soundscape and some powerhouse singing full of bonhomie and joy, an inspired decision that sees her second holiday album Christmas: A Season of Love (following 2014's Holiday Wishes) feel like cosy and comfortable yet blisteringly new and different.
Speaking on a promotional video for the new album, Menzel talks about what she wanted to achieve with Christmas: A Season of Love:
"I wanted to make a full holiday album; I always wanted to play around in the big band and the jazz area, music that I love and grew up singing, that I don't always get to sing. The holiday music lends itself to that beautifully."
Her love of this genre is evident right from the start.
"Sleigh Ride" and "The Most Wonderful Time of the Year" come roaring out of the tinsel-bedecked gates, awash in a fervvently-festive vivacity that will not be denied.
There's an almost palpable sense of exuberance and joy to songs which have been around the holiday album once or three hundred and which you could be forgiven for thinking has very little of any fizzy freshness left in them.
But Menzel infuses both these much-loved songs with a vibrancy that takes on an almost physical form, so enthusiastically does she belt out these songs, careful to not just hit the notes just so but to imbue every last word with just the right amount of seasonal joy.
The spirited delivery continues in the Billy Porter-accompanied "I've Got My Love To Keep Me Warm", bursting an appreciative evocation of the power of love, "Christmas Just Ain't Christmas", which bemoans how empty the holidays are without the one/s you love, and a little later on after the Josh Gad duet "We Wish You the Merriest" and the quieter inclusive delights of original song "At This Table" (penned by Menzel and Jonas Myrin, "We Need a Little Christmas" which zips along at a suitably festive pace.
Joy all by itself only has so much life to it, which is why songs like "We Wish You the Merriest" where Menzel duets with Josh Gad with exactly the kind of playfulness you'd expect from this kind of partnership, the aforementioned Billy Porter duet, "I've Got My Love To Keep Me Warm" and most poignantly, "I'll Be Home For Christmas", sung with husband Aaron Lohr, have so much resonance.
Christmas is a time for togetherness and Menzel brings this deeply and personally into these three songs, mirroring a theme of love, togetherness and acceptance that is woven into the entire length of Christmas: A Season of Love.
It finds expression in unlikely but powerfully and perfectly-delivered selections such as "Seasons of Love" from Rent, which Menzel deliver with showstopping powerful tenderness, and Hanukkah-celebrating "Ocho Kandelikas", sung in Ladino and reflecting her Jewish heritage, which also finds delicately beautiful expression in the song's lead-in, a spoken word piece, "Walker's 3rd Hanukkah", which features a gorgeously sweet exchange with the singer's three-year-old son.
One other welcome element in Menzels' delightfully original approach to recording a holiday album is her use of original compositions.
"A Hand For Mrs Claus", written by Frozen songwriters Kristen Anderson-Lopez and Robert Lopez and featuring Ariana Grande, pops with a lighthearted brio and sense of fun that will have you dancing if you have any kind of festive soul left in you, and "At This Table" written with Jonas Myrin emphasises in ways touching and true how important including everyone is at this time of year (and indeed all year around).
In a world as riven by division and hatred as ours is at the moment, the message of positivity and inclusion that infuses every last note and lyric in Christmas: A Season of Love, an album which is full of life, musical vivacity and the sheer festive pleasure of being alive, is incredibly welcome as is Menzel's success in bringing a freshness to a genre which is often nowhere as happily zestful or exuberantly inventive as it could be.