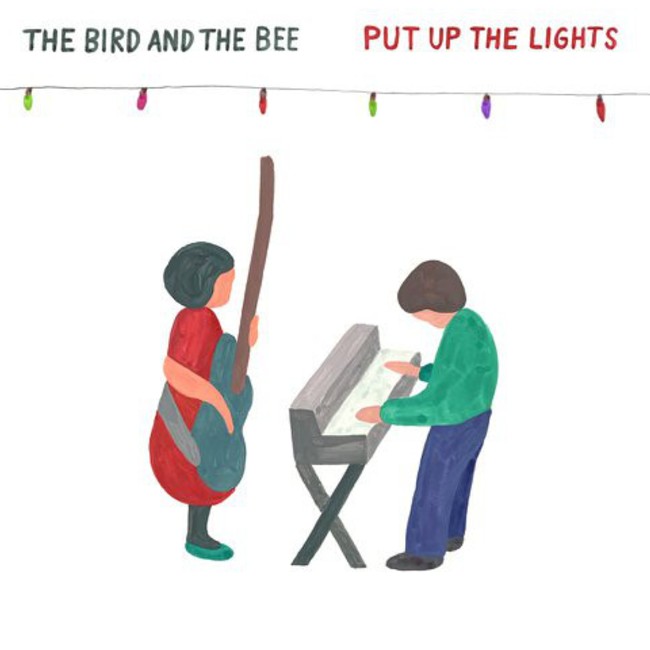 If anyone can make something beautiful out of something chaotic and terrible, it is the mesmerisingly good duo that is The Bird and the Bee, made up of singer Inara George and producer Greg Kurstin.
Their latest collaboration, Put Your Lights Up was put together during a year when a lot of really negative things were going on but as Kurstin notes in a Rolling Stone article, that didn't preclude the festive spirit from making a welcome appearance.
"I have to say, working on a holiday record during summer is always strange, no matter what the circumstance. But working on a holiday album during the summer, and a global pandemic, worldwide civil rights protesting, historical wildfires, and the lead-up to the most important election of our lives is really, really strange. Although I have to admit, it felt like such a sweet little momentary escape singing 'Chestnuts roasting on an open fire…' all alone in my closet. It was a little respite from reality."
A mix of the duo's favourite holidays songs and two beautifully executed originals, Put Up Your Lights, is one of those Christmas albums that feel light, lovely and escapist but which, as Kurstin notes in the same article, also allows that this is not everyone's experience.
"Holiday songs give us such an escape from a time of year that is supposed to be so jolly and happy, but a lot of times can be so stressful and even lonely. And even more universally, how music in general, always offers that to the listener… an escape, a moment of joy, a feeling of belonging. There's a song out there for every occasion."
If you're a long time fan of the duo, you will find there is a lot to like in their latest festive outing.
It displays all the whimsical vivacity and melody of all their albums and EPs, with George's exquisitely light-filled and beautiful voice adding all the cosy loveliness you want that are already not short of heady holiday atmosphere of their own.
The Bird and the Bee refer to their style as "breezy elegance", a pitch perfect description that explains why Put Up Your Lights feels so joyfully, langorously wonderful to listen to.
The moment that the ethereal jeyboard strains of "The Christmas Song" waft welcomingly into your COVID-weary ears, you know you are in for the sort of mellifluous escape that this year is desperately in need of by a significant margin.
George infuses a luscious wonder and beauty into the classic, written by Robert Wells and Mel Tormé in 1945, not surprising given the duo's critically-hailed mastery of covering songs – Masters Volume 1: A Tribute to Daryl Hall and John Oates and 2019's Interpreting the Masters Volume 2: A Tribute to Van Halen have both been enthusiastically received – which is more than matched by "Sleigh Ride" which feels like the best dash to the festive countryside you have ever had.
If you feel like you have heard these songs so much that they are well their use-by dates, then listening to these two songs alone, the latter with some winningly cheesy retro organ flourishes, will convince you there's a lot of life in them yet.
The Bird and the Bee perform a similar magical transformation with "Deck the Halls" which ramps the pace down a little more than you might expect but to impressively heartwarming effect.
The highlight amongst all this Christmas musical goodness has to be "Little Drummer Boy" which, rather fittingly, surges with a beguiling of drum and George's emotively rich vocals, which she laid down by the way in a closet away from her kids.
"Christmas Time is Here" is a giddily light gem that invokes that warm and cosy that we all want from the festive season and which George makes very much her own in ways that will enchant and delight you.
The two originals, "Merry Merry" and "You and I at Christmas Time" (with its Charlie Brown Christmas-esque touches) are far from being holiday album filler, both possessing a breezyness – there's that word again but it's so apt – that is festive gorgeousness personified.
Christmas might feel like a chaotic rush to an overcrowded finish line at times, but with Put Up Your Lights, The Bird and the Bee deliver up a brilliantly rich and listenable festive album that makes everything feel deliciously chilled and just the right amount of warmly, happily calm just when we need it the most.