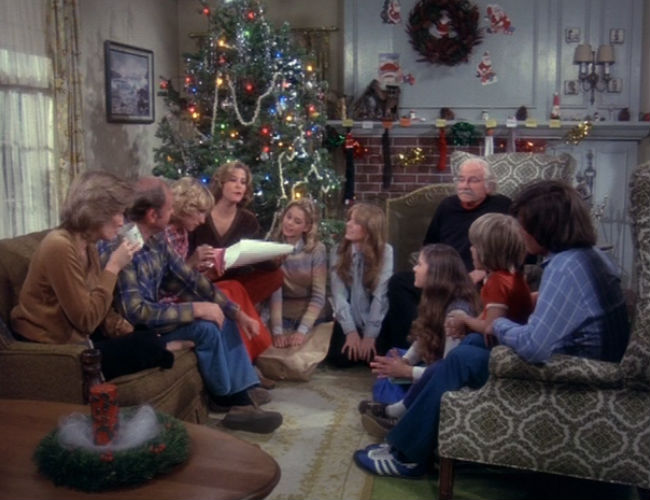 If you have ever lost someone you love, and sadly it's highly likely that you have, you will be painfully aware that their death is never the end of your grieving.
Not by a long shot.
Every time a major event comes up like their birthday, a significant anniversary or an annual TV telecast or show they loved to watch, you grieve all over again, struck anew with renewed intensity by the stinging realisation that they are no longer there to share it with you.
Eight is Enough, which through its five season run bravely depicted life in all its flawed and sometimes miserable glory, understood this truism of life all too well, never shying away from being honest about the fact that being part of a big, boisterous loving family didn't protect you from the vicissitudes of life.
Part of that was driven by the narrative drive of the show itself which above all was a drama; but it was also the result of the death, very early on in the show's run, of Diana Hyland who played Joan, journalist Tom's (Dick Van Patten) wife and mother to the eight-strong brood.
The loss of Joan, who was revealed to have died in the season 2 opener leaving Tom a widower who eventually marries son Tommy's in-home tutor Abby (Betty Buckley), left an indelible mark on the show in many ways.
Most poignantly, Joan's loss is felt very keenly in the two-part episode "Yes Nicholas, There is a Santa Claus" which addresses how the family handles the first Christmas after their mother's untimely loss.
As you might expect, reactions vary between family members.
Tommy (Willie Aames) refuses to countenance a Christmas without his mum with whom he was very close; surly, angry and anti-social, he refuses point blank to take part in any of Abby's planned events from tree trimming and eggnog sipping to a big family dinner, and makes it clear he's going to his friend's house and leaving the rest of the family to do their festive thing.
He won't admit why he's so angry but Abby knows (and tells Tom) and it takes a special gift from someone entirely unexpected to draw sensitive Tommy, who is clearly feeling things very deeply, to break down and re-embrace his family who are also grieving profoundly in their own, unarticulated ways.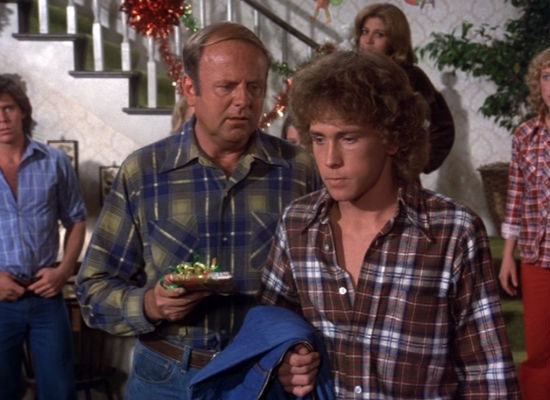 One manifestation of their collective grief is the way each of the siblings, bar second -oldest doctor-aspirant Mary (Lani O'Grady) and third-oldest Joanie (Laurie Walters), get dates for the evening, intent on being anywhere but in the family home on Christmas Eve.
This flies in the face of Abby's desire to give everyone a special family Christmas which is driven by entirely altruistic maternal reasons but also by her own need to make it special; she's been widowed for years and has spent many years sitting alone on the big day.
When she tells Tom how socially and emotionally-isolating her Christmases were, he lays down an edict that everyone must stay home until such time as the tree is trimmed – something that happens after Nicholas (Adam Rich) who's 8 and still believes in the magic of Santa Claus is well and truly in bed; Mary and Joanie even sneak the tree in when he's not looking – eggnog is drunk and family time is duly enacted.
Abby is uncomfortable with mandating that everyone observe Christmas as she wanted, completely understanding what is driving the usually close, ritual observant Bradford family – one sacred ritual is making and drinking orange juice before opening any presents on Christmas morning – to scatter to the four winds.
No one wants to be reminded that their mother, who embraced Christmas with enthusiasm and shopped for special presents for her children throughout the year, isn't there.
Yes the rituals can still be enacted, but it won't be quite the same and everyone knows it, so Susan (Susan Richardson) and Nancy (Dianne Kay) head out on their dates, Tommy goes to the cinema, elder sibling David (Grant Goodeve) heads off with girlfriend Noreen to her parents' place in Monterey – they don't get far, a recurring series of comical abortive travel moments  adding levity to the double episode – and Elizabeth (Connie Needham) makes herself scarce too.
Tom and Abby try to make the best of it, romantically speaking, as do Mary and Joanie (who adores everything Christmas including the music much to Mary's amused horror) but it's clear that only Nicholas, who's crafted special hand-drawn gifts for everyone which come to play a pivotal role in the family's Christmas when all their gifts are stolen by a lonely, poor grandfather Sam (Will Geer, The Waltons) who comes to be embraced later by the family in a heartwarming gesture, is the only one marking Christmas in anything approaching untrammelled joy. (Even he is aware something's not quite right, however.)
That everyone ends up together on Christmas Day is more luck than good planning, the result of cars not starting, plans falling through and the universe seemingly conniving to force everyone to face the fact that a beloved family holiday will never be the same again.
There are definitely some heartwarming moments – SPOILER! it's near impossible to get through the scene where Tommy gets a wholly unexpected gift from his mum, which she hid before her death, without crying like a baby; having just lost my dad, with my first Christmas without him looming, this hit me very hard but rang so very true – and some moments of silly comedy but by and large this is an episode that addresses grief and the way it never really stops affecting you or the significant events that gives our lives meaning.
You know intellectually that things will never be the same again but it's not until something like Christmas comes along that you fully appreciate, in a way you were only vaguely of before, taking for granted that things would always be this way, how intertwined your lost family member or close friend were to a particular event.
In the case of Christmas and the Bradfords, mother Joan was everything ; she was the ritual enactor, presenter buyer, the one who kept the whole show on the road and so her absence is keenly felt.
You have to feel for Abby too who wants to make the Christmas special but must stand back and let the family feel their way forward to a new way of celebrating Christmas that doesn't edit out their mum but acknowledges her absence too.
"Yes Nicholas, There is a Santa Claus" is wholly affecting, sweet, moving and meaningful television, a bumper episode that reminds us how grief entangles itself in every facet of our lives but how it can be ameliorated and eventually replaced by new and wonderful memories that honour the person we lost while giving us new, wonderful traditions that restore the joy and celebration to life.