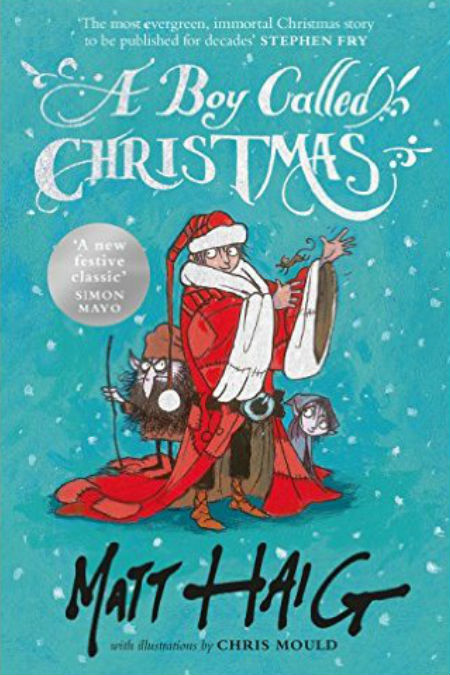 One of the hardest things to do when you grow up is to recapture that sense of can't-sleep wonder that once gripped you at Christmas time.
As December wound its exciting way ever onwards, adrenaline would pound, anticipation would build and you would find yourself enchanted with every last element of the festive season – the carols, the lights on the trees and houses, talk of Santa arriving on Christmas Eve, fruit mince pies and the stockings that my parents, I mean, ahem cough, Santa would fill with all sorts of fun, small, presents.
It's hard not to become desensitised to all that wonder even if, like me, you retain a healthy love, some may say obsession, for the festive season.
But reading A Boy Called Christmas by Matt Haig, you appreciate all over again how gloriously redemptive and alive with possibility Christmas can be, how even the tiniest smallest things can matter and how the ending of one part of your life does not necessarily mean that there isn't a chance for a new and captivating to replace it, or at least co-exist in your affections.
"The cottage where Nikolas and Joel lived was the second smallest cottage in the whole of Finland … But Nikolas didn't mind. It didn't really matter how small a house was if you had a big imagination. And Nikolas spent his time daydreaming and thinking of magical things like pixies and elves." (P.20)
The story of Nikolas, an eighteenth century young boy who lives in the woods near the western Finnish town of Kristiinankaupunki, and whose sole possessions are a handmade wooden sleigh and turnip doll made by his dear departed mother, A Boy Called Christmas charts, with a gloriously sense of tension and excitement, how he comes to find himself as the man we now know as Santa Claus.
There is nothing about Nikolas's life that would suggest such an auspicious end to his life's proceedings.
While he is a good boy of noble, well-intentioned look, who is loved by his father Joel and reviled by his miserly aunt Carlotta in equal measure, he is a poor boy, living hand to mouth on berries and mushroom soup in a society which isn't not inclined to give him a hand up.
Feudal to its core, it's a world in which the king is rich, most everyone else is grindingly poor and there is very little available to help you bridge that chasmic gap.
Unless you know Anders the hunter who offers Nikolas's father the chance to earn an incredible sum of money if he will accompany him and five other men to to the snowy realms of Finland's north in search of Elfhelm, the fabled home of the elves, creatures, along with trolls and pixies, who are the inhabitants of myths and children's bedtime stories.
But when Joel doesn't return as promised – hardly a surprise given the fact that no one really returns from expeditions to Finland's snowy wilderness – and Nikolas can no longer stomach (quite literally) living with Carlotta he sets off with his mouse Miika to find his father.
While he is on his tenacious march north, battling hunger, frostbite and the discovery of his father's fed hat sans its owner, he comes across a reindeer he calls Blitzen who is in pain from an arrow fragment in his leg and who becomes, upon its removal by Nikolas, his loyal and ever-dependable friend.
It sets in motion an adventure that is both thrilling and heartbreaking, exciting and worrying, as Nikolas journeys up and down the Very Large Mountain in search of Elfhelm which may be the stuff of myth and legend or may actually exist.
Quite whether he reaches there should be left to the reading of A Boy Called Christmas, which is ostensibly aimed at children but which any adult with a love of Christmas or seeking to reignite the joy and mystery of the season, will find themselves happily lost in for hours.
"The sadness Nikolas felt then was incredible. To lose someone you love is the very worst thing in the world. It creates an invisible that you feel you are falling down and will never end. People you love make the world real and solid and when they suddenly go away forever, nothing feels solid anymore." (P. 201)
The key message of this lovely, wonderful book, which features the origins of stockings, fruit mince pies, Santa himself and a host of other Christmas staples whose origins are revealed in such a delightfully natural way that you will be whooping and hollering with joy as you read countless passages, is that it is possible to move on from even the most terrible of events.
This critically-important life lesson, which resonated deeply with me having lost my dear dad this year, is delivered without any ounce of triteness or treacly earnest intent, two things that could very well have happened in a book directed to children.
But Matt Haig, for all his chatty Enid Blyton-esque language, is too skilled a writer for that and so while much of the prose is reassuringly twee (in the best, most reassuring and poetic of ways), there is a hard kernel of truth of unpalatable reality hidden away within all the whimsy and loveliness.
It has the effect of buffing up the lustre of this most wonderful time of the year, a place in which we suspect great things can happen but which never really seem to transpire.
But in the story of Nikolas aka Father Christmas, those great and wonderful things do happen, life does find itself reinvented and renewed in ways so imaginative and fabulous that you hardly suspect anyone could be so fortunate and you find yourself once again gripped by a visceral, thrilling love and excitement for Christmas, a great gift that stays with you long ago after you turned the last page of this modern festive classic.