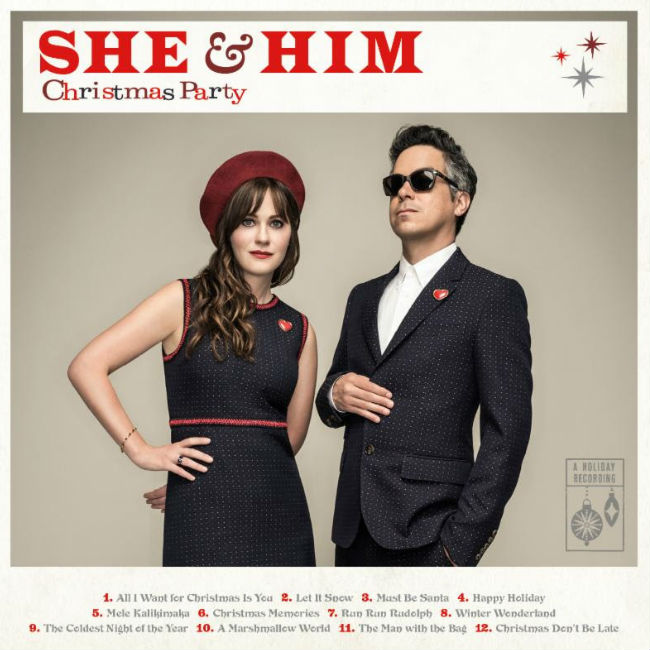 There's an earthy loveliness to pretty much everything She & Him records.
With their retro jazz cabaret sensibilities in high gear, and an ability to channel the very essence of Christmas through each and every song, this is on full display on their second festive album Christmas Party kicks off with that perennial new classic "All I Want For Christmas is You".
While there is no denying the euphoric vivacity of the original by Mariah Carey, She & Him, composed of Zooey Deschanel and M. Ward, invest their take on the song with a joyous warmth, courtesy of Deschanel's emotionally-evocative voice, that takes the jubilation and adds in a luxurious acoustic bent to go with the festive momentum.
The talented twosome take things down a notch or two with "Let It Snow" which conjures up images of a 3 a.m. gathering of friends around a fireplace, knowing all too well that their Christmas is turning white around them but that they are content and safe together in their warm idyll. The innate collegiality of the piece is brought to the fore by the duo's chilled, laidback take on a song that dares inclement weather to even try and derail their Christmas bonhomie.
The album kicks on through the 1960 Hal Moore and Bill Fredericks song "Must Be Santa" and Irving Berlin's mid-war ode to the happier things in life, "Happy Holidays", two songs that fit beautifully into She & Him's Christmas aesthetic which celebrates the songs that make this season so special but without a slavish adherence to tried-and-true arrangements.
It's these songs, and others like 1949's Hawaiian-infused song "Mele Kalikimaka" that underscore what makes She & Him such a pleasure to listen to.
They know that any Christmas record worth its myrrh and incense must sound and feel like Christmas, incredibly intangible elements that can be near impossible to bottle but which we know when we hear it, but they're also not afraid to place their own retro stamp on proceedings.
That approach means that some over-tweaked songs can lag such as "Christmas Memories" but by and large this album manages to sound impressively different and true to She & Him's sound while still being the sort of Christmas album you'll want to play throughout the lead-up to 25 December.
And that is a real gift. (Pun completely intended and revelled in.)
Taking a song such as "Winter Wonderland", which is rightly regarded as a classic of the season, and pulling back on the tempo and even the zest could be considered risky but Deschanel and Ward invest it with a country flavour that suits it perfectly. It restores some sense of meandering whimsy to the song, making a chronological walk through an ideal snowy Christmas day every bit as wondrous as Felix Bernard and Richard B. Smith intended.
Granted She & Him's idiosyncratic take on Christmas songs may not be to everyone's tastes – although how could you not be delighted by the magnificence of their guitar-driven take on the magical song "A Marshmallow World" – but if you like artists who can both capture the unmistakable Christmas-ness of Christmas and yet create something wholly and new at the same time then you'll want to take a Christmas Holiday with this delightful duo.
http://pitchfork.com/news/68315-she-him-announce-christmas-party-holiday-album/?mbid=social_twitter