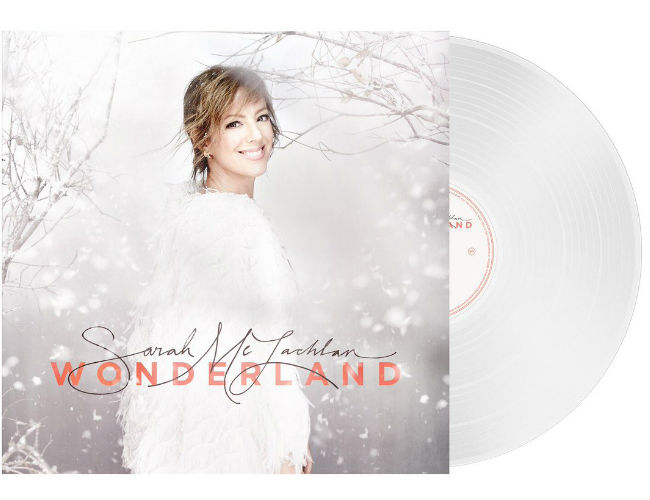 There is an exquisite beauty to Sarah McLachlan's voice no matter what she is singing. Frankly she could sing her way through the tax code and I daresay it would sound heavenly.
Thankfully she has chosen to channel her beautifully emotive voice to delivering up 11 new Christmas tracks (the deluxe edition includes 2 additional songs "Amazing Grace" and "Snow"), a mix of traditional carols and popular 20th century classics, all of which are given a unique treatment by the Canadian singer/songwriter.
On her second Christmas collection which follows 2006's Wintersong (it was repackaged with five additional songs in 2015 and released as The Classic Christmas Album), she moves between faithful renditions such as on "O Come All Ye Faithful" which soars with quiet delicate restraint and divinely melancholic strings, and "Go Tell It On the Mountain" which resonates with delightfully reassuring acapella folk touches, and songs like "Away in a Manger" which is given a refreshing country lilt, lending the song a sweetly sparse atmosphere that fits perfectly with the well-known lyrics.
Elsewhere she has some fun with classic festive songs such as "Winter Wonderland" which, while still gleefully upbeat and carefree, is winningly threadbare and some what stripped back while "Let It Snow", with its bells and bright jaunty beat is graced by an orchestral background which beefs it up without diluting its fey happy air.
These fresh interpretations are the result of her openness, she tells The Hamilton Spectator, of being willing to see what happens in the studio.
"I don't go into the studio with a preconceived notion.

"I'll start noodling around either on piano or guitar and see where it goes. Just build on it and go where the song asks to be taken. It usually tells you."
It's that ability to be faithful to traditional sounds such as on "Silver Bells" and "Huron Carol" and yet still have some creative fun and leave a distinctive stamp on proceedings that lends "Wonderland", surely one of the most festively evocative titles to grace a Christmas album, it's own quite individual feel.
It manages that most intangible of accolades which is feeling like Christmas – t's nebulous idea but listeners usually know it when they hear it – without once feeling such a slave to tradition that you wonder why Sarah McLachlan bothered.
It's refreshing to see an artist so wholeheartedly place their own stamp on Christmas classics, something which is a mark of McLachlan's artistry as well as her ongoing collaboration with long time producer Pierre Marchand who infuses her music with an ethereal whisper-quiet majesty and a sweet melodic sensibility that melds seamlessly with her nuanced voice.
It's even more impressive given the album was birthed, initially at least, out of a dearth of new material for a new album, with a Christmas collection offering a number of advantages as McLachlan told The Hamilton Spectator:
"Christmas records are great because the songs are already written.

"I can do it in my home studio, I don't have to tour per se."
Wonderland though is not simply a product of musical expediency with the article noting that "McLachlan has a soft spot for the aura of Christmastime. She loves the festive energy and the flurry of emotions sparked by the season."
That much is evident in Wonderland which lives and breathes the warmth and joy of the festive season, a refreshing mix of old and new, traditional and modern, a celebration of a time of year that draws much of its power from our ability to find the wonder amidst all the busyness.
McLachlan has given us another superlative musical entry point to finding the special moments in the festive season, the perfect accompaniment for all the many special activities that make Christmas so special.