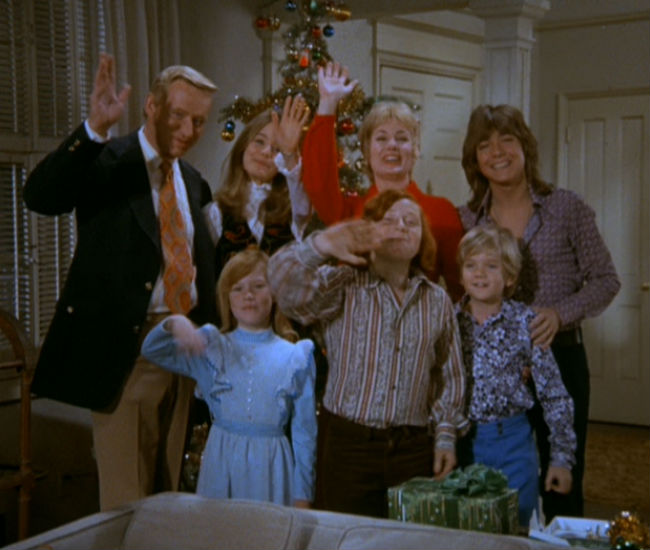 If there's one thing that is always totally and utterly welcome in any TV show's Christmas episode, especially in a series already delightfully rife with cheesy, heartfelt moments, it's a happy, cosy, all is well with the world neat ending, preferably one tied up with a pretty red glittery bow.
After all, while there are a lot of lovely, real things about Christmas such as decorating the tree, time with family and friends, presents, the birth of Jesus and fruit mince pies, a great deal of what we tell ourselves during the season are sweet little white lies.
We all buy into them, and honestly it wouldn't be Christmas without them, but the truth is not everyone get peace, love and joy, or companionship or that wonderful sense that everything is going to be perfectly all right.
But in the season 2 (1971-72) episode of The Partridge Family, "Don't Bring Your Guns to Town, Santa" – hate to break it to you but the red jolly man doesn't make an appearance but why let that get in the way of a cracker of a title? – everyone, and I mean everyone, gets a happy ever after.
That includes the family themselves, who appear to put up their Christmas tree on the 25th itself, looking perfectly well-rested and beautifully dressed after presumably driving all night, the old man (Charlie the prospector, played by Dean Jagger who appeared as General Waverly in White Christmas) they meet in the ghost town where their gaily-coloured chequered tour bus breaks down on the way back from a concert in Las Vegas, and Christmas itself which emerges bright and shiny and complete courtesy of a tale the Charlie tells the family.
It's a good old western fantasy that features the family in the main roles, a tale that harkens back to the town's glory days when the saloon run by Shirley (Shirley Jones), serving milk, lemonade and cookies, was a hive of activity, the sheriff was a bumbling young man (David Cassidy who sadly recently died) with a guitar, Laurie (Susan Dey) was the school teacher and the hero of the piece, a cowboy dressed in white known as Little the Kid (Danny Bonaduce), and the villain all in trope-heavy black called Mean Sydney (Dave Madden who plays Reuben Kincaid, the band's manager) and a silver bell to welcome Santa hung in the town's tower.
Of course, being a gripping, not to mention morally-instructive, warm-and-fuzzy Christmas eve story, one meant to calm the nerves of the two youngest Partridges (Brian Forster and Suzanne Crough as Chris and Tracy respectively), there has to be some threat to the spirit of Christmas, which comes in the form of Mean Sydney who rather melodramatically steals the bell.
And then, naturally, walks into the saloon with it obviously wrapped in black claiming it's his shaving gear.
Oh no! How will Santa know where the town is? How will everyone get their presents? It's Chris's big concern if they're going to be trapped in the town over Christmas, far from home and presents, and the townsfolk's too, who try everything from sweet talking to benign trickery to get the bell back.
It's not until Little the Kid tries and fails to win the bell back with a card game, and everyone thinks all hope is lost, that the half-decorated Christmas tree is magically carpeted in light, tinsel and ornaments, presents appear in profuse wonder around it, and it becomes clear it wasn't the tree that brought Santa but the town's kind and generous festive spirit which transforms Mean Sydney to Giving Sydney.
The entire tale is fabulous, wonderfully over-acted and hammy as a Christmas dinner but it's a delight to watch the Partridges have some fun, and to see them learn that Christmas is as much about those you encounter and how you treat them as your own family's celebration.
Naturally enough, when Reuben and Keith fix the bus in no time flat and the family leaves the town, you know, you just know, that they wouldn't just abandon good, kindly Charlie out on his own on Christmas tree, and 'lo as the bell rings magically out of nowhere, the lonely prospector walks out his door to see the family (and a fully decked-out Christmas tree that appears from nowhere) there to spend Christmas eve in full regalia with him, singing "Have Yourself a Merry Little Christmas" (a heartwarming bookend to "Winter Wonderland" which opens the episode, pre-titles).
Sure, it's preposterously perfect and neatly happy and way, way over the top, but gosh darn it, and get me some roasting chestnuts, isn't that just what you want at Christmas? A sense that life is as lovely as you imagine it can be at this time of the year?
""Don't Bring Your Guns to Town, Santa" is a cheesy bundle of seasonal joy that even includes the family breaking through the fourth wall to wish the audience happy Christmas, and well worth your time, especially if you're a fan of festive TV episodes that make the world seem like a perfectly wonderful place to be.
My thanks to Christmas TV History which celebrates this episode and more; want lots of festive TV? Go visit this blog!