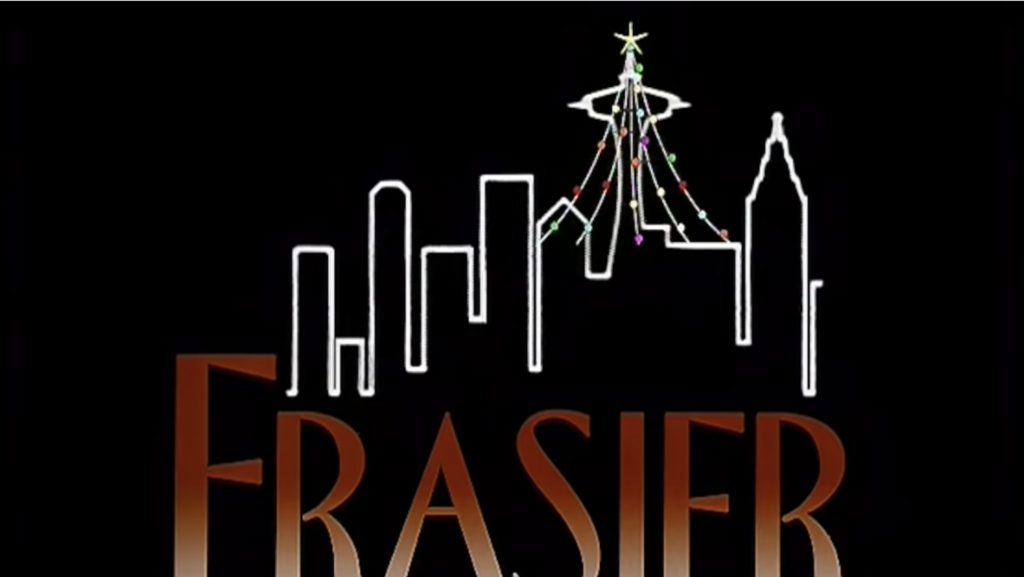 Frasier is a brilliant sitcom any time of the year you care to watch it (and honestly that should in copious amounts and often).
But there's something about the show's Christmas episodes which really brings out what makes Frasier, which ran for 11 seasons from 1993 to 2004, such a special classic sitcom.
Episodes like the three listed below distill down the very essence of the show – the affectionate conflict between Frasier (Kelsey Grammer) and dad Martin (the much-missed John Mahoney), Roz's (Peri Gilpin) quest for love and a fling, even with Santa, the argy-bargy between Niles (David Hyde Pierce) and Frasier, Niles and Daphne's (Jane Leeves) will they-won't they-yes they did, and the grand battle royale for decorating rights to Frasier's apartment.
All the Christmas episodes, of which there are eight, are clever, funny and true to the spirit of the season while making it hilariously clear that people don't stop being themselves just because it is the most wonderful time of the year; if anything the season amplifies all the foibles and flaws to, thankfully for a sitcom of this great and enduring quality, fantastically-humourous effect.
Do yourself a festive favour and watch all eight but start with these three which are the cream of a very funny, tinsel-wrapped crop …
"Merry Christmas, Mrs. Moskowitz" (S6, E10)
Oy to the world indeed! "Merry Christmas, Mrs. Moskowitz" is classic Frasier, a perfect slice of television that plays to a number of things that set this sitcom apart from many of its contemporaries.
Chief among them the show's gift for inspired slapstick and character interplay, brought to the fire when Frasier is set up on a blind date by the titular Mrs Moscowitz after she covers for him when Roz walks up just as he's trying to buy a sweater for her. Turns out her daughter Faye (Amy Brenneman) is lovely and Frasier is smitten immediately, only to be plunged into an hilariously comfortable position on Christmas Eve when her daughter Faye, stopping in at Frasier's apartment on the way to the airport with her mother, realises he isn't Jewish. With an fully-decorated designer Christmas tree on the way, wreaths on the wall, and Niles dressed as Jesus for Daphne's rather eclectic secular-religious community Christmas show, Frasier has his work cut out for him pretending to be something he's not.
The result is a brilliantly funny episode of seasonal TV which won Jay Kogan the 1999 Emmy for Outstanding Writing in a Comedy Series and keeps up laughing with a glorious mix of visual and verbal slapstick that ends as wonderfully as it began.
Like Niles I never really rebelled as a teenager. Unlike Niles, however, I didn't arrange for Roz to get me some pot, or in this case, a hash brownie and try to get high in a Christmas chase for my imagined lost youth. I am glad that Niles did though because his quest to be a "bad boy" – well in name only; his response to the munchies is pair a Chilean Sea Bass with an "aggressive Zinfandel" – gifts us an episode of inspired comedy in which it is Martin, not Niles who ends up stoned, turning Christmas into a high holiday indeed.
While Frasier is wrestling over Eddie ending up as the star of a Seattle Tourist Board ad when it was originally meant for him, mourning the loss of another romantic prospect and agonising over Freddy as a Goth who doesn't want to spend time with his dad, Martin is having a ball, ordering tons of pizzas, putting his pants in the freezer and pioneering pudding and chips combos … and wondering how on earth Eddie can now speak. (Yeah is it weird that it sounds kind of delicious?)
And Niles? Well, he THINKS he's high and that is almost as funny as him actually being high, so determined is he to make Christmas a time of rebellion, rather than peace, goodwill and social etiquette as would normally be his wont.
Of course Frasier and Niles love each other and share so much in common, but there's a also a strong competitive streak at work, a brotherly rivalry that finds expression in this episode as a spirited, then hilariously-petulant scuffle over who should host Christmas Day.
Frasier is ready to do the honours of course, having ordered a 12-pound Hungarian goose, but Niles and Daphne, eager to mark their first Christmas as a married couple with a very special celebration at their new apartment, are firm in their resolve, well Niles is anyway, and familial chaos ensures. So intense is it that Martin, the Mr Christmas of the entire family, decides to work on the big day itself rather than face the seasonally-inspired argy-bargy. Finally realising they have gone too far, since what is Christmas without their dad, Frasier and Niles decide to bring Christmas to Martin's workplace … naturally, this being Frasier, nothing goes according to plan with the scene where Martin finds them spiriting fake presents into the apartment and the real ones out a very funny high point of an episode which manages to be both comedically brilliant and emotionally resonant.
Few sitcoms can balance heartfelt and humourous but in "We Two Kings" Frasier once again manages it with aplomb, ending with a scene which is both sweet and silly all at once, just like Christmas really.