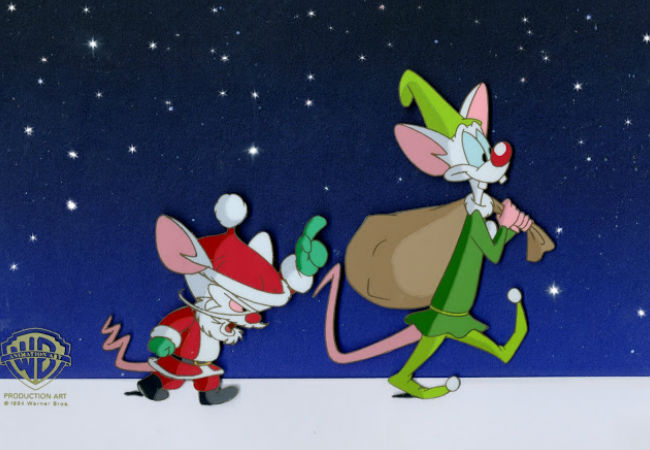 Christmas eve.
It's one of the most magical nights of the year, with Christmas so tantalisingly close you can almost taste it – unless you're a child impatiently waiting for Santa Claus to arrive in which case it's the longest night of the year – replete with all kinds of traditions that vary from family to family, and culture to culture.
But whether you're attending Midnight Mass, ringing Nordic church bells, or in the case of my family, watching National Lampoon's Christmas Vacation (which I can recite word for word if pushed) and Carols by Candlelight beamed in from Melbourne, there's a good chance you'll also have an irresistible urge to recite the most famous Christmas poem of them all, A Visit From St. Nicholas or as it's more popularly known, 'Twas the Night Before Christmas.
Generally attributed to an American, Clement Clarke Moore – although there is some contention that Major Henry Livingston, Jr., a distant relative of Moore's wife, is the actual author – it was published with no name attached on 23 December, 1823 in the Troy, New York Sentinel, having been sent in without his knowledge by one of Moore's friends, or his housekeeper, depending on which version of the origin story you believe.
It wasn't until 1837 that Moore claimed ownership of the poem, which he then included in a collected works of his poetry published in 1844.
'Twas the night before Christmas, when all through the house
Not a creature was stirring, not even a mouse;
The stockings were hung by the chimney with care,
In hopes that St. Nicholas soon would be there;
The children were nestled all snug in their beds;
While visions of sugar-plums danced in their heads;
And mamma in her 'kerchief, and I in my cap,
Had just settled our brains for a long winter's nap,
When out on the lawn there arose such a clatter,
I sprang from my bed to see what was the matter.
Away to the window I flew like a flash,
Tore open the shutters and threw up the sash.
The moon on the breast of the new-fallen snow,
Gave a lustre of midday to objects below,
When what to my wondering eyes did appear,
But a miniature sleigh and eight tiny rein-deer,
With a little old driver so lively and quick,
I knew in a moment he must be St. Nick.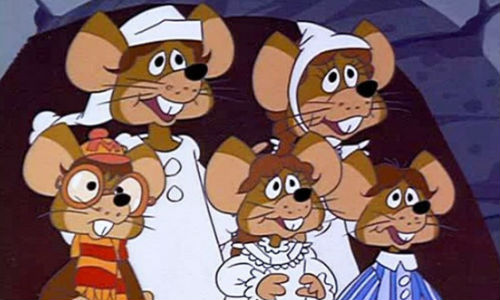 Even without an attributed author, Moore's poem became almost instantly popular, with its warm hearted images of festive family life (admittedly they're all asleep bar the father but their lives have an implied blissful air), and folksy view of St. Nicholas, upon which much of the modern image of Santa Claus is based (including the names of his sleigh-pulling reindeer), appealing to a broad cross section of society.
According to Joseph Walsh, who addressed the origins and inspiration for the poem in his 2001 book Were They Wise Men or Kings: A Book of Christmas Questions, Moore based his version of St. Nicholas on a much-revered historical religious figure from 3rd century A.D. who secretly gave out gifts, with some local flavour provided by  a Dutch handyman he knew.
He also drew inspiration from a description of Saint Nicholas from Washington Irving's 1809 book, A History of New York (Moore was friends with Irving and absorbed many of the Dutch influences in the poem from there, it is said):
"And the sage Oloffe dreamed a dream, — and lo, the good St. Nicholas came riding over the tops of the trees, in that self-same wagon wherein he brings his yearly presents to children, and he descended hard by where the heroes of Communipaw had made their late repast. And he lit his pipe by the fire, and sat himself down and smoked; and as he smoked, the smoke from his pipe ascended into the air and spread like a cloud overhead. And Oloffe bethought him, and he hastened and climbed up to the top of one of the tallest trees, and saw that the smoke spread over a great extent of country; and as he considered it more attentively, he fancied that the great volume of smoke assumed a variety of marvelous forms, where in dim obscurity he saw shadowed out palaces and domes and lofty spires, all of which lasted but a moment, and then faded away, until the whole rolled off, and nothing but the green woods were left. And when St. Nicholas had smoked his pipe, he twisted it in his hatband, and laying his finger beside his nose, gave the astonished Van Kortlandt a very significant look; then, mounting his wagon, he returned over the tree-tops and disappeared."
Setting his poem on his Christmas Eve was also a master stroke by Moore.
A significant number of Protestants still regarded New Year's Day as the preeminent day for family-based seasonal celebrations, despite Christmas Day's growing popularity, due largely to the perception that Catholics had overtaken the festive day itself, according to Edwin Burrows and Mike Wallace's 1999 book Gotham: A History of New York City to 1898.
By placing the events of his tale the night before Christmas Day, Moore avoided any lingering religious issues, and A Visit by St. Nicholas was almost immediately embraced as an integral part of the modern festive landscape.
More rapid than eagles his coursers they came,
And he whistled, and shouted, and called them by name:
"Now, Dasher! now, Dancer! now Prancer and Vixen!
On, Comet! on, Cupid! on, Donder and Blixen!
To the top of the porch! to the top of the wall!
Now dash away! dash away! dash away all!"
As leaves that before the wild hurricane fly,
When they meet with an obstacle, mount to the sky;
So up to the housetop the coursers they flew
With the sleigh full of toys, and St. Nicholas too—
And then, in a twinkling, I heard on the roof
The prancing and pawing of each little hoof.
As I drew in my head, and was turning around,
Down the chimney St. Nicholas came with a bound.
He was dressed all in fur, from his head to his foot,
And his clothes were all tarnished with ashes and soot;
If we need any proof of the poem's enduring popularity, we need only to look to the host of imitators and parodies that have sprung up in the years since the poem's publication in 1823, most notably in the modern era.
Moore's ode to Christmas has found itself reflected in music (everything from a 1953 recording by Perry Como to a 1987 orchestral presentation by the Baltimore Symphony Orchestra to, of all things, a track on the Pokémon Christmas Bash album), comics (Garfield and Over the Hedge most notably), and films and television, with the poem's iconic lines popping up in everything from the original Die Hard movie, a Friends episode, A Muppet Family Christmas, and even a Rocky and Bullwinkle Show episode under the pun-laden title "A Fright Before Christmas".
It has also, quite naturally, been parodied repeatedly in the poetry genre with everyone from Australians to lawyers to computer programmers and even Star Trek proffering their own version of the tale, leading David Emery at About.com Urban Legends to remark:
"If there is a more parodied poem in the English language than Clement Clarke Moore's A Visit from St. Nicholas (more popularly known as The Night Before Christmas), I don't know what it could possibly be. The meter of "St. Nick" is infectious, its rhyme scheme cheery and simple, its homespun, nostalgic imagery ripe for spoofing."
If the mark of Western society's regard for its cultural property is the lengths to which it will go to affectionately parody it then A Visit From St. Nicholas is up there with the greats like Charles Dickens' A Christmas Carol, and will likely remain a much loved and integral part of Christmas celebrations for many years to come.
A bundle of toys he had flung on his back,
And he looked like a pedler just opening his pack.
His eyes—how they twinkled! his dimples, how merry!
His cheeks were like roses, his nose like a cherry!
His droll little mouth was drawn up like a bow,
And the beard on his chin was as white as the snow;
The stump of a pipe he held tight in his teeth,
And the smoke, it encircled his head like a wreath;
He had a broad face and a little round belly
That shook when he laughed, like a bowl full of jelly.
He was chubby and plump, a right jolly old elf,
And I laughed when I saw him, in spite of myself;
A wink of his eye and a twist of his head
Soon gave me to know I had nothing to dread;
He spoke not a word, but went straight to his work,
And filled all the stockings; then turned with a jerk,
And laying his finger aside of his nose,
And giving a nod, up the chimney he rose;
He sprang to his sleigh, to his team gave a whistle,
And away they all flew like the down of a thistle.
But I heard him exclaim, ere he drove out of sight—
"Happy Christmas to all, and to all a good night!"
(source: The Random House Book of Poetry for Children (Random House Inc., 1983 via poetryfoundation.org)
And here's a version of the wonderful story courtesy of Penguin authors including Emma Thompson, Cerys Matthews, Jamie Oliver and Clare Balding: