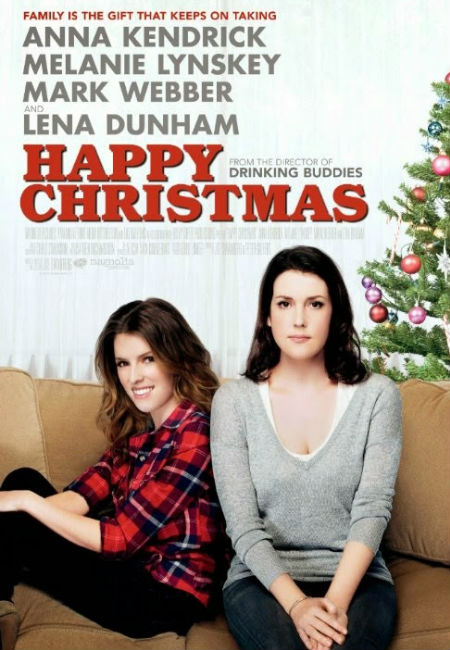 The confounding of expectations, at a time of the year when they are at their zenith, is at the heart of Joe Swanberg's Sundance-screened Happy Christmas, the follow-up to last year's well-received Drinking Buddies, his most accessible and successful film to date.
The film's title is an ironic one, of course, given that the arrival of boozing, toke-smoking Jenny (Anna Kendrick), fresh from a little talked-about break-up with her boyfriend, at the Chicago home of her brother Jeff (Joe Swanberg) and his devoted stay-at-home mom wife (on the surface at least) Kelly (Melanie Lynskey) doesn't go as smoothly as you might expect.
Granted refuge and a place to lick her raw, emotional wounds – there again expectations go unmet with Jenny seemingly displaying no obvious ill-effects from the end of her relationship – with the only proviso that she play the role of unofficial babysitter from time to time so Kelly can go and run some festive errands, Jenny upsets the social apple cart almost immediately by getting paralytic drunk at a party held at the home of a friend of her college buddy Carson (Lena Dunham), having to be brought home in the dead night by an unhappy Jeff.
While she does subsequently manage to successfully babysit Jeff and Kelly's son, played with a gleeful naturalness by Swanberg's own son Jude who delights at every turn, she spends much of her time in the company of the family's good friend, sometime babysitter and weed dealer Kevin (Mark Webber) getting high and having sex, confounding Kelly's idea that she'd be just like her angelic, perfect house guest brother Trevor (who is held up again and again as the exemplar of everything you'd want in a family member temporarily disturbing your domestic idyll).
But then something strange happens in-between pizzas, left unattended by a stoned out of her mind Jenny, triggering the fire alarms, and drinks at the tacky-but-cool Tiki bar with Carson that occupies the basement of Jeff and Kelly's home that change the dynamic of her blighted visit for the better – she and Kelly, who it turns out is a frustrated novelist afraid that asking to have it all simply means "I just have to do everything", bond over the writing of a commercial pulpy sex-laced romance which Jenny proposes as a quick way to bring in some money.
It doesn't erase all the problems created by Jenny's lackadaisical approach to life – this is a film firmly rooted in indie-land after all where slackers very rarely find any kind of permanent redemption or rehabilitation – but it has the effect of helping Kelly see that it is okay to want a writing career as well as to be a mother to her son, which she loves, and opens Jeff's eyes to how much this creative outlet means to his wife and that time must be made to accommodate it.
Everything comes to a head of sorts in this ambling, improvised dialogue movie on Christmas Day, when Kelly has to accept the fact that the expectations she has for her life, her loving, affectionate marriage to Jeff and her sister-in-law, who is most assuredly not the saintly Trevor, aren't necessarily going to be met in the way she expects.
It's not a Hollywood happy ending but then you're not expecting that with the film's paper-thin plot – engaging though the characters are, and substantial though it's thematic aims are, it is hardly possessed of what you might call a muscular narrative, even for a indie film of its ilk – playing out in the same naturalistic, uncluttered faux-documentary style that characterises the whole film.
It's a style that unfortunately, while true to life, almost threatens to grind to a halt more than once, its meandering pace punctuated by dialogue that, meant to sound natural, and it often does to be fair, teeters on sounding forced and amateurishly-improvised.
That aside however, Happy Christmas is one of those rare festive screw-up relative comes to stay awhile films that doesn't play out like some cheesy, half-made Keystone Cops slapstick epic, with the decision to base much of the film in the reasonably happy surrounds of Jeff and Kelly's marriage and home, lending the film a human edge and familial believability that makes sense and grounding its observations with which many will be familiar to one degree or another, in the day to day happy banalities of life.
Recognising that all of us gird ourselves, knowingly or unknowingly, with expectations of how life will play out (these are no more idealised and clung to like life buoys than at Christmas), Happy Christmas is content to slowly and unspectacularly play with these and confound them at pretty much every turn, in order to underscore the fact that something we might actually need might be the last thing we're expecting.