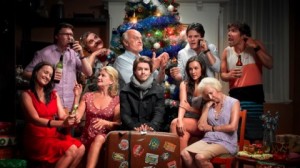 A Moody Christmas is about as perfect as television gets.
It has been widely hailed, and rightly so, as one of the best series of the year in Australia, or for that matter anywhere, its six episodes a pitch perfect blend of humour and drama that captures the idiosyncrasies of family life, especially as it plays out in the pressure cooker of the festive season, in a way few shows have before.
And it is funny.
Seriously funny.
Not necessarily in a laugh-out-loud kind of way (although there are plenty of those moments) but more in an oh-yes-I can-totally-see-that-happening-with-my-family-wry-smile-of-amusement way.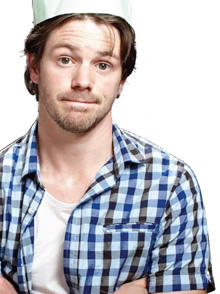 With each episode representing one Christmas lunch, A Moody Christmas, which screened on the Australian national broadcaster ABC from 31 October to 5 December 2012, details six eventful years in the life of the Moody clan.
The connecting thread through the series is Dan Moody, the prodigal son – not really but it's clear that is how he is viewed by his family – who moved to London to pursue a photojournalism career some years before and who returns every Christmas, like the swallows back to Capistrano, to Sydney to be with his family (albeit a tad more reluctantly than the aforementioned birds).
And while there is genuine love and affection between the various family members, both nuclear and extended, it is not always articulated in the most warm and and fuzzy way possible.
And thank goodness for that, because if it was, it wouldn't accurately reflect the dynamic within just about every family in Australia, and I think you can safely say, much of the Western world.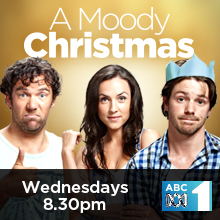 Take for example what greets Dan when he arrives home – via taxi from Sydney Airport after his serially unsuccessful-in-business Sean (Patrick Brammall, The Alice, The Strange Calls) who never stops dreaming big, sleeps in and forgets to pick him up – and walks into the backyard of the typical suburban house his family calls home.
With the expectation that his girlfriend Phoebe would be accompanying him home – she doesn't for reasons best left for you to discover in the opening episode – Dan's father, the doesn't-suffer-fools-gladly Kevin (Danny Adcock, Blue Heelers, Stingers) who nonetheless is every bit the devoted dad in disguise, has strung up a very large, very colourful sign across the grove of palm trees welcoming the supposedly happy couple home.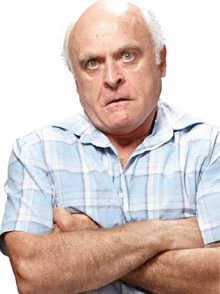 When Dan sheepishly admits she wasn't able to make it, his dad's is none too pleased, chiding Dan's mother, Maree (Tina Bursill, MDA, White Collar Blue) for talking him into making as demonstrative an emotional statement as the sign in the first place.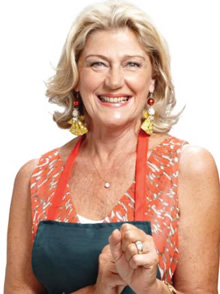 But of course it doesn't end there.
In short order, Dan finds himself attracted to his cousin Hayden's (Guy Edmonds, Underbelly: Razor) girlfriend Cora (Jane Harber, Secret Life of Us, Offspring) with whom he has an almost instant rapport, gently and not-so-gently mocked for taking a photo of a burning house that made his career (instead of possibly saving the girl inside who burnt to death) – the photo has pride of place in the dining room – and being arrested for helping his brother Sean "steal" back his mower (Sean runs and abandons younger brother Dan at the first sign of trouble).
It is by any measure not the best of Christmases but after enduring another conversation with Uncle Terry (Darren Gilshenan, Chandon Pictures, Top of the Lake) who is a hopeless romantic falling for a succession of Russian brides who usually end up taking him to the cleaners, and making sure he spends time with his grandmother, Gwen (Gwen Dawes, famous for being the Colgate Palmolive "You know you're soaking in it?" manicurist) the day ends reasonably well when he kisses Cora on the front steps and she admits she's happy he's done so.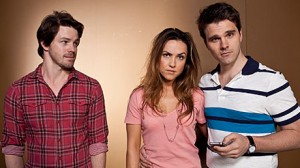 And so begins six Christmases in the life of Dan who is always blamed for "ruining his Christmas", even though the tipping point into chaos is never brought on by him, one of several ongoing jokes including his sister Bridget's (Rachel Gordon, Blue Heelers, White Collar Blue) attempt to have a child with meek husband Roger (Phil Lloyd, Review with Miles Barlow) which includes having sex in Sean's bedroom during Christmas lunch, his grandmother's refrain that it "could be my last Christmas", missed pickups from the airport, his father's self dug and perpetually unfinished swimming pool, and his brother's latest ill-advised scheme to get rich and avoid joining the family's air-conditioning company.
Joining this oddball, but alarmingly normal menagerie are a revolving cast of Christmas orphans who join the family for lunch and are usually glad to escape its clutches at the first available opportunity.
But for all their dysfunction, and there is more than Dan thinks he can handle at times, the family does love each other (but not thank the screenwriting gods in a cloying overly sentimental way) and through the six episodes help each other navigate the myriad of obstacles that life throws up, all of which seem to come to a head at Christmas.
The most enduring of these is the will-they-won't-they emotional tug of war between Dan and Cora – the result of which I shall not give away but suffice to say it exactly the sort of ending you'd expect a show of this calibre to deliver – and this anchors the series through six beautifully written, and superbly well acted, episodes.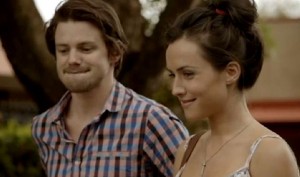 If you're itching to experience the highs and lows of an Australian family Christmas with a cast of characters as true-to-life as they come, with as many laughs as you can handle, out loud or otherwise, then A Moody Christmas is just what Santa ordered.
You know, if Santa wears a blue worker's singlet while holding a stubby of beer and jumps in the sleigh the first chance he gets to escape Mrs Claus and the elves that is.