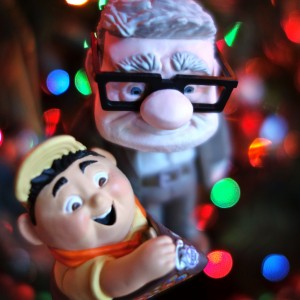 Given the nature of this blog, which doesn't exactly hide its cathode ray light under a Scooby Doo patterned-bushel, you have probably quite likely surmised, and you would be right, that I am more than a little obsessed with, and in love with, pop culture.
While I don't do anything as insane as scour American supermarkets for Nemo-shaped pasta or wear Star Wars pajamas to bed – as if; totally Firefly nightwear all the way if you please – I do indulge my love of all things pop culture in ways that may surprise you.
Take the decorating of my Christmas tree.
To the great surprise, and yet delight, of my friends there is an abundance of Christmas ornaments out there that draw their inspiration from cartoons new and old (I have ornaments of old Hanna-Barbera characters like Top Cat and Snagglepuss right through to Buzz Lightyear and Woody from Toy Story), and from comics (I have a plethora of Peanuts decorations including Snoopy as Joe Cool) and from movies and TV shows (Stargate SG1, Star Wars, Family Guy and even Who Framed Roger Rabbit?).
And I have to admit that when the tree is fully decked out with all the lights and the shiny baubles and the colourful ornaments it is quite a sight to behold.
I couldn't do a traditional tree if my life depended on it – OK that's a lie; if you were holding a gun to my head I'd been throwing on gold beads and fragile glass baubles like Tassie Devil in a hurry (got him too by the way) – and that's only amplified when I see my tree in all its bright, shiny glory.
So in honour of my festive obsession with pop culture, which let's face it, is simply an extension of my year round one, here's 5 ornaments that I love and which remind me of particularly special shows or cartoons …
GROVER from Sesame Street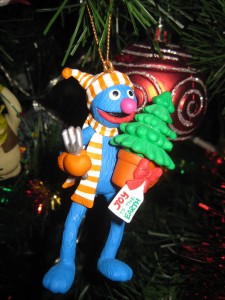 I have fond memories of Sesame Street.
The much-revered show kicked off in America in October 1969 just a year or so before I returned with family from Bangladesh (where mum and dad had been Baptist missionaries) to Sydney, Australia , and it quickly became a staple of my childhood viewing (that is once I got used to the idea of televisions period; they hadn't had them in Bangladesh and I found them terrifying at first … how much has changed since then!).
I love everything about the show.
The singalong theme song, Cookie Monster and his insatiable appetite for cookies, the chef who used to fall Keystone Cops-like down a long flight of stairs carrying a towering pile of cream pies, and the brightly coloured velvety monsters that used to sing "Manamana".
But my favourite character of all, then and now, was Grover.
He was sweet, well-meaning, goofy, a superhero ("It's Super Grover!") and blue – for some reason that mattered to me – and his segments were always the ones I looked forward to most of all.
So of course when I got a tree, he was one of the first ornaments on there, and he still makes it on the tree each and every year even though I rotate many of the other decorations.
ANIMAL from The Muppet Show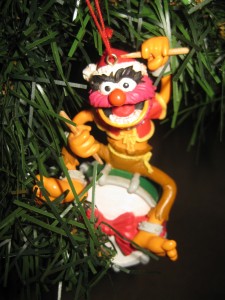 Everyone loves The Muppets.
It's hard to find anyone, over the age of 30 at least, who doesn't have fond memories of Kermit the Frog, Miss Piggy, Fozzy and Gonzo who appeared first in The Muppet Show which ran from 1976 to 1981 (Kermit, of course, predated them all first appearing in 1965) and then in a series of movies, the most recent being this year's The Muppet Movie.
I love all those guys too but there was something about the manic way Animal did, well just about everything really, and the reckless passion with which he approached his music, that won me over very quickly, and ensured that when it came to collecting Muppets ornaments that he was one of the first ones I purchased.
This particular ornament, which is very rare and which I bought along with Fozzy and Gonzo from a collector in the USA, shows Animal in his characteristic full-on drum-playing frenzy, pouring heart and soul into playing with his band, Dr. Teeth and the Electric Mayhem Orchestra.
Like Grover, he is a staple of my tree.
DILBERT (from the comic strip of the same name)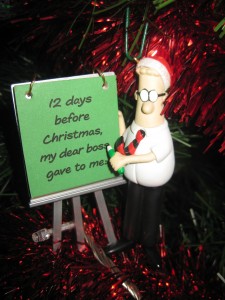 I have been a fan of comic strips since my earliest days.
Mum and dad used to buy the Sunday papers every week – despite some members of the church thinking it sinful to buy them; I used to point out you shouldn't buy Monday's papers since they were the ones produced on a Sunday – and the first part of the paper I would turn to was the all-colour 8 page comics liftout (known in the USA as "the funnies").
That love of comics grew by leaps and bounds as I grew up and I devoured Peanuts, British comic books like Cheeky and Whizzer & Chips, and even early Garfield (when there was still some modicum of wit to the character) before moving onto the seriously loopy The Far Side, the very clever Calvin and Hobbes and of course, Dilbert.
Everyone's favourite cubicle-dwelling nerd, who first appeared in print in April 1989, appealed to me as much as he did I think because his arrival coincided with my entry into the workforce, and my introduction to the bizarre poltically-crippled culture of the corporation.

As someone who had, and in fact still has, a good b.s.-ometer and would always question why something was the way it was when more compliant souls simply meekly surrendered to the inescapable absurdity of office life, I found a soulmate in Dilbert who dared to question the absurdity of life in a carpet-covered cubicle, and often suffered for his audacity.
And he remains as relevant now as he ever was since, and I am hardly going to surprise anyone here, it's not like corporations have gotten any less Alice in Wonderland-ish.
MARVIN THE MARTIAN from Looney Tunes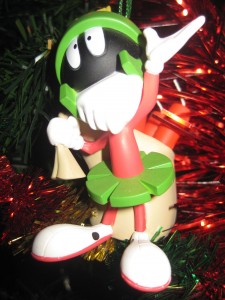 Let's hear it for Marvin the Martian and in fact the whole Looney Tunes brigade!
I loved Warner Bros Looney Tunes (which began in the 1930s and reach the height of its popularity as cinema shorts between 1942 and 1969) and Merrie Melodies (which ran between 1931 and 1969) cartoons because they dared to be everything that the sweet saccharine characters of Disney were not.
Yes we watched The Wonderful World of Disney religiously every Sunday night and got a kick out of them as you'll see with the next characters I feature, but my true joy came from watching Bugs Bunny outwit Yosemite Sam or Daffy Duck, or from seeing the Roadrunner once again prove too much of a match for Wile E. Coyote.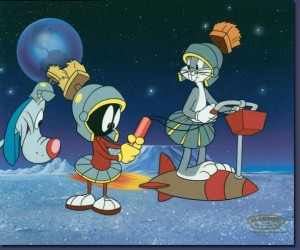 But the true battle of wills, for me anyway, was between Bugs Bunny and Marvin the Martian who made his grand entrance in the 1948 cartoon Haredevil Hare.
He was designed by the animation director Chuck Jones to be more worthy foil to Bugs Bunny – he also tussled with Daffy Duck on occasion – and indeed he was, to quote Wikipedia, "a quiet and soft-spoken [character] … whose actions were incredibly destructive and legitimately dangerous".
But he was also funny, and bewildered and one of the most entertaining characters in a long list of very entertaining, boundary-pushing characters.
CHIP AN' DALE from Disney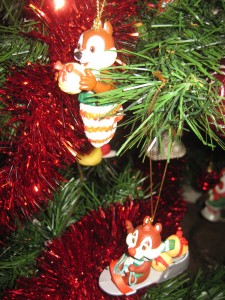 These guys were a real hoot!
Among a stable of very well behaved characters – Donald Duck's frequent temper tantrums aside – Chip an' Dale, two rascally chipmunks, were delightfully, almost devilishly cheeky, and were, I think the closest Disney came to a real Looney Tunes-esque character.
Created in 1943, they were almost impossible to tell apart unless you knew that Chip, the clever one, had a small black nose and large centre teeth and that Dale, the dimwitted but loveable one, had a much larger nose and buck teeth.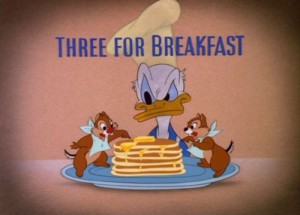 They first appeared with Pluto in two cartoons, Private Pluto (1943) and Squatter's Rights (1946) but it was with Donal Duck that they found true fame and yes infamy, appearing together for the first time in 1947's Chip an' Dale in a partnership that continued well into the 1950s.
I think I loved them so much because they were everything that I, a well-mannered Baptist pastor's son with the eyes of a very watchful church upon almost all the same time, couldn't be – cheeky, irreverent and just plain silly.
They were everything I wanted to be and I am so thrilled that I finally found their ornaments on ebay since we are, after all, kindred spirits.
* I realise not everyone wants a tree festooned with pop culture ornaments but if you had one, who would be on it and why?