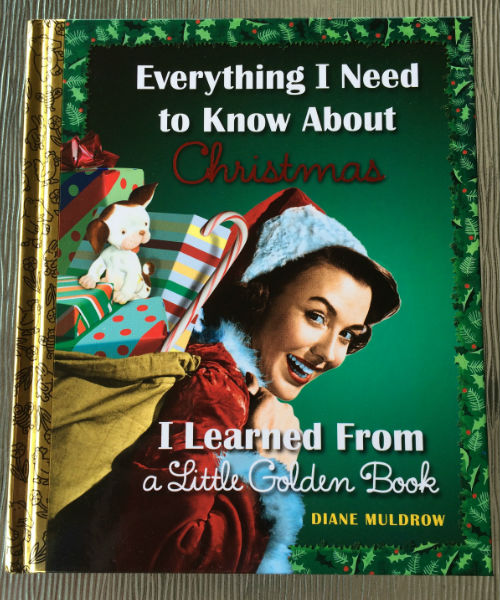 If there is one thing I learnt very early on in life, it's that Little Golden Books have a lot to teach a person.
It doesn't matter what the circumstance may be, the simple life lessons of these gloriously-drawn, perfectly-worded books provide all the instructions you need to make a success of life.
That's true of any time of the year of course but as Diane Muldrow's latest instalment in her New York Times bestselling series Everything I Need to Know About … I learned From a Little Golden Book makes abundantly clear, never more so than at Christmas when as, an excerpt from  The Happy Family, "there's just so much to do".
Now, you can run around like a festive chook with your head cut off, frantically scribbling cards here, throwing decorations on a tree there, cards and presents and baubles orbiting in a chaotic cloud around you, or, and I think Diane would agree with me here, you can quietly sit down with a nice cup of eggnog, her exquisitely-presented book (the cover alone is worth its purchase) and discover how Mr Hedgehog or Frosty the Snowman navigate this most wonderful but busy time of the year and come out smiling on the other side.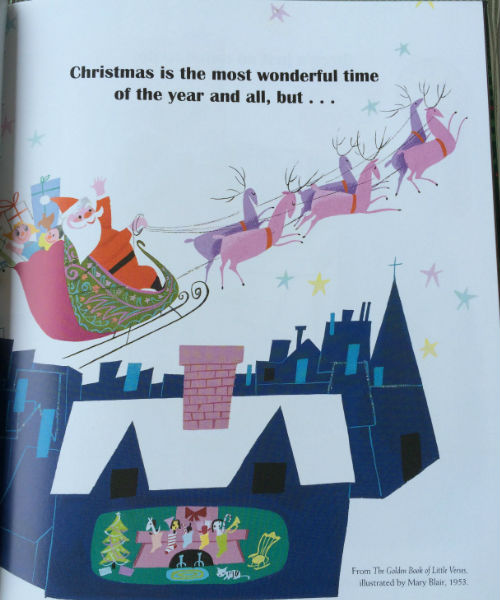 To start with of course, you need to remember just what a lovely time of the year it is.
It may look like a mountainous pile of obligations and stressful To Do Lists but you should never, ever forget to "Enjoy the season" (I am a Bunny).
Still the obligations are there, and cleverly Muldrow begins her delightful book by acknowledging them head on.
She accepts that Christmas is a time of "snarled holiday traffic" (The Taxi That Hurried), "marauding relatives" (Baby Looks) and "the hassles of holiday travel" (The Taxi That Hurried).
Not to mention "The excess!" (Rupert the Rhinoceros), "The Expense!" (5 Pennies to Spend), or as someone whose loving mother delights in providing an endless supply of never-knocked-back fruit mince pies, cashew nuts and turkey stuffing knows only too well, "the weight gain".
There's a lot going on and a lot to deal with! How do we make it through the season at all?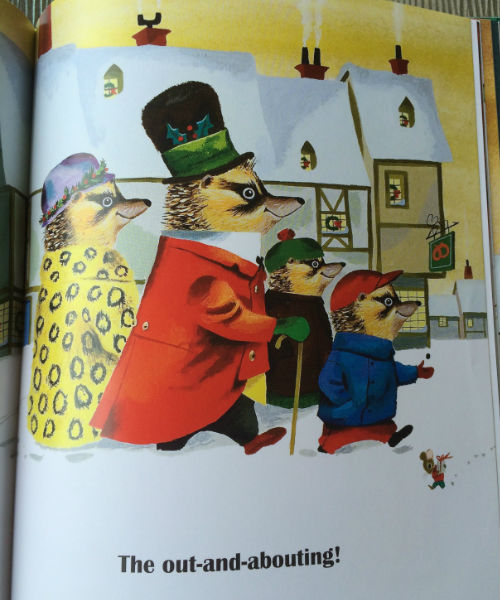 Ah, there's the thing!
Muldrow, fresh from showing she understands it's not all Christmas lights and festive get-togethers, then balances it all out with a delectable rundown of all the best parts of the season, beginning with writing lists for Santa (Poky Little Puppy, one of my all time favourites), Christmas dinner menu planning (The Goose That Stuffer Herself) and the delights of caroling out in the snow (The Animals' Merry Christmas) … or the heat if you, like me, are in the southern hemisphere.
But none of this would mean as much if you didn't "make time for family and friends" (My Little Golden Christmas Book), make decorations together (Trim the Christmas Tree) or anticipates all the wonders and joys of Christmas with those you love (The Night Before Christmas).
The key, of course, to retaining your sanity when all you want to do is run out into the street, tangled Christmas lights snagged around your ankles is to take some breaks, have some fun, and even blow a trumpet! (Christmas Carols).
And most importantly to remember that the Christmas is less about what you get than what you give (The Goose That Stuffed Herself, Mr. Hedgehog's Christmas Present, The Kitten's Surprise), and the One who gave everything for us so we could enjoy moments like this.
The real joy of Muldrow's astutely-selected excerpts from A Little Golden Book's vast treasure of books is that she weaves a narrative through them all that presents Christmas in all its stresses and strains, its joys and pleasures, and ultimately its immense rewards.
While many of the books that she draws from are decades old, many decades old in fact, the fundamental truths they contain are on full display (as are the gorgeous illustrations, chief among them the whimsical work of my favourite Richard Scarry), a reminder that whatever the time of year but especially at Christmas, that you need go no further than A Little Golden Book to remember how to make the most out of life and the special occasions that define it.